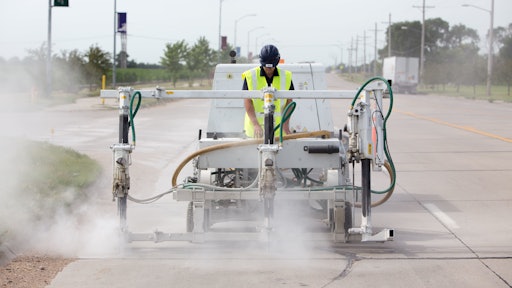 One of the main highways from I-80 into Grand Island, NE, was beginning to settle. Sections of Locust Street had dropped two to three inches, making it increasingly unsafe for the estimated 300,000 people who attend the Nebraska State Fair each year. The concrete itself was in decent shape, but the slabs were settling and uneven on a weakened soil base.
Concrete contractor Thrasher was selected to repair a half-mile section of the key thoroughfare. Thrasher brought its unique Polylevel system to the $250,000 job.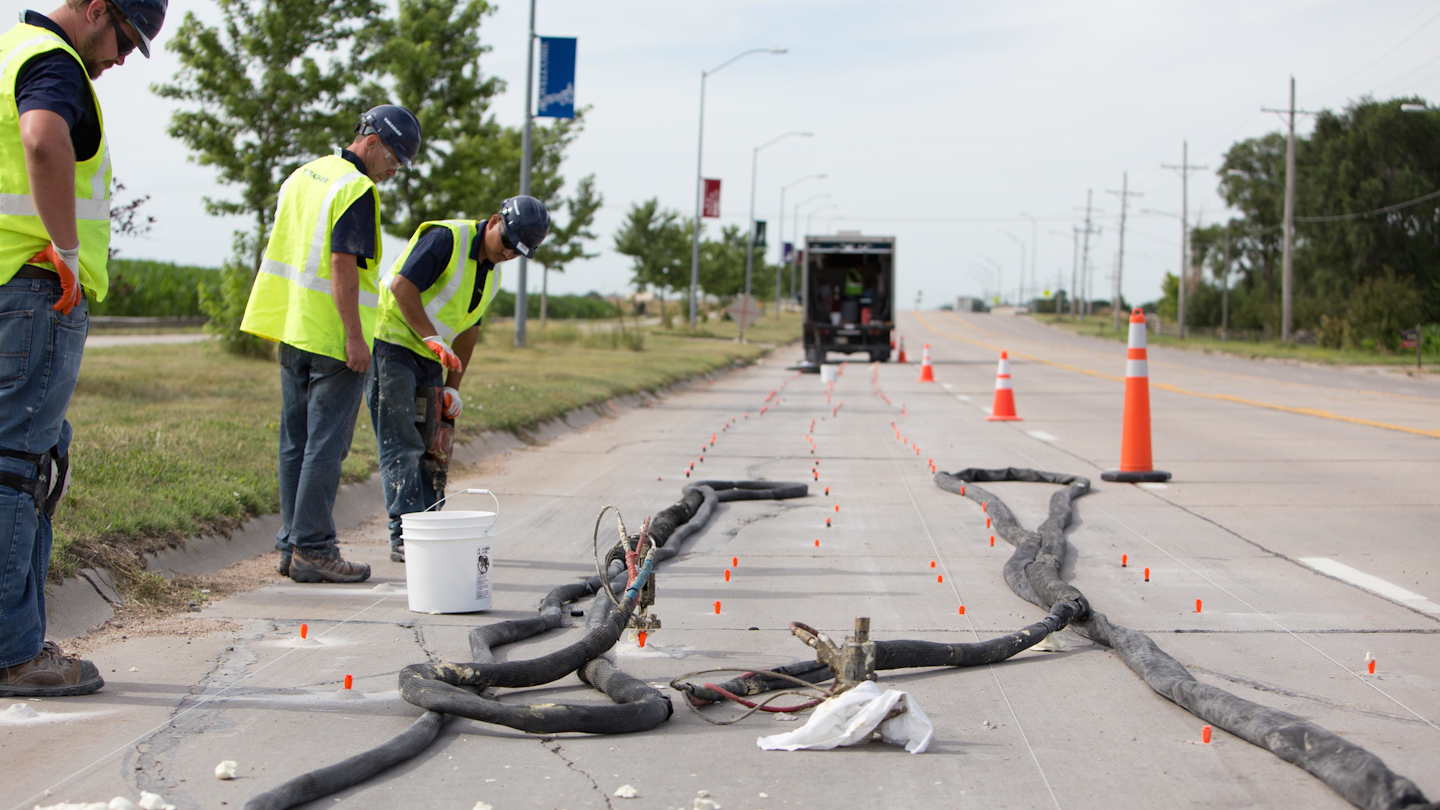 The Polylevel process involves drilling holes in the concrete and then injecting a lightweight polyurethane foam which will ift, level and stabilize the concrete.Thrasher's "Polylevel" involves drilling holes in the affected concrete, then injecting a lightweight polyurethane foam that expands to lift, level and stabilize slabs. The foam has proven to deliver long-lasting strength, but the drilling process was inefficient on projects like Locust Street — until Thrasher found just the right equipment for the job.
Contractor seeks out drill solution
Not long before the Locust Street project, the process of drilling holes for Polylevel injection was time-consuming and costly for Thrasher. For a few years, the company performed the work with electric drills and pneumatic impact drills. These drills got the job done, but they were limited.
"With our old methods we just had a lot of time constraints when drilling our holes," says Cory Eastin, Polylevel team lead for Thrasher. "We weren't able to do big jobs in a timely manner. We needed equipment that could increase our productivity."
So, in 2013, Thrasher President Dan Thrasher and Senior Production Manager Aaron Ruskamp went to the World of Concrete trade show with a purpose: find a better way to drill holes for Polylevel. They envisioned a machine that could drill three holes at a time, and met with a few different manufacturers about the idea.
Thrasher ultimately chose to partner with Minnich Manufacturing, the Ohio-based producer of concrete dowel pin drills, concrete vibrators, vibrator monitoring systems and custom drill solutions.

"We felt most comfortable with Minnich," Ruskamp says. "Our conversations at World of Concrete in Las Vegas and after the show made it feel like they were a company we could trust and would stick with us through the whole R&D process and modifications."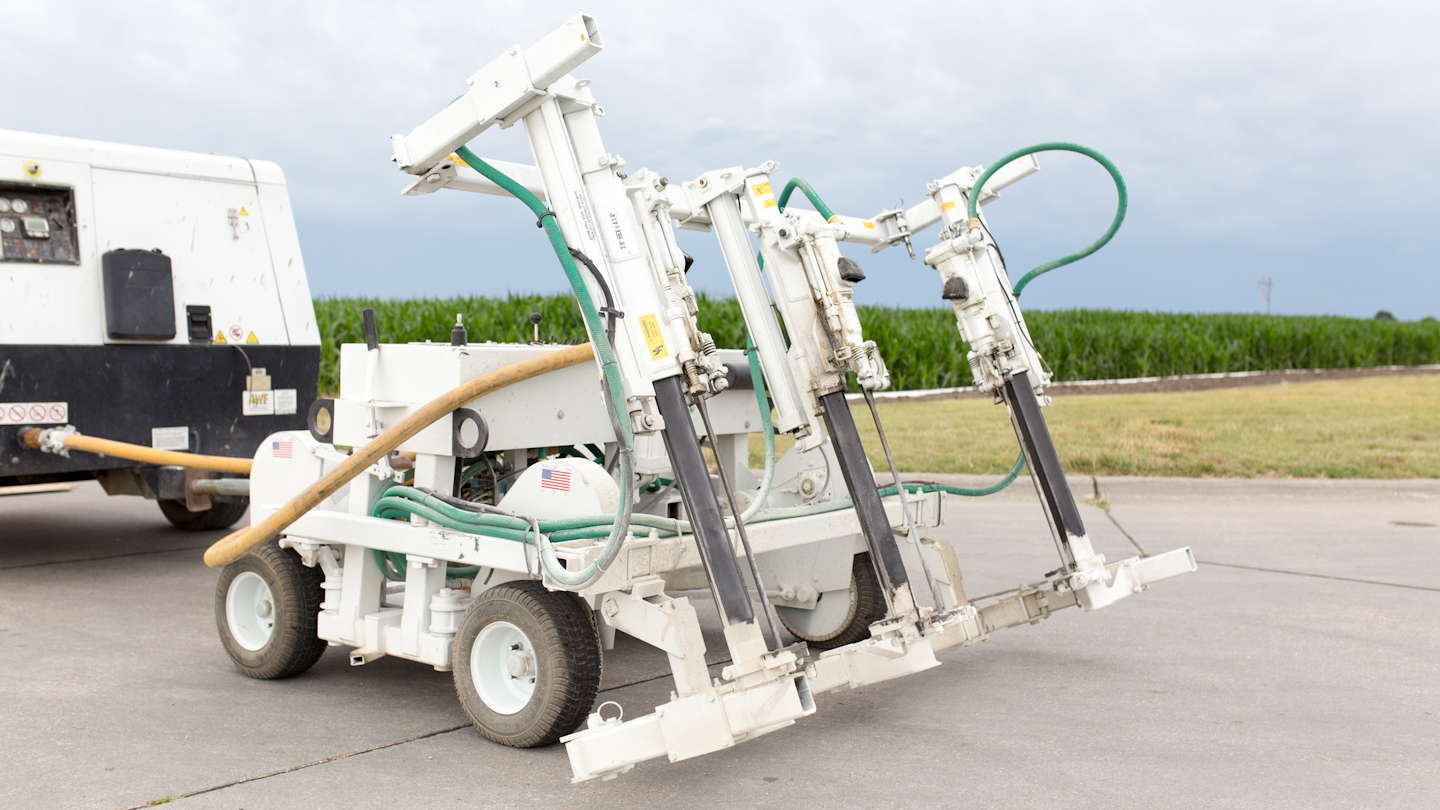 Concrete contractor Thrasher used its custom Minnich drill for a Polylevel project on highway I-80 in Nebraska.Minnich worked with Thrasher to develop a custom pneumatic machine featuring three 50-pound rock drills mounted to a self-propelled platform assembly. Powered by a 350-cfm air compressor, the unit could drill holes up to 25 inches deep with convenient adjustable hole spacing and bed back-tilt capability.
"We went from an electric drill, which took about 30 seconds to drill a hole through an 8-inch-thick slab, to the Minnich drill, which was drilling three holes in just a few seconds," Ruskamp says. "If a project was two days or more, the drill could take the place of one person. It was a significant improvement over what we had before."
Drill raises efficiency on Locust Street job
With the Minnich drill on site, Thrasher made quick work of the Locust Street job. Eastin was able to drill three 5/8-inch holes at once from his control station on the unit. He could then drive the machine forward to drill more trios of holes — all while limiting wear and tear on his body compared to other drilling methods.
Thrasher used a separate rig to perform the Polylevel foam injection, which provides an innovative alternative to concrete remediation methods such as total replacement and mudjacking.
"The Minnich drill makes the drilling part of every job go a lot easier," Eastin says. "Time efficiency is way faster. Instead of spending one to two minutes drilling a hole with the old method, I'm able to drill three holes at the same time in a matter of seven to 10 seconds."
With the specialized Minnich machine, Thrasher raised Locust Street in less than three weeks. Less time on the road meant fewer man-hours, reduced injury risk and shorter lane closures.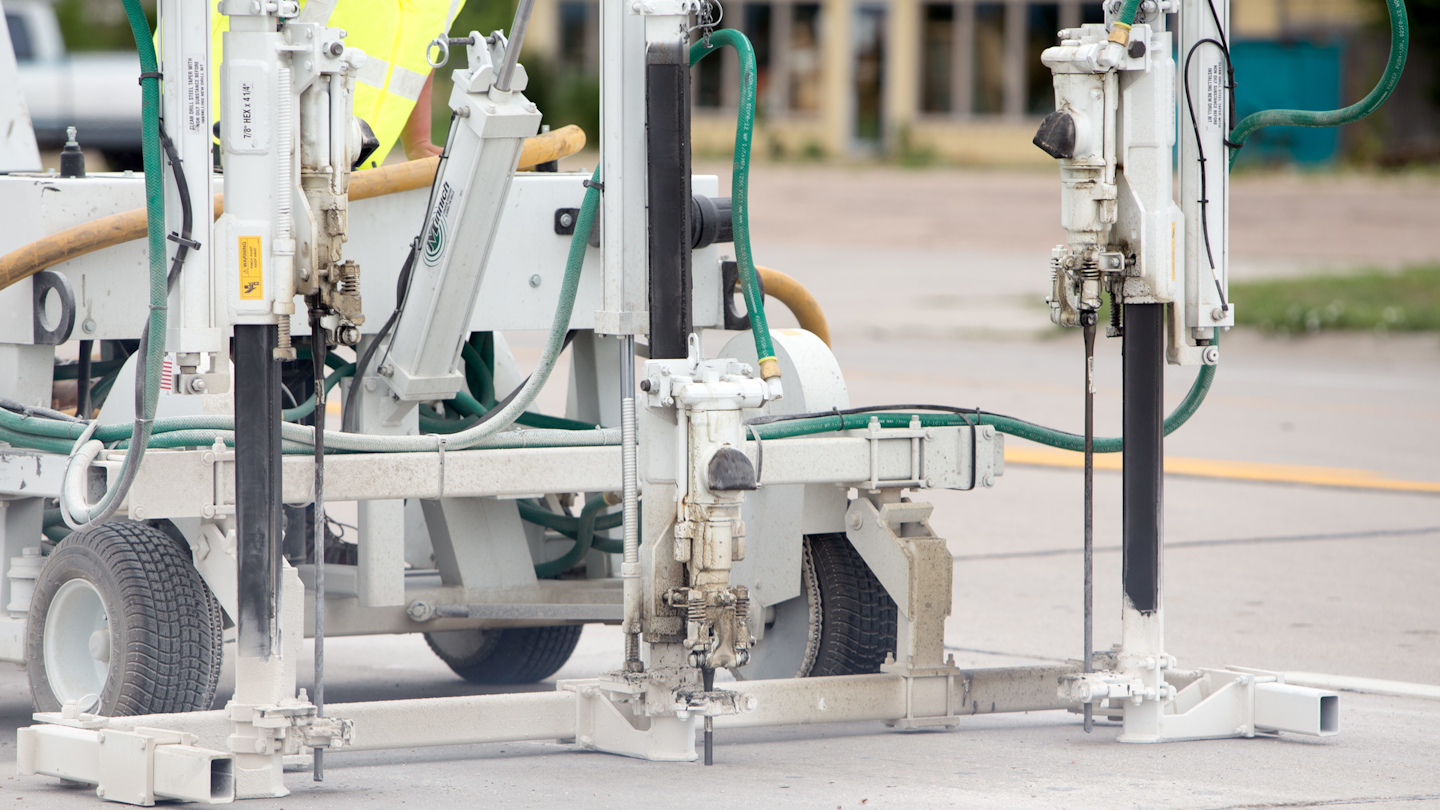 Thrasher was able to reduce it's drilling time from its previous electric drill process down to just seconds with its custom drill."The drill is everything it was made out to be," Eastin says. "It makes your job go more efficiently, which saves your company money, which saves your customers money. It just saves heartache in the grand scheme of things."
Thrasher deploys the Minnich drill on approximately a dozen road projects per year. Ruskamp says the unit makes Thrasher more competitive when bidding for highway jobs — and demonstrates the company's commitment to staying on the leading edge of concrete technology solutions.
"We want to be constantly pioneering — thinking of new and better ways to do things," Ruskamp says. "Fortunately we found a company in Minnich Manufacturing that was willing to work with us to come up with something custom that really made a difference."