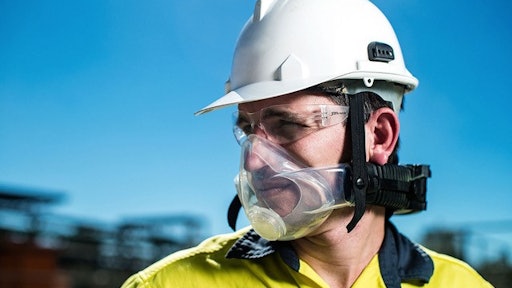 It is estimated that more than 2.3 million workers in the United States are potentially exposed to dust containing crystalline silica. Approximately 90 percent of those workers are employed in the construction industry.
The silica hazard exists when various construction activities such as sawing, grinding, drilling crushing, etc. generates respirable dust that is released into the air. Why is this important?
According to OSHA, in 2014 more workers died from silicosis than from being caught in or crushed by collapsing materials, such as in a trench and structure collapses. These deaths were easily preventable with respiratory protection. 
Following are three important factors to consider when evaluating your respiratory protection processes:
The hazard levels:

 

The OSHA silica standards call for different minimum APF ratings based on the types of jobs being performed and the level of ventilation where the job is taking place. Realistically to make sure a worker is protected for any situation, it's recommended to issue respirators with a minimum APF of 50 be utilized.

  



Compliance and training:  Regulatory compliance is important, but employee acceptance and use is everything. After being properly trained and fit tested, if a worker still finds their respiratory protection uncomfortable, tight, hot or getting in the way of their work, they are at high risk of not using respiratory protection at all and/or incorrectly utilizing the respiratory equipment provided.  

When evaluating equipment, it is important to know your workers and the conditions they will use the equipment. For example, in dusty, hot, or humid environments a disposable N95 mask can become moist, clogged and collapse. By providing the worker an on-demand powered air flow, the respirator can act like a portable fan pushing fresh air into the mask, thus cooling the worker, and is small enough to allow high mobility and portability. At the end of the day, you want workers to finish their shift with a clean face and no grit in their nose of mouth – reinforcing the message that the mask is protecting them. This will lead to much greater worker adoption and compliance.
    3. Total cost of ownership:  Many businesses believe disposable masks are the most inexpensive and easy solution. Taking total cost of ownership, productivity and safety liability into consideration, disposable masks may be the opposite of cheap and easy. In fact, based on case studies at workplaces with modest respirator use, the annual total cost of ownership (per wearer) for a disposable N95 mask with an exhalation valve are high, given  workers may go through as many as three-to-four masks in an eight-hour shift. It may be higher in hot, humid or very dusty conditions. The main reason for high costs is that N95 masks are disposable and not reusable. As a result, companies may find a modern, powered respirator a far more cost-effective and safer alternative.
What are typical compliance issues and how they can be combated?
Compliance issues generally arise from two common situations:
Training and education:  Respiratory equipment that is complicated, has many parts to assemble or is bulky and heavy, is less likely to be used – particularly when workers are mobile or working remotely. Deploying simple to use and light respirators significantly increases adoption and compliance.

 

Comfort: If a worker complains about their respirator being uncomfortable, tight, hot or hard to breathe in, there is a very high risk they will look for ways to avoid wearing them or frequently leave the contaminated area to remove their masks.

 

 

Both of these situations can be prevented by investing in modern, powered respiratory equipment that offers lightweight and compact design, simple assembly and operating system and cool fresh air. It will help ensure compliance and save management time on enforcement efforts. 
How do we best establish a respiratory protection program?
With respect to silica exposure in construction and related fields, a respiratory protection program should be part of the overall Exposure Control Plan required by OSHA. This plan should be written and reviewed annually and take into account the various jobs and activities that can result in silica exposure. 
Your respiratory program should include the type of respiratory protection (and its Assigned Protection Factor) available and deployed for each job or area. The plan will outline how compliance will be managed and how workers will be trained on the proper use and application of the respiratory solution(s) being implemented.
It is strongly recommended that companies work with accredited safety or industrial hygiene professionals and/or their insurance companies to assure their investment to deliver a working program meet regulatory standards and best practices.
About the Author: Alex Birrell is the CEO of CleanSpace Technology, a global manufacturer of NIOSH approved, ISO 9001 certified industrial respirator masks. Global headquarters are in Sydney, Australia with regional presence in over 30 countries.