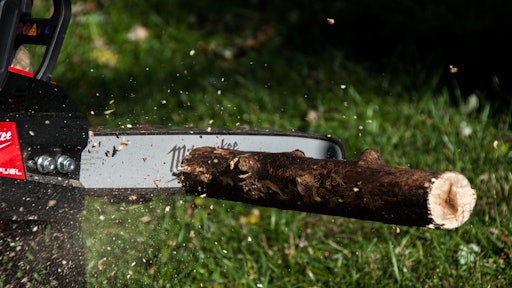 Joe Nasvik
Lithium-ion batteries (LI) changed everything in the world of power tools because they made it possible to store much more energy in a smaller-sized battery. They concentrate enormous amounts of energy in smaller and smaller spaces, which also means there's more potential for problems when they aren't handled properly. With increasing battery energy density, experienced tool manufacturers are addressing the increased safety risks too and that's why it's wise to buy from companies that are recognized leaders in the industry.
The first Li-ion battery powered tools appeared around 2005. The first Li-ion battery tools were drill/drivers, although Hilti's first lithium battery tool entry was a hammer drill. The transition has been so fast that today it's hard to find corded tools on the store shelf anymore and they are replacing increasing numbers of tools once thought to be safe from batteries: corded, gasoline powered, and compressed air-powered tools.
From the first drill/drivers tool manufacturers have sought to broaden the range of cordless tools and today there are battery powered tools such as chain saws, table saws, circular saws, chipping hammers, and grinders that are more productive than their corded cousins. Batteries continue to grow in energy capacity while getting smaller, making one wonder where this will all end. At the same time, on national news, the public has been scared by the introduction of low-cost, low-quality Li-on battery-powered toys that occasionally cause fires and damage.
Lithium-ion batteries power our phones, computers, games, and cars and are in every facet of our lives.
Marketers sometimes tell us their brand's battery has the highest voltage or the biggest battery on the market but does this really mean they are the best?
Battery basics
Here are some basic terms that help to understand how batteries operate and perform:
Voltage. The most recognizable term to describe batteries is volts, a measure of electrical force. We think it as a constant number, but voltage changes with power demand. In the case of a battery-operated tool the maximum voltage instantly drops to a typical operating voltage as soon as the tool is powered. People used to think volts equaled battery strength (a 12 volt battery is better than a 6 volt one).
Amps. Amps are defined as the amount of electrical current going through a circuit at one time.
Watts. Watts equals volts times amps.
Watt-hours. Watt hours is equal to the voltage rating of the battery times its capacity. An 18-volt 4 Ah battery has 72 watt hours.
Amp-hour. Amp hour is the amount of current that a battery can provide consistently for one hour. It isn't the time needed for a battery to reach discharge.
Because volts x amps = watts you can change volts and amps to achieve the same wattage. Increasing the volts in a battery and decreasing the amps can mean that a battery can deliver more power with less heat development in the battery. This can be a big plus because maintaining low battery heat is very important.
Sean Fitzgibbons, Senior Product Manager for DEWALT, Towson, Maryland, says the most precise measure of battery capacity is watt-hours but in practice amp-hours are stated for each voltage and that's what you see advertised on batteries.
Tool manufacturers rate their batteries voltage either by "maximum voltage" or by "operating voltage" while a tool is being used. The moment a tool is turned on the maximum voltage drops down to the battery's operating voltage. To maintain this constant power level amperage (energy output) is increased. When calculating amp-hours and watt-hours the way voltage is reported changes these numbers. Users need to be aware of how the battery manufacturer reports its batteries' voltage.
Tool batteries consist of battery cells that are connected either in series or parallel or both. When cells are joined in series the voltage in a battery increases while the amperage remains the same. When they are joined in parallel voltages remain the same while the amperage increases. Typical 18-volt batteries have both parallel and series arrangements of cells inside the battery housing. Most 18 Volt batteries with a capacity of 3 amp-hours or less have cells in series and none in parallel.
Battery cells
There are several world-class companies with names such as Samsung, Panasonic, and LG that manufacture the Lithium-ion cells (they look like an AA battery) that are assembled in the battery pack that powers a tool. Tool manufactures do not manufacture their own cells. Cell manufacturers are constantly developing and advancing the technology so they offer a wide variety of latest technology cells for use in every industry that uses Li-ion batteries. Paul Fry, Milwaukee Tool's Senior Vice President of Product Marketing for Power Tools, Brookfield, Wisconsin, says tool companies usually tell the manufacturers what qualities they are looking for in a battery—not all tool manufacturers want the same qualities. They want different balances between cell capacity or energy storage, size and weight, power available, run time, and safety. All tool companies maintain their own research labs to extensively test these cutting edge cells and their research helps them make final cell choices.
Theron Sherrod, Product Manager for Drill Drivers, Batteries, Chargers and Impactors for Bosch Tools US, Mount Prospect, Illinois, says the current state-of-the-art battery cell is rated at approximately 3.6 volts and 4 amp-hours yielding 14.4 watt-hours. When used together in a power tool battery configuration, these cells can provide up to 160 watts.
Building a power-tool battery
Sherrod says that all power tool companies want their batteries to have more power, more run-time, with the smallest battery size and weight possible. "It's possible to get two out of the three most of the time," he says, "But getting all three is difficult."
Generally speaking, contractors want the most run time they can get, with a minimum of battery swaps during working hours says Eric Hollister, the Senior Director of Electric Tools and Accessories for Hilti, Plano, Texas.
There is no one battery to satisfy all needs. Tool companies develop batteries for the tools they are intended for and the job application. If a tool is used for overhead tasks for long periods of time, customers want the lightest weight possible so manufacturers reduce size and weight and work to increase run time. Tools that work on a 12-volt platform are a good choice for this —both the tool and the battery are light and can easily fit in a worker's pouch.
On the other end of the continuum converting corded, gas engine, or compressed air powered tools requires batteries with increased capacity, battery size and weight aren't as important. All tool manufacturers are introducing cordless tools that were once thought to be more power hungry than a battery could provide such as large battery-powered concrete chipping hammers, chain saws and circular saws.

Tool companies are also focused on voltage platforms, providing improved batteries for platforms where they sell the most tools. The most popular voltage right now is the 18-22 volt market so introducing a new 18-or 22 volt battery will support the greatest number of tools. Exploring 36 volt platforms and beyond would be for solving the most challenging applications.
Software
Software wasn't needed to support NiCad batteries but it is for Lithium-ion batteries. There is software inside a battery, in the tool, and in the charging station. The different software packages communicate with each other. Each tool manufacturer develops its own software to manage safety issues and the overall performance of a tool. Hollister says that when a tool requires power, software manages how fast and how much power is taken from the battery. Fry adds that software also protects the tool from receiving too much power and it shuts down a battery when there is little power left in a battery (Li-ion batteries may not recharge if they are completely drained). Software ensures that equal amounts of power are taken from each cell in the battery, it keeps batteries in safe condition, and it monitors battery temperature and shuts it down if it gets too hot—heat degrades batteries over time and is the ultimate enemy. Communication between the software in the battery and the tool is all important too.
Safety
Due to the high energy density of Li-ion batteries there are certain risks, which users need to keep in mind. Lithium-ion batteries can be unsafe because their energy density is so high. Fry says, "As the capacity of a battery increases, so do safety risks."  Good companies build their batteries with safety in mind; they look for cells that are safer, develop sophisticated software to prevent their batteries from getting too hot, and they build robust housings.
But safety also depends on how users handle batteries.
You should only use batteries from the same manufacturer as your tool, don't replace them with after-market products. As mentioned above, the battery needs to "talk" to the tool and the charger.
Avoid storing batteries where small metal pieces such as nails or screws can make contact with the terminals and cause a short.
Don't expose batteries to any liquid.
Keep them away from direct sunlight, store batteries within the temperature limits stated by the manufacturer.
Keep the terminals clean.
Don't drop them or use them as a hammer!
For long-term storage, batteries should be stored at 50 percent capacity.
Batteries should only be charged to 80 percent of capacity, which extends battery lifetime

If batteries are being transported, they should only be charged to 30 percent of capacity
Latest Technologies
Here are some of the latest battery offerings from the companies interviewed for this article.
Bosch. Their latest offering in the small battery market is a 1.15-pound 18-volt battery with a 4.0 amp-hour rating in a smaller, lighter package. It is based on latest cell technology that puts 10-15 percent more power into a cell with a small increase in volume. Bosch says this battery will make tasks such as repetitive work and overhead jobs less tiring. Sherrod says the goal is to "Keep the power but lose the weight."
DEWALT. Recently introduced, FLEXVOLT® batteries can serve different voltage platforms. It automatically switches voltage when it is coupled to tools that work on different voltages. A FLEXVOLT® battery can be used for 20, 60, and 120 volt (two batteries) tools. The batteries come in 6, 9, and 12 amp-hour sizes.
Hilti. Hilti is focused on batteries that provide the right power and run time for an application. Their newest innovation to be released is the 36 volt, 9 amp-hour battery designed to power through the toughest applications including their newest SDS Max hammer drill and worm drive style circular saw.
Milwaukee Tool. Their latest battery introduction is an 18 volt 12 amp-hour high output battery weighing 3.5 pounds capable of delivering 15 amp corded power to new brushless motor tools such as circular saws, chain saws, and table saws for extended periods of time. Fry says their new battery provides 50% more power, runs 50% cooler, and delivers 20% more run time than their previous 9 amp-hour battery. Their chain saw can cut down a 15-inch diameter tree and buck it up into fireplace length pieces on one charge. Any updated 12 or 18 volt battery is backwards compatible and will fit on any existing tool.
Where the technology is headed
There is constant research to find energy sources that perform better than Lithium-ion batteries but there appears to be nothing in the immediate future. In the meantime, research is focused on developing Li-ion batteries that are smaller, lighter, and capable of storing more energy. In the long term, solid state technology is being considered.
The power tool industry is constantly introducing tools that require higher levels of power from a battery.
Manufacturers want to help you make your tools more portable by eliminating power cords, gasoline engines, and compressed air for powering tools.