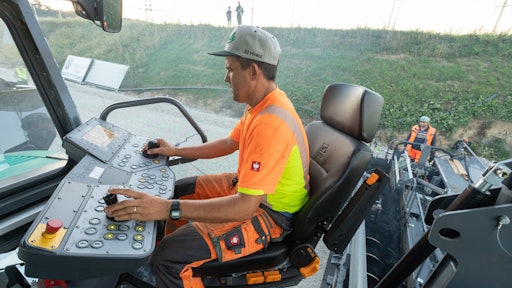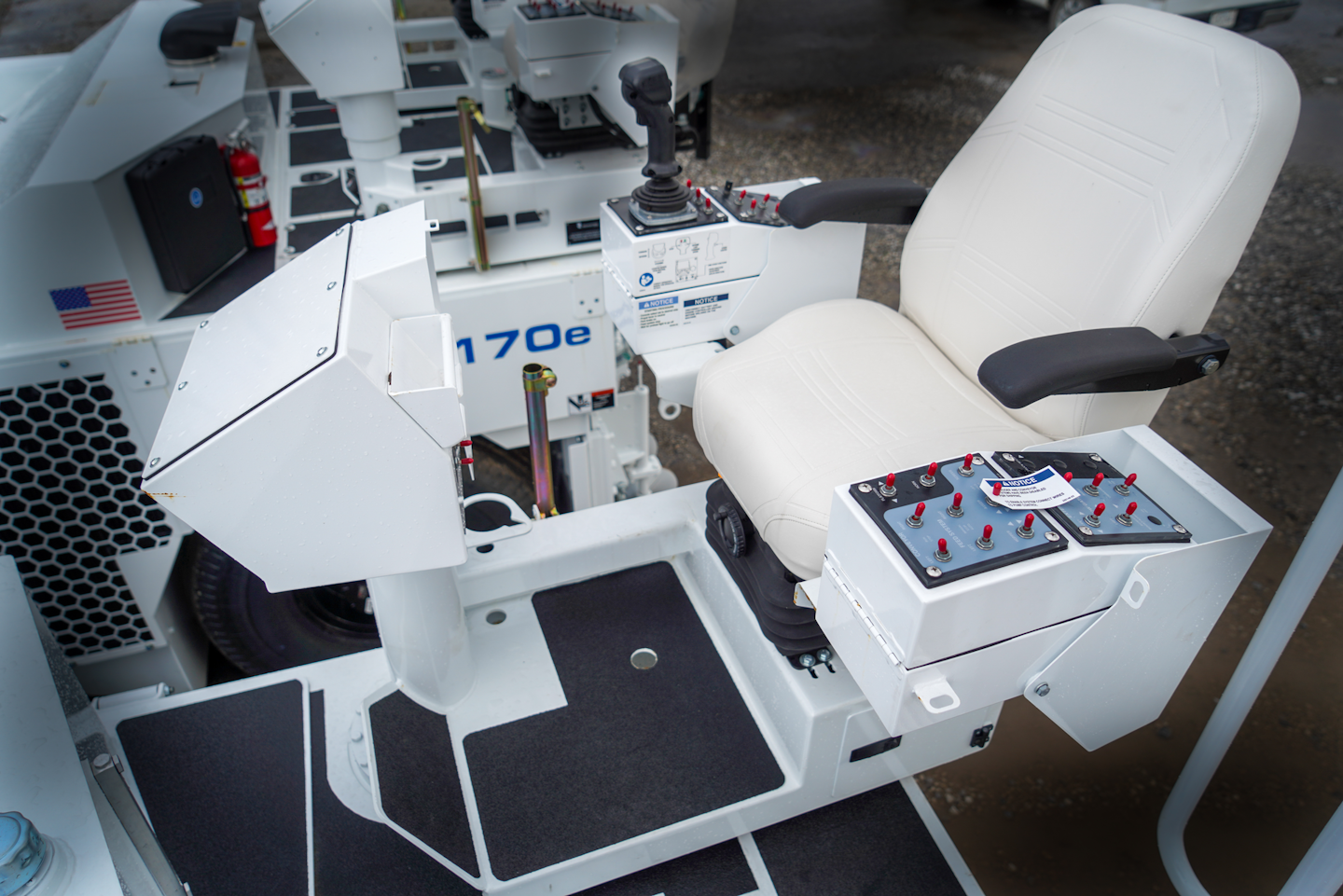 Simplified controls, operator stations that can be configured for the job and comfort enhancements help paver operators concentrate on producing a quality product. To get the inside scoop, we asked several leaders in the asphalt and concrete paving industry to address advancements made in the operating stations and controls of their latest pavers.
What are the most significant advancements made in the operating environment/operator stations of your company's concrete and/or asphalt pavers and what are the potential benefits in terms of operator comfort and performance?
Jon Anderson, global sales consultant, Caterpillar: A lot of thought has gone into design enhancements that affect the operator and crew.
The fume extraction system improves the work environment for the crew dramatically by removing a large portion of the asphalt fumes that accumulate in the auger chamber and in front of the screed and discharging them up the stack with the engine exhaust.
The cooling system is designed to draw air in from both sides of the paver and discharge it out the front, away from the operator and crew. This cools down the operator environment on the paver, eliminates the hot air discharged out the side of the paver, and creates a barrier to fumes. In addition, it also directs the noise of the fan away from the crew.
For cooler days, optional air-ride heated seats are available on the tractor.
Operators enjoy the benefits of faster heat-up and more daily production from the exclusive Cat generator design, as well as experience less ambient noise around the machine, helping them focus on the work and improving verbal communications around the machine.
Grade Control systems that share information with multiple operators (screed to screed, tractor) ensure everyone has information to do their jobs.
The operator station is designed to position the operator so that he has a clear line of sight outside of the hopper without having to lean to the outside, eliminating strain. It also allows the operator to only have to turn his head about 45˚ in each direction between looking forward and looking at the auger chamber.
ECO-mode, while reducing fuel consumption, also reduces the environmental noise, allowing operators to talk to each other in a normal speaking voice.
Kevin Klein, vice president of engineering and research and development, GOMACO: We are continually upgrading and making advancements with our exclusive GOMACO G+ control system with suggestions from machine operators. With our in-house control engineers, we can directly address requests, and build them into the G+ software and operating experience. And, with GRD (GOMACO Remote Diagnostics) on board, we can send that upgrade directly to the paver anywhere in the world from our headquarters here in Ida Grove, IA.
We've redesigned our platforms for operator comfort by incorporating isolators to eliminate vibration. New cooling packages on our pavers allow quiet and efficient operation. We offer sliding or pivoting operator control consoles to accommodate the direction of travel of the paver. Operator platforms are designed to provide a complete, unobstructed view of the entire paving operation. Hand-held remote controls are also available for a complete hands-on paving experience.
With our new Xtreme technology and the G+ control system, we can now offer paving equipment with rotary-sensored slew drives, so we can rotate our tracks further than ever before for machine maneuverability and tight radius paving, 24 in. or less. Our Xtreme Radius program allows the operator to program the size of the radius into the controller.
G+ calibrates and manages all the aspects of traveling around the radius, either on stringline or utilizing 3D machine control, including track angles and individual track speed control. A smart hydraulic cylinder is also utilized for intelligent offset when telescoping and side shifting the mold mounting system and for repeatable mold offset.
Fred Bryan, vice president of sales, Power Curbers: Our newest machine, the Power Curber 7700 multipurpose slipform nachine, was designed with a movable operator's station. The 7700 is ideal for center pour paving and offset paving, barrier walls, ditch liners and more. Its diverse applications might require the machine to operate in different orientations, so having a movable console ensures the operator is always positioned in the correct direction. This feature maximizes operator visibility and efficiency while running the machine and reduces fatigue.
Kyle Neisen, product manager - Pavers and MTVs, Roadtec: Our rubber track pavers use an electronic joystick, which promotes operator comfort and ergonomics. Operators can use the joystick with their hands resting at their sides. The joystick does a very good job of holding a straight line. Operators can have confidence in letting go of the joystick when traveling straight and using their right hand for other machine controls.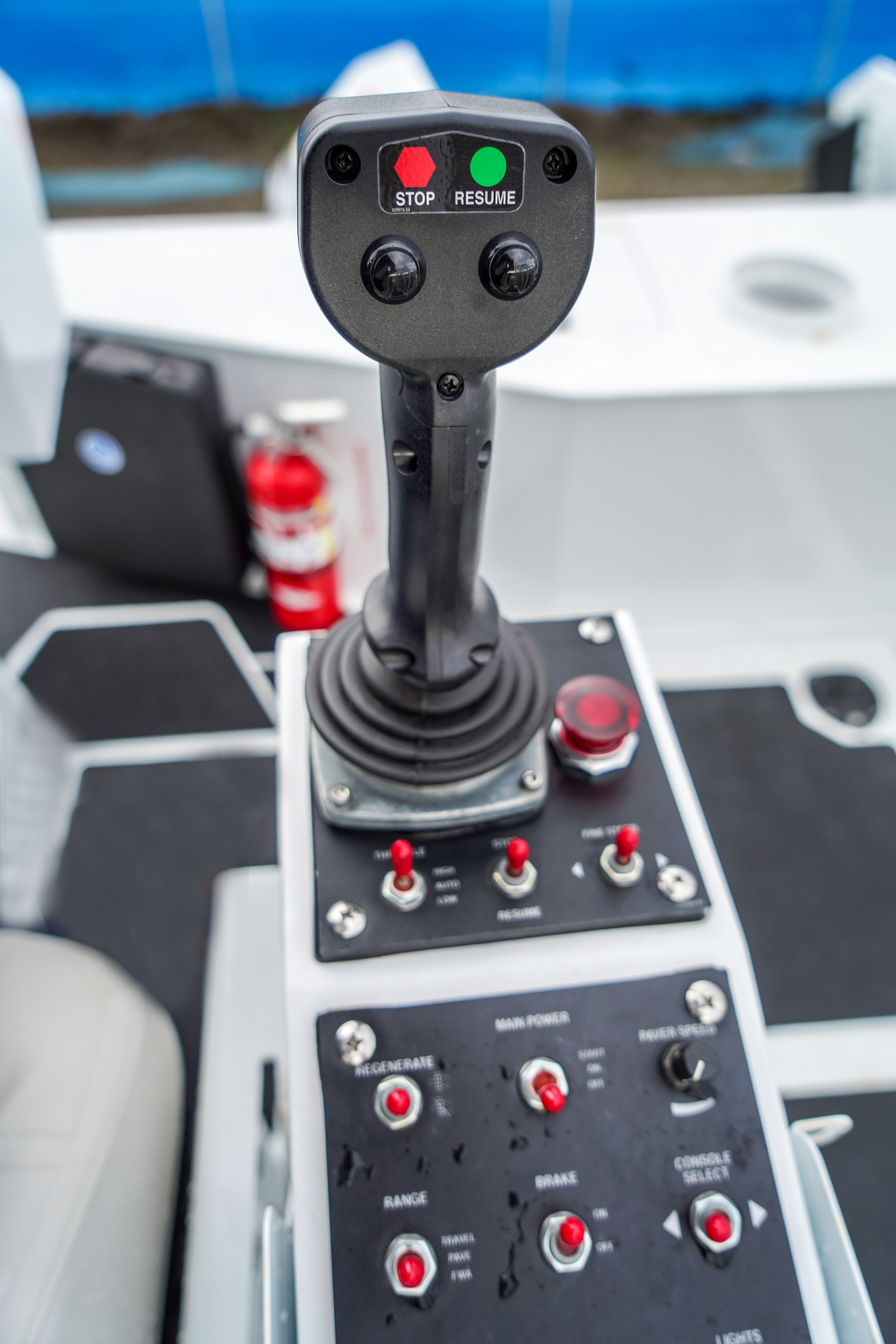 Roadtec rubber track pavers use an electronic joystick, which promotes operator comfort and ergonomics. Operators can use the joystick with their hands resting at their sides. The joystick does a very good job of holding a straight line. Operators can have confidence in letting go of the joystick when traveling straight and using their right hand for other machine controls.
Additionally, Roadtec operator platforms use hydraulic swing-out stations, which improve the operator's sightline. Seats of the dual operator stations move out beyond the sides of the machine, providing increased visibility. Infinitely variable movement allows the operator to be in the best position while paving, but also allows the operator to move when approaching obstacles. Also, operators sit higher than they do on other pavers, which allows them to see more of their surroundings, improving efficiency, productivity and safety.
The machine's controls and display screen are conveniently arranged and move with the seat to allow for safe and convenient operation.
In addition to the increased visibility, operator efficiency and productivity are increased through an airflow system that creates a barrier near the back wall of the hopper. This air curtain pushes fumes and heat up and away from the operator platform, enabling the operator to be more productive.
Bill Laing, paving product manager, Volvo Construction Equipment: Safety, productivity and ease of use are some of the benefits of the operator environment design in the latest generation of our pavers. For instance, a low-profile deck on our B-series asphalt paver — including the P4410B, P7110B and P7170B — provides the operator with 360˚ visibility and an unobstructed view into the hopper and auger tunnel. Operators can run the machine from either side of the paver thanks to the swing console with grouped controls. Plus, when the operator does need to move throughout the machine, the pavers feature wide non-slip walkways, plentiful handrails, a flat deck surface and a glare-resistant hood.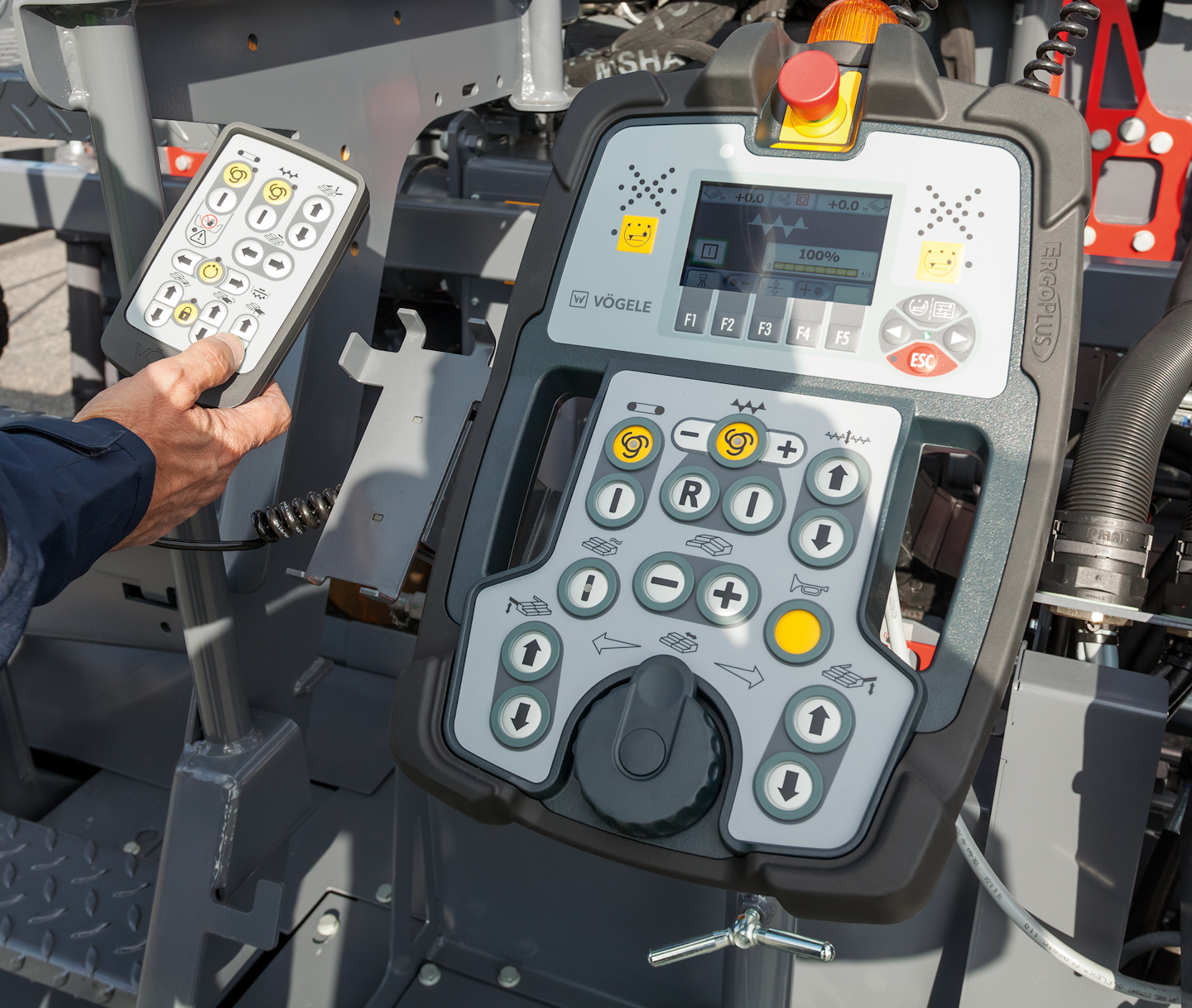 Matt Graves, director of marketing, Wirtgen America: Giving operators luxury heated seats and a glass windbreaker as a standard in North America was necessary. If you ever had to operate a machine at 2 a.m. with a tight deadline then you know.
How could we forget the screed operator on that same 2 a.m. shift who needs to move around the screed and maintain that consistent pile height? We have installed high-power LEDs in the bottom of the screed consoles for better visibility on the walkway. Visibility in the auger box could always be better, and that is why we put the same LEDs on the auger sensor, allowing the screed operator to see the material height in that auger box.
Travis Colwell, marketing and communications coordinator, Carlson Paving Products:
The largest advancement when it comes to controls and the operator environment is that a lot of machines are going to a full CANbus system. This allows the pavers to incorporate a lot more technology into the machine along with the emergence of touchscreen displays. The result of this is a separation from manual operation for things like screed heating and material control. This means contractors have more information and more ability to adjust the platform.
In moving away from manual functions like toggle controls, the operator station is becoming smaller allowing for better visibility, better ergonomics and creating more control at the fingertips of the operator rather than having a full bank of controls in front of them.
Specifically, how are changes in the control systems of today's pavers helping to promote enhanced operating efficiency and productivity?
Anderson: One example is 3D grade control systems, which can take a lot of the responsibility for adjustment away from the operators, allowing them to focus on tasks that ensure continuous paving. This can maximize quality in terms of things you can see, such as matching the virtual design, as well as things you can't see like optimizing smoothness by minimizing paver stops.
We also have ECO mode, which enhances operating efficiency by getting the engine closer to peak torque. Often, operators think ECO mode reduces productivity to save fuel, but the reality is we are just getting the engine speed to where it makes power more efficiently. Some ECO modes can reduce productivity, but with our oversized feeder pumps and auxiliary system pump, we believe we have the ability to work in ECO mode close to 95% of the time.
Klein: With G+ on board, we offer a user-friendly experience that is easy to learn and easy to operate all of our GOMACO equipment.
The exclusive G+ control system features self-diagnostics for grade and steering. It features new and easy to operate hardware with steering and travel dials. The elevation jog buttons, located to the left of the display screen, are used to manually change the elevation of the leg when the control loop is set to manual mode. The steering jog buttons, located above the display screen, are used to manually change the steer direction of the leg when the control loop is in the manual mode.
A flat-panel 6.5-in. anti-glare display screen is provided with sensor-controlled backlight levels for superior visibility in all operating conditions. The screen is rugged and shock resistant in its construction to protect against dust, moisture and rain.
G+ provides a full-color display on the control panel to illustrate the various aspects of the paver for setup and operation. A "run" screen on the control panel illustrates the various aspects of the paver. It includes leg position, paving speed and percentage of drive, steering, travel information, grade information, deviation meters, and more.
Newly designed icons and color graphics make it easy to understand and easy to identify the targeted functions. G+ controls feature a detailed fault history with the time stamp date and information to track when each fault occurred.
Bryan: It has always been our philosophy to make the operator's station simple. We challenge our engineers to develop controls that are easy to learn, simple to use and enable quick transport and setup. Our network controller on the Power Curber 5700-C is formatted so you don't need to hunt through multiple menus to find the screen you need. We use the newest technology available to accomplish our goals simply. The 7700 has sensors and controls for each of the four legs to ensure the tightest specifications. Our Simple Steer Track Positioning System aligns all four crawlers into position with the touch of a button to greatly reduce complexity for the operator.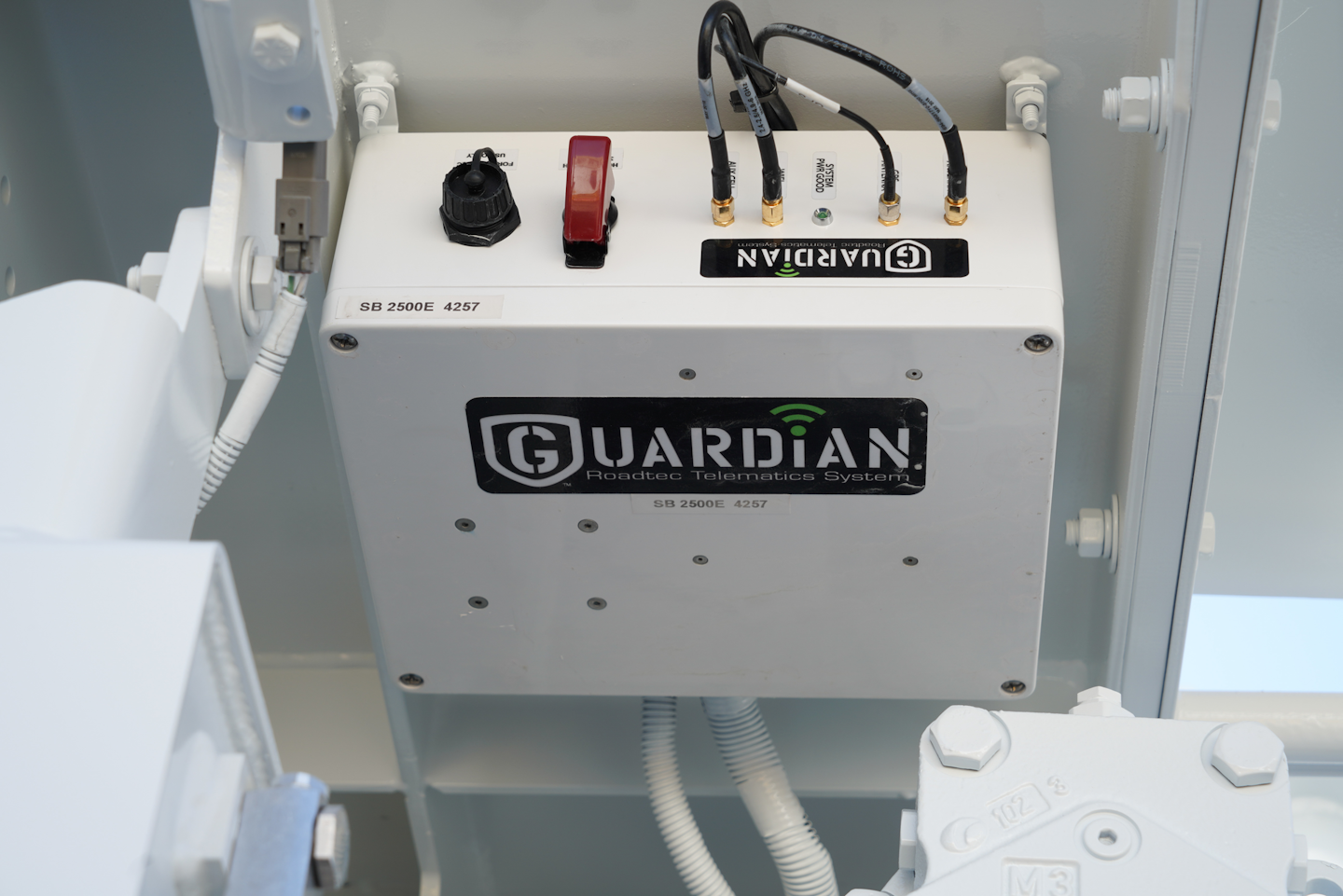 Neisen: Operators have an abundance of data at their fingertips, thanks to Guardian Telematics. Roadtec's Guardian Telematics is the only telematics system that allows live two-way wireless communication. This data enables troubleshooting and diagnostics in real time, increasing efficiency and productivity exponentially. Operators and those at the office or other locations share the same data at the same time. Modifications are made in real time to prevent machine issues and maintain productivity, reduce in-person service calls and downtime and lower overtime and labor costs.
Laing: Seemingly small mistakes by the operator can have an enormous impact on mat quality. That's why so many of the new features help automate paver functions. Speed limiters, grade and slope control, auto vibration and material flow sensors on the screed are all perfect examples of technologies on Volvo asphalt pavers that help automate tasks that could cause mat quality problems, and really help to make paver functions more efficient for the operator.
Another area used to increase efficiency, uptime and productivity is telematics. Traditional telematics systems such as CareTrack can let contractors see where their machine is, how much fuel it's consuming, and get basic fault codes to help diagnose issues before they result in downtime.
One major differentiator... is ActiveCare Direct, a 24/7/365 machine monitoring and reporting service managed directly by Volvo. Right now, ActiveCare Direct is available on other earthmoving equipment, but it will be available on select pavers by the second quarter of 2019. This service allows dealers to shorten the reaction time if there is a problem with the machine. If a fault code comes through, Volvo does the legwork of providing the probable cause and recommended solution, so that the dealer and customer will know about it in near real time and can take action.
Graves: We have added operating range LEDs on all of our sensors, making it faster to set up and reducing the potential for errors. When setting up the sensor over the reference, it is as simple as moving it up or down until you have two LEDs letting you know you are in the correct operation range; there is no need for a tape measure or a yardstick.
When adjusting the material height, you can now control it from the sensor hand remote and the screed console. No longer will you need to look for the screen in the display because when you make the adjustment, it automatically pulls that auger page up in the display.
Lastly, with our two-speed smart wheel, the screed operator has the choice of slow for matching a joint or fast for catching a driveway.
Colwell: Advancements in control systems allow contractors the ability to tailor the machine to the specific operator's preference whereas before it was more of a one size fits all approach. The new systems allow controls right down to steering sensitivity to be dialed in to whatever is most comfortable for that operator.
How have the advancements improved the overall operating experience with these machines? How might they help in attracting, training and retaining paver operators?
Anderson: Our systems can enhance the performance of both experienced and inexperienced personnel by making day to day operation easier and more consistent. Cat pavers are designed to simplify a complex process by providing controls and interfaces that are easy to learn, use and understand. This reduces the need for human interpretation and enhances performance by automating some processes. The result is smoother, more accurate and more consistent pavements.
The control interface has great appeal to future hires that find comfort in video screens. The modern controls make it easier to onboard inexperienced operators when you compare a modern paver and screed control system to a few generations previous, with manual levers and screws. Operators who feel safe and comfortable with the tools they use are typically easier to retain. Even very experienced operators have quickly learned to use the system and have found the additional features and information beneficial in day to day operation.
Klein: The controls are more intuitive than ever, and aid the operator in making decisions on both how to set- up the paver initially, and then operate efficiently when doing the work. Instant feedback on performance of the paver through the controls is provided in easy to understand operating screens, and provides the operator with the knowledge and comfort that he/she has it tuned as best it can be. If not, he/she can see from the information provided on where he/she may need to tune things better.
Features like the Xtreme Radius control make it simple to learn how to pave complex projects, where those operations may have been learned only through experience and trial and error before.
Bryan: Our focus on simple controls and ease of operation ensures that when an operator needs to make an adjustment, it can be done quickly and accurately. Another fundamental design focus on all Power Curbers and Power Pavers machines is the quick transition for transport. At the start of the day or the end of a pour, our machines can get into position quickly and make transitions easier on the operator.
Stringless controls are becoming more popular among contractors and they have a huge impact on operators. One of the benefits of 3D controls is the absence of stringline sensors. Operators no longer need to set up sensors for every pour and monitor that they remain on the line.
Neisen: Advancements in operator stations help equipment operators feel comfortable and safe, which leads to increased confidence. Confident operators are able to focus on the work, and create a better result. When employers and manufacturers make investments that contribute to operator stations that are ergonomic, easy to use and safe, they demonstrate a commitment to their employees.
Laing: Advancements in the Volvo asphalt pavers have improved the operating experience by making the equipment easier to use, safer and more productive, while still focusing on the operator's comfort. Valuing the operator and giving them a comfortable, safe working environment increases the likelihood contractors will retain their experienced operators.
Making these machines more accurate and easier [to operate] with technology features like material flow sensors, auto vibration and grade and slope control expands the potential labor pool and shortens the training cycle for less experienced operators. At the same time, these machines are automating certain parts of the job, which also makes the lives of experienced operators easier and could lead to improved retention.
Graves: We have simplified operation for operators who have been paving for years, making their life more conformable. In addition, we created a control system that the younger generation has access to from birth — push buttons and joysticks.  
Colwell: Finding controls that achieve a balance between the old and familiar and the new and improved will help keep existing crew members happy along with attracting the younger generation and a lot of manufacturers are doing that well.
You have controls that are very easily accessible to those operators that are a little older or not as proficient in technology and they don't feel shunned from the technology, they still feel comfortable with it and the technology is approachable. And then you have younger operators who will be attracted to these newer platforms because they know they can do more with it and will be able to get the most out of that technology and that will pay dividends in productivity on the jobsite.
With the upgraded systems, you are bringing more of the highway class style controls down to the commercial class. If you are running a bigger group of pavers with large and small machines, these upgrades are going to improve efficiencies for operators because controls are becoming more in line with each other so operators are familiar with upgraded controls across all systems.