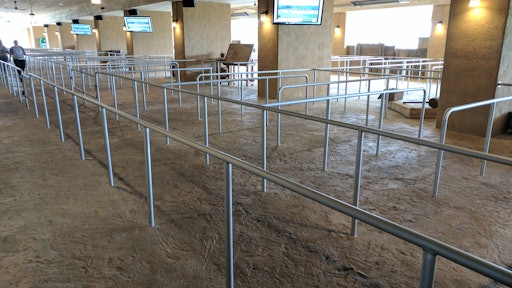 Answers in Genesis
Working on the Ark Encounter, a one-of-a-kind historical Bible themed attraction of Noah's Ark located in Williamstown, Ky., was not only one of the larger stamping projects Paul Schneider has worked on, but also one of the more interesting and challenging projects.
Owned and operated by a subsidiary of Answers in Genesis, the $100 million theme park's centerpiece is the largest timber-frame building in the world, requiring 3.3 million board feet to construct the structure not including the exhibits inside. The 510-foot-long Ark (standing approximately 80-feet high) and a zoo were built during the first stage of development. Future development will include a Walled City, the Tower of Babel, a first-century Middle Eastern village, a journey in history from Abraham to the parting of the Red Sea, a walk-through aviary, and other attractions. The actual Ark structure was built according to the dimensions given in the Bible's Book of Genesis, spanning 510 feet long, 85 feet wide and 51 feet high.
A pattern of performance
It's not surprising why Schneider, owner of Patterned Concrete of Cincinnati, was chosen to put his stamp on a significant project like the Ark, considering the extensive background and experience he has to offer. He joined Baker Concrete Construction in 1978, working on large pours, and eventually became part of the contractor's Patterned Concrete decorative division in 1988. In 1994, Schneider decided it was time to launch his own decorative concrete business, noting that there was "only one other guy in Cincinnati stamping longer" than he was when he opened his Patterned Concrete franchise (Patterned Concrete Industries produces decorative concrete stamps and license the usage of those stamps.).
"In 1992, I started thinking about being an entrepreneur and subsequently put a plan of action in place that allowed me to start my own business in April of 1994," Schneider says. "I've always done residential and commercial (stamping) work, and now we're seeing more commercial interest and more contractors getting into it because of the interest commercial clients have in decorative concrete."
Today, Schneider's commercial work represents 50-70 percent of what he and the other five members of his crew do. The average commercial project, whether it's an office building entrance or patio terrace, ranges in size from 1,000 to 5,000 square feet. In 1997, Schneider and his crew tested their capabilities when they stamped two casino projects, each requiring 40,000 square feet of finished concrete when the previous largest project in the area had been 10,000 square feet.\
Make it look like mud
Schneider's experience and dedication to quality proved to be key in becoming part of the over 500 skilled craftsmen required to build the Ark.
"I received a call one day from the Creation Museum's (also owned by the Answers in Genesis subsidiary) design director, Patrick Marsh, who said, 'I heard of your reputation for quality work with an emphasis on safety,' and so we met to discuss how I could help produce the entrance area surface they wanted to create underneath the Ark," Schneider notes. "I thought about what the ground underneath the Ark would look like after the flood waters receded, thought about cracked earth or mud, packed up some books with color chips and texture samples for my initial presentation in December of 2016. I knew Patterned Concrete Industries had a seamless mud texture pattern available, so I was confident we could deliver a surface that would complement the overall design elements of the project.
"After the initial meeting, I had to provide samples (225 square-foot, 15-by-15-foot sections) with the required integral color concrete, along with three different antiquing release agents from three different companies," Schneider says. "Also, in these samples, we needed to show how different sealers had different effects on the final colors."
After producing over 1,000 square feet of samples for review and comment, the client decided on an integral "Straw" color produced by Solomon Colors, along with a powder antiquing release by L.M. Scofield to provide mottling to stamp design impressions, and Euclid Chemical Super Diamond Clear 350 sealer, Patterned Concrete of Cincinnati had two months to complete the 30,000 square-foot project before opening day, July 7, 2017.
"A majority of our pours were 30 yards (1,200 square feet), and a majority of our work was in shade underneath the Ark where the queue line or entrance area is located, and that allowed more time to pour, screed and stamp before the concrete set," Schneider states. "The big challenge in completing our work on schedule was having to accommodate other trades working on the project. There were carpenters working above us on the Ark, so we had to pour and stamp in other areas. We would pour and stamp until we had 10,000 square feet completed before we would begin cleaning (with an acid wash) and sealing (with two coats of clear sealer). We would continue pouring and stamping sections where no other work was in progress, and clean/seal after stamped sections cured (generally within three to five days)."
Patterned Concrete of Cincinnati did have to return after the park opening to install a 10-foot wide sidewalk the length of the Ark to accommodate the natural path visitors were using to get from one end of the Ark to the other. As the park was open during this installation, careful consideration for this additional sidewalk was required to minimize disruption to visitors.
Pro
ject challenges
While the size of the project was significant, Patterned Concrete of Cincinnati approached it as if they were executing a typical commercial project, only repeating the process for 28 days. Working in an area where other contractors needed to be presented the most significant challenge in meeting the deadline Patterned Concrete of Cincinnati had to meet.
"We had to leave the project for two weeks while carpenters finished attaching all the exterior boards to the Ark, with each board fastened with screws," Schneider says. "When we got back on the job, we still had to work safely around other crews to complete our work and not interfere with their work."
Before any concrete could be poured in the main part of the project underneath the Ark, the six-inch crushed limestone base had been installed for over a year had to be broken up and regraded due to the heavy foot and equipment traffic it received prior to concrete placement.
With wire mesh in place, work began on pouring the "Straw" colored concrete, which Schneider's crew used a 12-foot wide Wacker Neuson vibrating screed to strike off the mixture. When the concrete started to firm up, Schneider's crew cast the powder antiquing release agent, placed the mats, set the stamp, and moved on to the next section.
"We would work 10-12-hour days (driving 65 miles from Patterned Concrete of Cincinnati's Fairfield, Ohio office) to keep our production on target with the overall project completion date," Schneider states.
Along with the main section of stamped concrete under the Ark, Patterned Concrete of Cincinnati also had to complete areas outside the gift shop where guests exited after touring the three levels of the Ark, as well as several meandering sidewalks to parking lots and other parts of the park.
One unique aspect of the project is that the client did not want any saw cut control joints. Since they were going for a natural mud-looking surface, they decided to let the concrete crack naturally. Again, not a typical project for Schneider and his crew, but one that presented its share of challenges and a high degree of satisfaction when completed. As Schneider put it, "Definitely proud to have worked on a project with so many other skilled craftsmen. Just seeing the quality of work being produced daily by all the craftsmen was incredible."