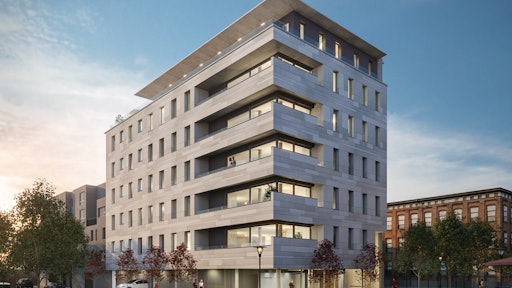 Built on the site of a former two-story candelabra factory, Candela Lofts is the first luxury, multi-family building in the New York Metropolitan area built to international Passive House standards. 
Passive House is the world's leading standard in energy efficient construction. Measures taken in the lofts to achieve Passive House (and LEED Platinum) status include low-water consumption fixtures, a "green roof," triple-glazed windows, and use of recycled and locally sourced materials. Each unit also receives filtered fresh air through dedicated ventilation units that recover heat from exchanged air. 
The 30,000 sq. ft., seven-story structure offers nine two-, three- and four-bedroom luxury loft residences from 1,545 to 3,400 sq. ft. The units feature high ceilings, cantilevered balconies, open floor plans, oversized windows, state-of-the-art kitchens and master suites with walk-in closets. Some enjoy panoramic views of the Manhattan skyline. 
Passive House Measures Critical at the Envelope 
The building's exterior wall is part of its reinforced concrete structure. Facade clips, made of fiberglass to minimize thermal bridging, secure the exterior cladding and, in turn, 9.5-in.-thick mineral wool insulation. 
The sealed concrete exterior wall, insulation layer and exterior cladding form a cementitious barrier to rainwater/moisture penetration. The wall sections also have a vapor barrier, which structural engineer Richard Christie of Christie Engineering says "helps avoid condensation inside."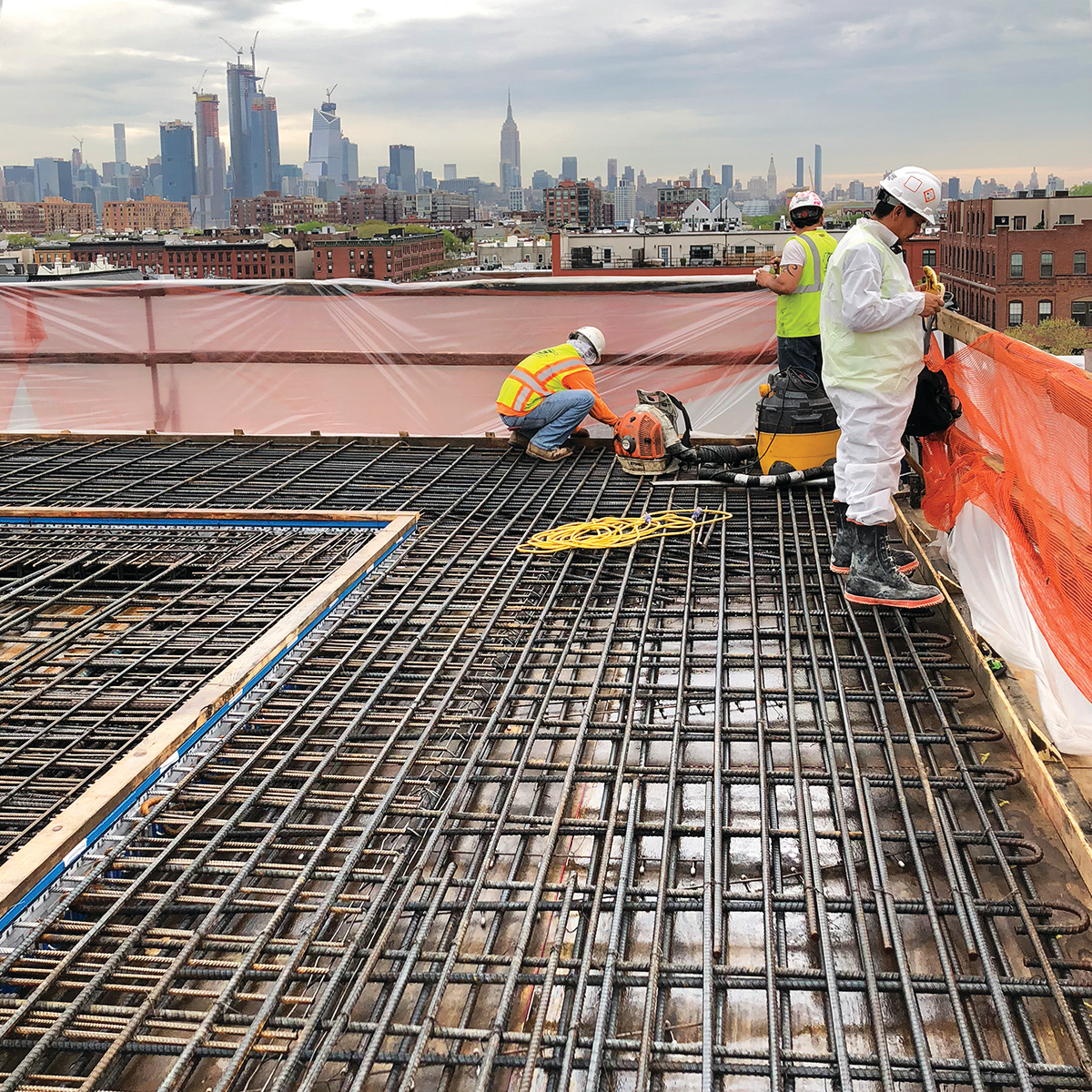 Structural thermal breaks played a key role in the Passive House strategy, preventing thermal bridging at the balconies, the awning roof, and a slab edge that abuts a neighboring building. 
"The only way we could meet Passive House standards in these areas was by designing in structural thermal breaks," adds John Nastasi, project architect and principal at Hoboken-based Nastasi Architects. 
Interior Concrete Insulated from Exterior Penetrations 
Nastasi wanted the concrete to extend from the inside of each residence onto each balcony. "We didn't want to build balconies from a secondary structure and then clip them onto the building, because they could seem like fire escapes," he explains. "We wanted the concrete to seamlessly transition onto the terraces. The only way to achieve this design and meet the Passive House standard was to thermally isolate the balconies with structural thermal breaks." 
Thermal breaks prevent thermal bridging that occurs where cantilevered structures such as balconies penetrate a building's insulated envelope. Drawing heat through the envelope from heated interior concrete or structural steel, the thermal bridge dissipates that heat into the exterior environment. Adjacent interior surfaces chilled by the penetration can form condensation and support mold growth. 
Candela Lofts installed 350 linear ft. of two structural thermal break types: Schöck Isokorb Type CM for the concrete balconies and roof awning structure and Isokorb Type CSE along the slab edge opposite the neighboring building.   
The thermal breaks consist of a graphite-enhanced expanded polystyrene module with stainless steel rebar running through the insulation for tension and shear resistance. The bars tie into the rebar of the interior floor slab and the exterior balcony slab prior to pouring the concrete. 
According to Schöck, structural thermal breaks reduce heat loss at balcony penetrations by up to 90% and up to 14% for a building overall. 
Thermal Breaks Insulate Inaccessible Wall
One side of the Candela building abuts a neighboring structure for 20 ft., which raised a challenge for the Passive House designers. 
"The thermal breaks for slab edges really came into play for us at this party wall where we had a structural separation with the neighboring building," explains Ed May, principal at BLDGTYP  and instructor at the North American Passive House Network. "We wrestled with how to provide thermal insulation at that wall, as we couldn't access the back side of it; there wasn't enough space between the buildings. The exposed slab edge otherwise would create a thermal bridge along the continuous insulation of the building envelope."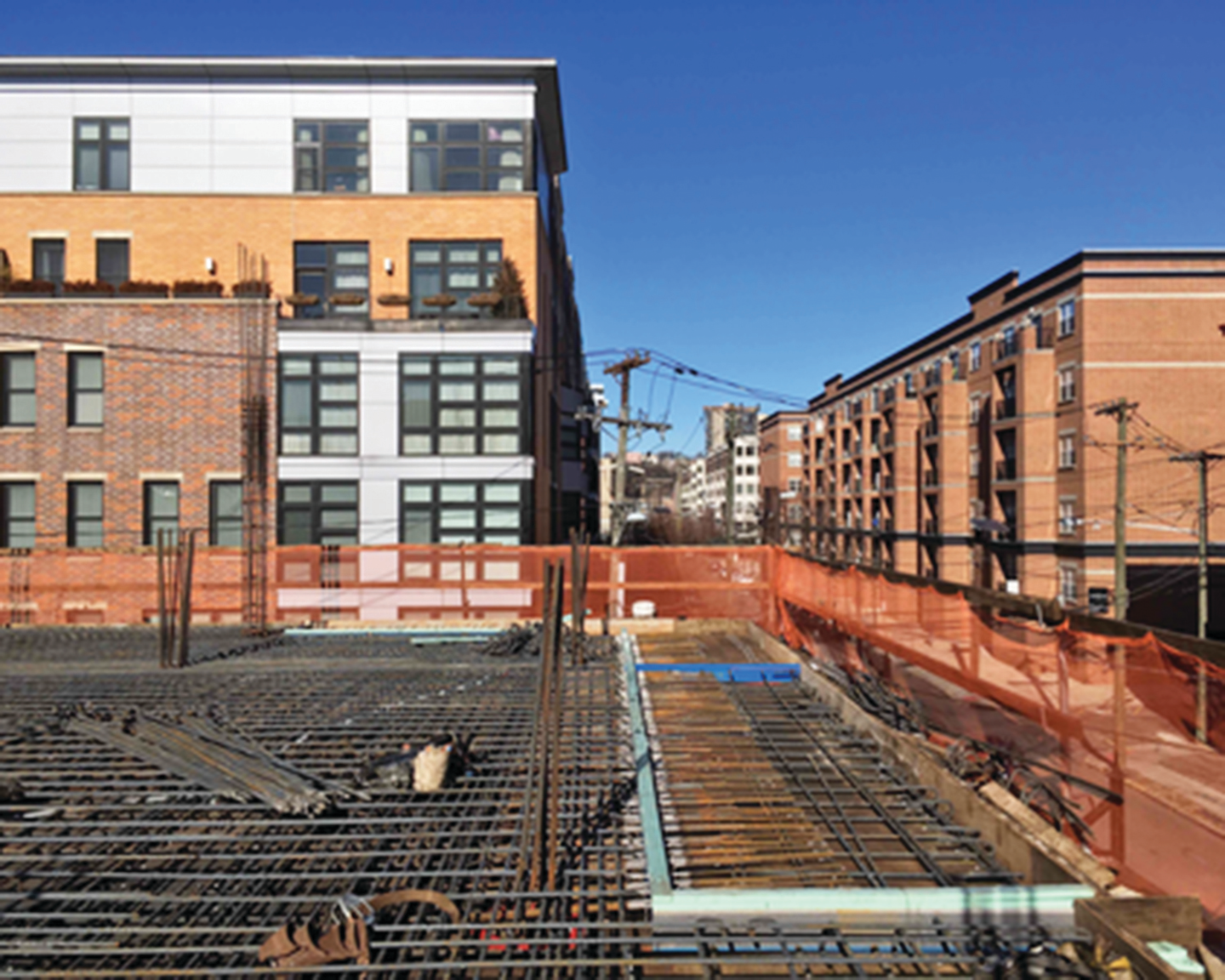 Type CSE structural thermal breaks, a one-sided, slab edge thermal insulator with stainless steel rebar, was selected to tie into the floor slab rebar. The module insulates the interior floor slab from the exposed slab edge while transferring the loads imposed on the exposed slab edge back to the interior floor slab. 
"These thermal breaks were laid in, the concrete was poured, and 8 in. of reinforced concrete now protrudes like a mini-balcony," May says. "This allowed us to build our fire-rated separation wall from the inside but still get thermal separation at that narrow space between the buildings. It solved one of the critical head-scratchers we faced at the outset." 
Energy Consumption
May's energy modeling projects that the building's energy consumption (including heating, cooling and electrical loads) to reach only 19.5 kBtu/ft2 per year. That compares to the average multi-family energy use intensity in the area for an existing building at 125 kBtu/ft2 ("New York City's Energy and Water Use 2014 and 2015 Report," October 2017). 
May also reports Candela Lofts to have:
Annual heat demand of less than 4.75 kBtu/ft2/year;
Annual sensible cooling demand of less than 4.75 kBtu/ft2/year;
Whole-building airtightness of fewer than 0.6 air-changes-per-hour (ACH@50Pa); and
A 20,000 kWh/year gain from the solar-thermal domestic hot water system.  
Passive House Takes Hold
Structural engineer Christie sees thermal breaks as vital for the future of Passive House in New Jersey. "In the past, we were less concerned about insulation and its ramifications and left it with the architects. But with LEED and Passive House, we're moving deeper into insulation and its value to designers and owners," he says. "Thermal breaks are an integral part of that and are proving to be a great tool for us. They will almost certainly become part of the building codes here in the future."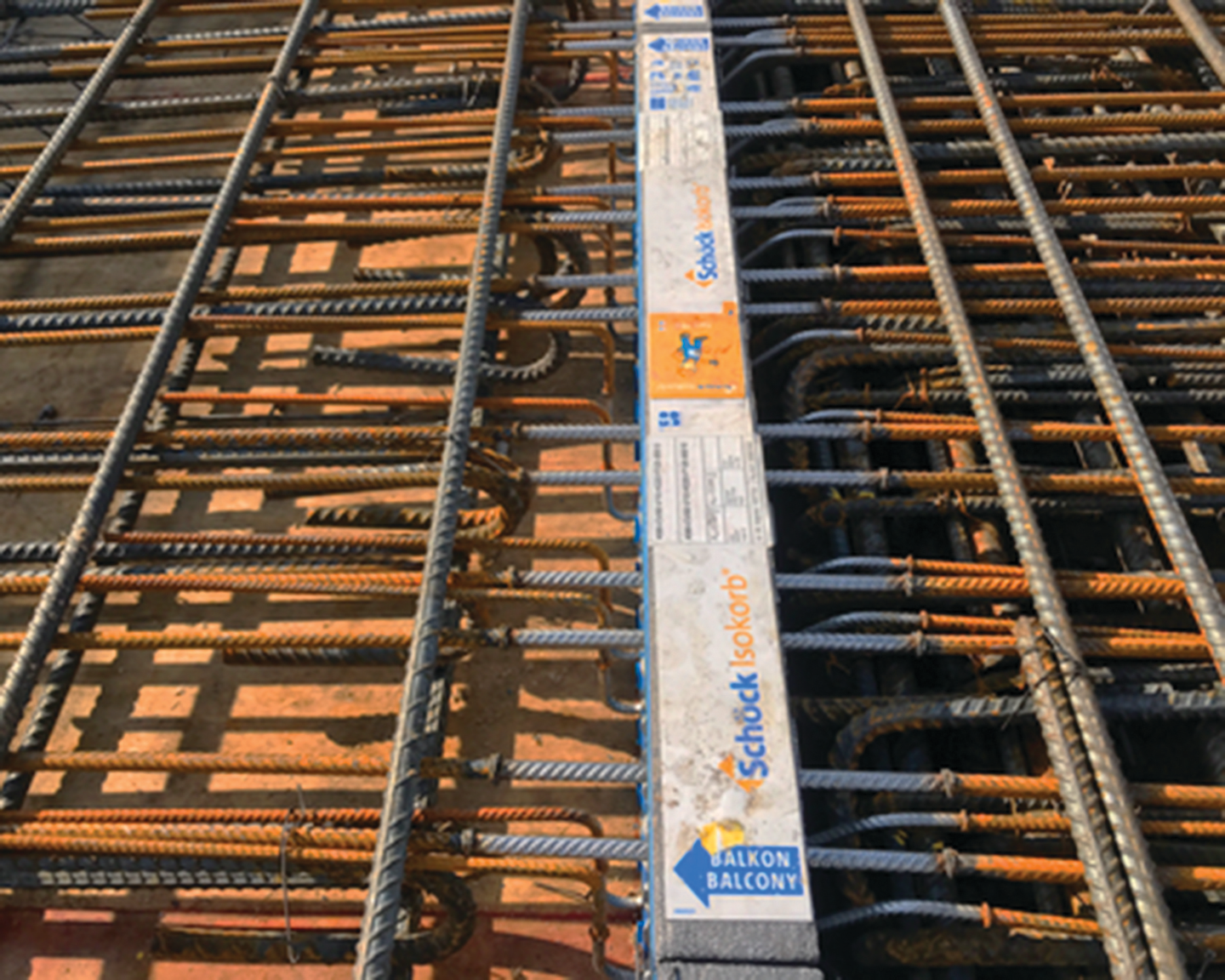 Nastasi Architects Project Manager Juan Rodriguez agrees, seeing structural thermal breaks playing a vital role in Passive House application. "I can't imagine being able to provide the look we were going for without these isolators. To have exposed concrete in a Passive House building—on the outside of the building—I don't know how else you could do that," he adds.