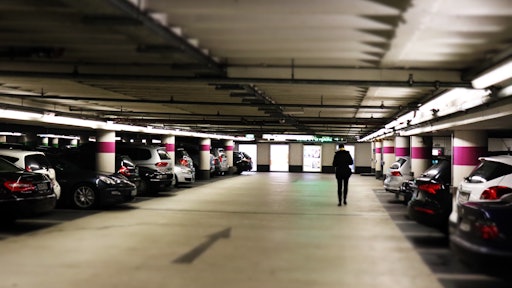 "Concrete is hell of an industry to be a part of," Dylan Milis of Milis Flatwork says. "No matter what it is, the first thing anybody sees when they pull into an establishment is their parking lot. I always say 'never judge a book by its cover,' but first impressions are everything."
At the National Ready-Mix conference in July, Milis was invited to speak on how concrete is a viable option to parking lot paving.
In his keynote speech, he touched on how using concrete for parking lots, overlays and new construction blocks is an efficient and cost-effective option.
"Nobody down there [the southern United States] is really using concrete for parking lots," Millis says. "There's an entire Northern Market that somebody should grab and start doing it."
Currently, only 8% of surface parking lots are paved with concrete. Typically, contractors choose to pave parking lots with asphalt because of quicker installation times and lower costs. However, asphalt requires significant maintenance. Given the low number of concrete lots, that means more than 6,000 square miles of surface parking lots will need to be resurfaced within the upcoming year.
"The reason that the number is so small is because of the lack of people that want to do it," Milis says. "There's a lot of concrete work out there right now with commercial buildings, foundations, sidewalks and other residential areas. There's a lot of work that people haven't really had a chance to explore because they're busy all the time. Why even look at other markets?"
Concrete Lots Reap Benefits
Parking lots paved with concrete could be a game changer within the industry, though. Milis explains that asphalt can be competitive because of its low price point, making it seem worthwhile to replace them every 10-15 years.
Meanwhile, concrete requires less maintenance – only needing joint sealing and an annual cleaning each year. In addition, it is better suited for warmer climates, which the South could potentially benefit from. Milis explains that asphalt tends to soften in extreme heat or the pavement can become too hot to touch. In addition, the material cancan lower cooling costs for adjacent buildings as it can stay upwards of 10 degrees cooler than asphalt. Concrete is also able to remain cool and less likely to crack in warmer weathers.
"Concrete is the way to go, I wouldn't try to sell something if I thought it was a less superior product," Milis says. "Concrete is such a viable option, though, because it requires virtually no maintenance. You don't have to seal coat it or restripe it all of the time. Once you pour concrete, it's going to be there for 40 years."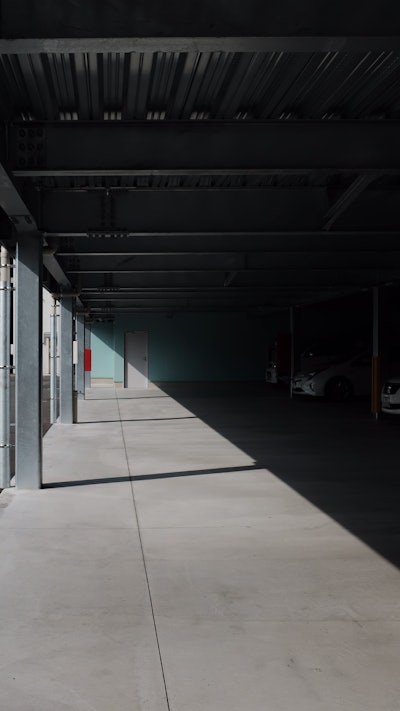 Concrete also gives off a more polished look, reflecting light better. This allows companies to put less lighting as concrete parking lots stay bright at night. Businesses are able to eliminate three of 10 light fixtures in their lots and still have the same amount of lighting as opposed to using asphalt, potentially saving money and energy consumption. In addition, concrete has more design options and can structurally hold itself.
"It [concrete] is self-supporting, whereas asphalt relies on the base. If the base is wet, saturated or done poorly, it's going to deteriorate faster," Milis explains. "Concrete can support its own strength – and create its own strength. It's more heavy duty and it lasts longer."
There are also challenges that asphalt has that concrete does not, Milis says.
For example, drainage, weather and soft subsoil can all play negative roles when it comes to an asphalt project. Drainage can weaken a lot's substructure while soft subsoil can quickly lead to cracks or potholes that will need to be filled earlier than planned. Meanwhile, unpredicted weather can have a drastic impact on an asphalt lay, potentially wrecking a stabilized base and creating significant delays.
"From my experience with doing parking lots, people just assume that concrete is going to be expensive. Most people know that concrete is better than asphalt, but the reason why they don't consider it is because they have this idea that it's super expensive," Milis says. "We've been able to get that price gap a lot closer."
Specs can also be misconstrued by engineers as well, leading people to choose asphalt over concrete because of high prices. Milis explains that oftentimes when a business owner is proposed with concrete and asphalt options for a parking lot the spec plan outlines a heavy-duty pavement project, such as a highway, for concrete compared to a simple designed asphalt lot.
Open the Lines of Communication
"It's hard to compare apples to apples when really comparing a heavy-duty pavement to a light duty parking lot. Sometimes engineers don't have the project plans backed appropriately. They've been copying and pasting the same concrete detail for the last 50 years," Milis says.
It is important to have the discussion on which material to use as it is the face of the business, Milis explains. Concrete and asphalt are cost competitive, and most business owners are unaware of that. Just general information regarding the two products can make a difference.
"You have to let the owner know that it's cost competitive and that you're getting a better product [with concrete] that lasts longer," Milis says. "In the long run, it's going to cost less money to maintain. Initial costs are going to be higher with concrete, but when you take it into consideration, you're more or less coming in at the same -or close to the same- price."
When comparing the costs of installation and at least two decades worth of maintenance costs for asphalt lots, concrete is considerably less expensive. Overall, asphalt preservation can take up 80% of construction costs, while costs for concrete upkeep is nearly zero. Only some joint sealing and annual cleaning is needed.
"Without having the opportunity to talk about it, the owner of the property or the tenant is just going to walk away with the mindset that concrete is twice as expensive. For just 15% more, you're going to have a product that's going to last twice as long and no maintenance. That is why the discussion is so important," Milis explains.