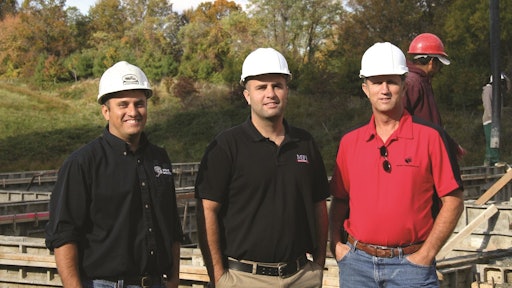 For many, it's the American Dream; starting a family-owned business and successfully bringing children into the company as it grows. That's just what the Neale family has done in Maryland. Bruce Neale joined his father's construction company in the 1970s, and in 1981, started his own firm, Modern Foundations, in Woodbine, Maryland. Since then, his two sons have joined him and now run two subsidiaries.
"Bruce's company has grown over the last decade or so as he has looked to engage his two sons in business, but in a way they can each learn on their own, and experience business interests that are part of the greater whole but also individual successes. This has created a company originally focused solely in cast-in-place concrete and now involving ready mix concrete, as well as 'stone shooting,'" says Jim Baty, Concrete Foundations Association (CFA) executive director.
Modern Foundations serves the Washington, D.C./Baltimore area with concrete foundation, cast-in-place retaining walls and flatwork, as well as demolition, excavation, waterproofing and decorative pre-cast wall work.
Successful Start
Neale's father ran a general contracting business, building residential homes and doing some commercial work.
"I grew up in the building trade and we got into doing cast-in-place foundations as part of his business," Neale says.
In the late 1970s, he and his father bought their first set of concrete forms.
"He said, 'Son, you need to pay for these things and figure out how to work them.' So I had to figure out how to do concrete foundations and that was my start," he says. "It was a like a kickstart. We did that for a couple of years. Then I got rambunctious and said, 'I think I need to be out on my own.' In 1981, I bought him out of the foundation business, and I went on doing foundations from then on, on my own."
Modern Foundation was formed, completing residential construction projects in the Virginia and Maryland regions, and eventually in the Baltimore area.
"One of the things that I found difficult in starting a foundation business was, people were so used to block foundations back then, they weren't getting things done correctly or fast enough for us and they kept holding us up," he says.
That's when Neale's company moved into the excavation business.
"I started digging my own basements and that helped us in our production," he says. "We didn't have as much lost time because of that. We started buying loaders and we started doing backfills and grading around the houses. And we had more control of [projects]."
Staying Ahead of the Competition
At that point, Neale decided that if he was doing backfills and grading, he might as well start doing the flatwork, pouring housing slabs and garage slabs. Soon after, he added waterproofing, so they didn't have to wait for other crews to complete that job.
"We told the builders; we'll give you everything up to the wood deck. You take it from wood," he says.
Neale says adding those jobs gave them a better workflow and more control over the finished product.
"That worked for many years with small individual builders and the big production builders finally took note of that and they decided they liked it, too, because it threw all the liability back on me," he says. "They love that, you know, so we were happy to take all that liability because we have better control of it."
In 1997, Neale started a new side business, Stone Shooters, with his oldest son, Jason Neale.
"We were putting stone in the basements the old conventional way, where you dump a pile of it out in front of the building, and then you'd scoop it up with a skid steer and throw it in the basement," Neale says. "There's a lot of labor work in it to spread it around."
Through the CFA, Neale met contractors in Ohio who were using stone shooter trucks for that job.
"When I took a ride with one of the drivers out to the job site, I saw a couple of older fellows smiling and waiting for the stone to come," he says. "When the stone got there, they were all happy. I thought, 'Well, if these guys are happy to see the stone, there's something to it.' They just stood there and watched them spray the stone out and spread it out for them. I said, 'This makes sense.' You know, labor doesn't have to work as hard. I started buying stone shooter trucks and my son ran that business."
Demand for that business quickly grew, and Stone Shooters added a large telebelt and concrete pump for jobs.
"It turned out to be a real good business," Neale says. "He's growing in one direction doing both commercial, residential some industrial work with that."
Multiple Trades Under One Roof
Modern Foundations moved into a new building and decided to supply some of its own concrete. In 2002, the family started MFI Concrete, which produces ready mix concrete. Michael Neale, Bruce's younger son, runs that business.
"All three of these companies, they service our company," Neale says. "But we tried to make it as though we're only a small share of their business. We're probably 35% of the ready-mix business and only about 15% of the stone shooting business is Modern Foundations work."
When Modern Foundations first started, communicating with businesses, employees and customers required phone calls, which could be very time consuming.
"The job was organizing a lot of different people," Neale says. "Now, communication is instant. When we started, it wasn't. It was the old phone calls and wait for to leave a voicemail for somebody and they'll get back to you in two or three days. A lot of contractors were busy doing their thing and not necessarily communicating to customers well."
When Modern Foundations folded more services under its umbrella, it alleviated the need for some of that communication.
"When we got all of these aspects together, many people loved it because it made their job so much easier," Neale says. "Even a production builder, the superintendent that's working for the production builder, he loves the fact that he's got one call to get four trades worth of work done. For him, that makes his job so much easier."
Another differentiator was investing in heavy equipment, something his competitors were hesitant to do.
"Not many wall contractors were willing to invest or wanted to get into the heavy equipment side, the loaders and things of that nature, he says. "That made us so unique in the industry that we could almost get a job and we could get jobs even though we were more expensive because we saved them so much time and money and aggravation by being one company doing all of these phases. The service was so good for so many of them, they were willing to pay more money to get that service. That was very unique to us."
Surviving Recessions through Diversification
The various businesses completing different tasks has help the family business weather recessions and economic downturns.
"We've been through all the different recessions and things and had our ups and down, but we kept growing and diversifying," Neale says.
At a certain point, diversification also helped the company stay ahead of the competition.
"In the beginning, the foundation business, it was a real good business. When we first started it, there were a few companies involved in it and we could make some pretty good money doing it," he says. "As the competition kept growing and growing and there was some not-so-good competition in it. I said, 'The writing's on the wall.' It was easy for people to get into it."
Neale says he wanted to find a way to set himself apart.
"With my two sons wanting to be in the business, I thought it was not only important for them to take ownership of something, but to find the path that they liked the most and enjoyed," he says. "My oldest son, he liked the trucking aspect of it. So, he and I started that business, Stone Shooters, and that gave him his own path to go and assisted in helping us in our groups. It was a two-fold reason. One, to give him greater opportunity, two, to make us more unique than any other contractor out there."
The 2008 Financial Crisis was particularly hard on the company.
"It's not been an easy street for sure," Neale says. "The great recession that we had was so devastating. When we were doing all of our production work for major national builders, we in, in one year, we lost 65% of our gross revenue."
It became clear then that the company needed to diversify further.
"That almost put us out of business, by being so dedicated to one market, the national builder market," he says. "That showed me that that was a bad plan to continue on with and none of us knew what the future was going to be when we hit that recession. I decided I needed to find things that didn't necessarily depend on the housing market. And that's where the retaining wall business came in."
Newer Businesses
Neale became a licensed producer for Stone Strong and EnviroCast in recent years under the Modern Foundations subsidiary, Modern Precast Systems. The two businesses offer precast concrete solutions.    
"We see a broader market for the precast business," Neale says. "I think it's been a tough road and we've made many mistakes, but we continue to learn and grow and diversify and I think they're all related to our core business. We're not getting outside of what we know. This is what we know, and we think it's a good opportunity for the future. Hopefully we'll continue going and we're well on our way to building a good business in precast foundations and precast concrete walls of all types."
Through Stone Strong, the company has produced the what Neale describes as the tallest gravity walls built in the nation, at 36 feet.
"We keep finding ways to do things a little bit better than in the past and find ways that it helps solve problems," he says. "Our Stone Strong business is growing, and we built a new, another new building to house that and to house a new product for precast foundations."
Now, in addition to the success of these entities, Neale has added a new interest in a precast concrete wall system known as EnviroCast.
"It's a fully-insulated precast concrete foundation that you cast inside a controlled environment and send it out to the job site and set it up and walk away from," he says. "There's a market out there that wants high-energy-efficient homes and this wall system helps to achieve that, insulated basement walls. In my area, more and more people use their basement for either living space, family space, not just storage space, and to make that area more comfortable with less moisture problems."
A Great Joy
Not only has Neale established himself as a successful businessman, working with his sons has been incredibly rewarding.
"Bruce is a true entrepreneur and has not only invested in his company and growth but in his industry and organizational networking through the CFA to constantly be challenged and engaged in resources with peers," CFA's Baty says.
Neale's sons have taken on the businesses with stride and have helped drive profits. It's been a great pleasure to watch them take on their roles and succeed, he says.
"It's a great joy," Neale says. "We're a very close family and we lean on each other for a lot of things, and it's just a tremendous joy to have two boys and see them being able to grow their own businesses and not just depend on Dad, what Dad has done. Yeah, it's a thrill. I really love it."