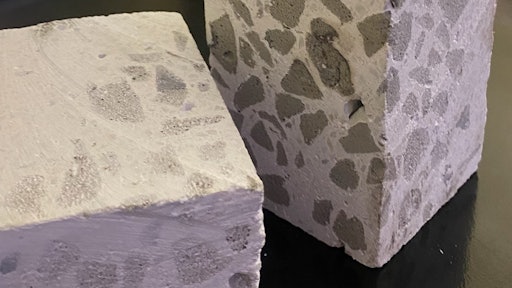 Green Global Concrete Technologies
It's a simple concept with a not so simple answer: reduce the weight of concrete without compromising strength. Let's complicate things one more factor and address environmental issues as well; not just a reduction of carbon in the production process but the trash you put out at the curb.
This story begins as many discoveries do—as an accident in someone's garage.
"This is all an accident," says Bart Rockett, owner of Philadelphia Polished Concrete and Rockett's Glass Overlay. He was originally attempting to further develop his polished concrete overlay system, a flooring which utilizes 100% recycled post-consumer glass chips to create a terrazzo effect. It's reported to be 30% cheaper along with a 20-year long warranty. The system was designed to be highly polished and at $8 less per foot than traditional terrazzo, had the potential to save the polishing contractor a substantial amount of money while producing a high-quality floor.
Rockett started his concrete experience with 25 years of architectural concrete prior to polishing, the "green" recycled glass aspect drew him to the polished concrete industry and then a glass overlay. After these decades of experience, numerous awards on his polished concrete work (in 2016 he won the "Reader's Choice Award" at the World of Concrete and 22 other awards throughout the years—so far), he had his sights on retiring. So much for well-laid plans.
While stopping for gas, Archie Filshill saw Rockett's truck and that he was working with recycled glass. As far as Filshill knew, he was the only one doing anything with the material. Filshill is the CEO and co-founder of AeroAggregates, a manufacturer of ultra-lightweight closed-cell foamed glass aggregates (FGA). The company's kilns also use 100% post-consumer recycled glass much like Rockett's Glass Overlay flooring but to produce a building aggregate that is lightweight, non-combustible, insulating, free-draining, non-absorbent, and resistant to chemicals, rot, and acid. This makes FGA a great alternative option for construction, lightweight embankments, load distribution platforms, and insulating subgrade, as well as lateral load reduction behind retaining walls and structures.
In October 2020, "He approached me and wanted to know what I was doing," says Rockett. "He says, 'If you could get these rocks [his aggregate] in concrete you'll have something special.'"
AeroAggregates have been available in Europe for roughly 30 years, and eight here in the U.S. Marrying the lightweight qualities of a glass-based foam aggregate with cement, according to Rockett, has been a problem without a solution.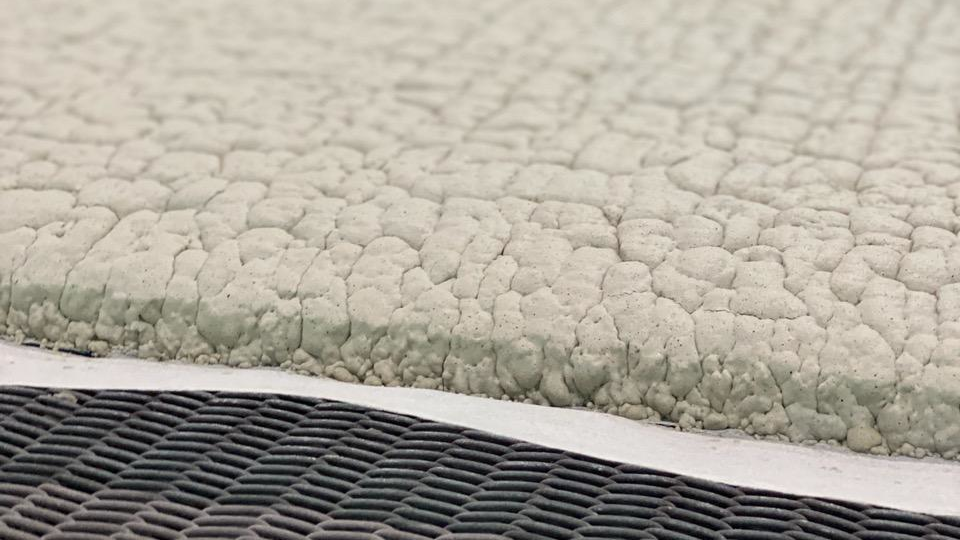 AeroAggregate as it comes out of the kiln.Green Global Concrete Technologies

Meanwhile, Rockett was already utilizing a white csa cement in his flooring to ensure he gets the aesthetic and performance quality he wants in his flooring. Curious to see what would happen, he mixed this cement and the lightweight aggregate. "Once I put the cement in there, [the aggregate] floated right to the top," says Rockett. Not exactly the effect you want to happen if one was trying to mix a batch of concrete. Never the less, his curiosity urged him to continue.
White csa cement was originated by a company named Caltra, located in The Netherlands. One of the distributors Rockett uses is Delta Performance, who specialized in admixtures, coloring, and cement special effects. While typical concrete are gray, explains Shawn Hays, owner and president of Delta Performance, the white quality in the cement allows contractors to color it virtually any color—a unique ability that would lend itself to creative design in the special applications when color is of importance.
"I look forward to working with Joe Ginsberg [a well-known designer out of New York also working with Rockett] to coming up with some things that are pretty darn unique," says Hays.
Another benefit of utilizing a csa is to take advantage of an already reduced carbon footprint. "Basically, csa cement is a rapid setting type cement and an alternative to Portland cement," says Hays. "The csa cement in the manufacturing process is similar to Portland, but it's actually fired at a lower temperature so it's considered to be—or marketed to be a greener cement."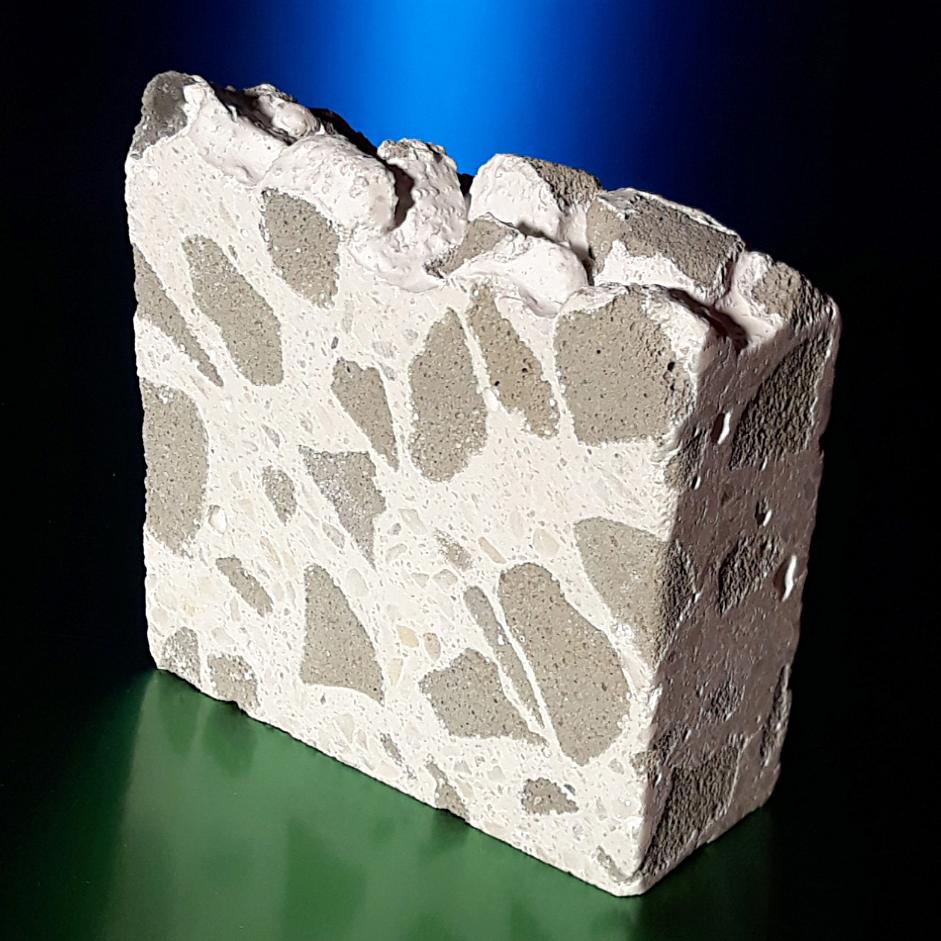 You can see the glass and foam mixed within the concrete in this block of Space Age ConcreteGreen Global Concrete Technologies

Ignition
Through a now patented process, he and a small network of industry experts prototyped a block where the fibers created a gabion effect to hold the aggregate in suspension within the concrete—not floating to the top. "This is the holy grail that all of us in the industry have been trying to find for 30 years," he says.
Dubbed Space Age Concrete, it is being made into precast products. Strengthened by a glass-reinforced rebar which is greatly lighter than its steel counterpart (not to mention reportedly five times stronger), the concrete panel is reportedly 50% lighter than traditional concrete and offers impressive strength data.
"When we were all done mixing our special cocktail, we were at 90 lbs. per cubic ft. vs 150 of regular concrete," explains Rockett. "Not only does the concrete weigh less, but now your whole structure is going to weigh astronomically less. We weren't trying to develop this. It was just luck on a Saturday night sitting in my garage. I had some extra cement and didn't want to waste it. That's how it all began. If I didn't get involved with polished concrete 12 years ago, it would have never evolved into the flooring system which would have never evolved the lightweight cement."
A month later Green Global Concrete Technology Company (GGCT) was formed, a partnership which included several particular partners who saw the potential of Rockett's new precast product.
Test Results 
(Updated test results on Space Age Concrete mix, received on March 8, 2021)

• 1 hour: 1,500 psi

• 24  hours: 6,800 psi

• 30 days: 10,000 psi

Weight: 2,400 lbs. per one yard of Space Age Concrete (regular concrete would weigh about 4,050 lbs. per yard) 

PSI testing took place in January 2021 (new PSI test data received on March 8, 2021). According to Rockett, Space Age Concrete doesn't crack as one would expect in the compressive strength test. Instead, due to the amount of fibers used in the concrete, it had expanded instead of sheared like a traditional concrete.
Take Off
He's created two different versions of Space Age Concrete: an infrastructure mix in standard concrete gray and an architectural mix in white for coloring and design. Plans on "proof of concept" projects are already on the horizon. Initial work includes the building of a three-story demo structure featuring a basement and rooftop, pedestrian footbridges, sound barrier walls, homeless homes/shelters, culverts, and more.
Heading GGCT's design is Joe Ginsberg. Recognized as #39 by Inspiration magazine's Top 100 Designers in the world and Covet House magazine's Best 25 Interior Designers in New York, Ginsberg connected with Rockett for his glass overlay flooring while restoring a lobby.
At current, the plan is to have all future project designs to have Ginsberg's eye at their core. At least initially, he and the team plan to oversee and lead on projects featuring the precast Space Age Concrete product to ensure installation is done correct and to a standard.
Work in using Space Age Concrete has already begun. Looking to break ground by August, Ginsberg is designing a 2,000 sq.-ft. office building: three stories, with a basement and a rooftop. Each floor consists of about 500 sq.-ft. Everything will be done architecturally, every detail will be built out of the GGCT architectural mix, with the Rockett Glass Overlay, and Ginsberg's designs.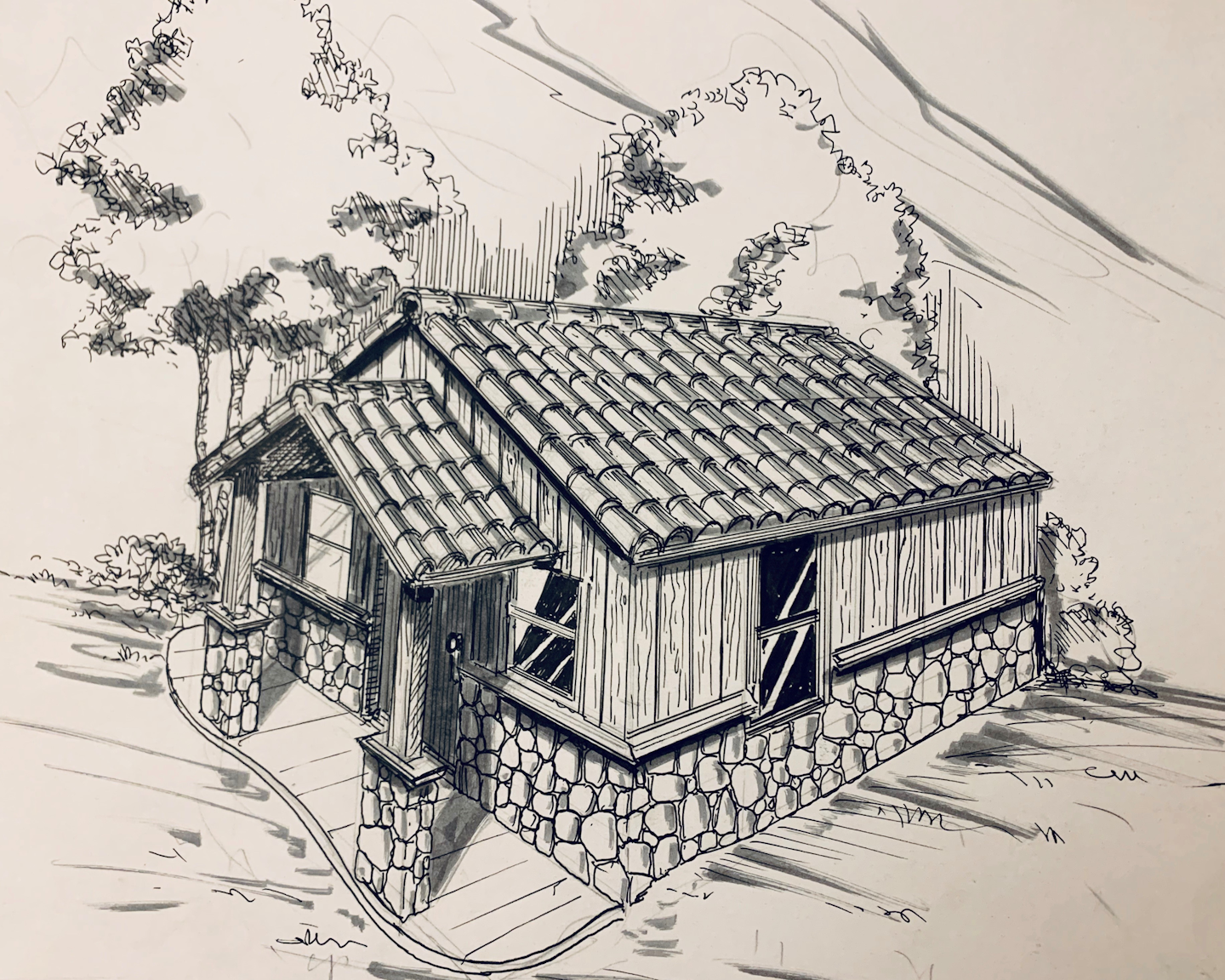 A sketch of a homeless shelter/home built with the lightweight precast concrete panels.Green Global Concrete Technologies

Building Homes
Dave Montoya of ClifRock and Lurncrete is working with GGCT for the design and construction of a quick-build housing project for the homeless. During his 25+ years in the concrete business, he developed a system best described as a "formless wall." In an oversimplified way, one would add a water-reducing admixture to grout allowing the contractor to stand up without a form. The contractor would then be able to build up a 6-ft. wall and then "carve in" decorative designs.
He's also experienced in utilizing fiberglass-reinforced rebar within a panel for his decorative and residential concrete work. Rockett soon approached him to push Space Age Concrete one step further.
With Montoya on board with GGCT, the team quickly found a new direction and use for their lightweight precast panels: shelters and mobile homes for the homeless. Often more traditional shelters are damaged due to criminal activity like stripping out the copper or arson. "When I make it out of concrete," says Montoya, "the thing is, they can't break it. They can't mess with it. They can't hurt it." The panels are mold-resistant, fire-resistant, as well as provide a natural R-value (or insulation) for additional protection from the environment.
Reportedly, a single shelter can be set up in a single day with solar panels installed for electricity. Utilities like wiring and plumping would be integrated within the concrete panels providing protection from damage.
Finally, the mobile structures were designed to be portable and modular which could potentially save municipalities a substantial amount of money vs unsustainable construction. While modular, the current design for a shelter is to have an 8 by 10-ft. (or about an 84 sq.-ft.) footprint. GGCT is in communication with some state and local governments on developing special areas for the buildings. Las Vegas and Louisiana have already shown interest.
Montoya has already worked with the military with another one of his companies, Equip-Core, for some tactical training structures utilizing the same panel-based system. The concrete is durable, strong, and patching holes from live-fire rounds can be handled by hand by a mix of the same concrete. Repaired patches are cured in 15 to 20 minutes.
Taking advantage of the Space Age Concrete potential via its lighter weight and strength, GGCT have their sights on applying the precast concrete to the construction of more than just homes and shelters. Potential products include a lightweight traffic sound barrier wall, steps, as well as a pedestrian bridge. They've created a 4 ft. by 8 ft. mock panel of the sound barrier wall designed to look like a stone wall. Plans are to have five different designs available.
Environmental Impact
At the end of the day, the GGCT team's goal is to empower contractors themselves through a licensing program. In a way, to give it out to the world and to create jobs. "We want people to come on board to buy our licenses," says Rockett. "Our job is to develop this stuff so we can use it right away…we're going to the best guys in the world and we're doing it—now. People who want to start building their factories, who want to get their design teams involved…we want to build green infrastructure, we have the green infrastructure. We now need the people to build the green infrastructure. We're going to develop it, we're going to show them how to build it with our materials and they're going to take it.
"Right now there's a major issue in sinking infrastructure across the country," says Rockett. "Bad spills, stuff that's 50 to 60 years old, sinking, cracking, heavy weights and the way you can achieve buildings that way and saving billions of dollars is with a lightweight material that doesn't need to be overengineered when you have 20,000 cars a day running on it [referring to the potential of Space Age Concrete's use in bridge construction]. I didn't really realize all that until I started with AeroAggregates and listened to all they are doing with all their infrastructure and how light it is. It's really about going forward. To build with it."
There's also a reduction of carbon once you consider the factors in the makeup of Space Age Concrete together. The csa cement has a smaller carbon footprint requiring a lower temperature in the kiln, utilizing a foam and recycled glass aggregate, as well as the fiberglass reinforced rebar—each plays a part in the "green" part of GGCT.
For instance, due to AeroAggregate's lighter weight, a contractor can ship 100 yards of the material at once vs 20 yards on a typical tri-axle truck. Putting this into perspective, a recent project using AeroAggregate for an airport as an aggregate saved the contractor about 6,000 trips.
Second Big Blue
Apart from aiding the restoration of our infrastructure, Rockett has also set out affect sustainability through a recycling initiative. Pulling out recycled glass is a costly challenge for municipalities and recycling centers. His vision, called "Second Big Blue," is to purchase the collected glass from municipalities and townships. The concept comes from providing a clear purpose to recycling—for people to better understand the end-result of their area's recycling efforts. The initiative looks to create a separate large storage bin (a second blue container) for collected glass at the municipality level, not the bin you put at the curb.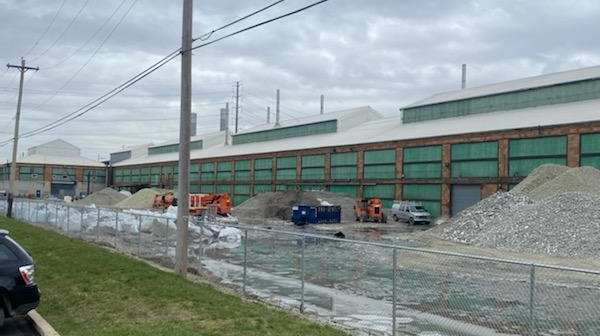 GGCT is setting up at the AeroAggregate's Complex
in Eddy stone, Penn.Green Global Concrete Technologies

"Right now, all the garbage is contaminated," he says. "If we could get that glass separated, that would save consumers millions of dollars in infrastructure for the country because the savings could be passed back to the municipalities. We have a product that takes the glass that you throw in your garbage and you can put into something like a road, a school floor, a bridge, or a rock underneath I-95…at least you know that when you threw something away it's going to a purpose. That's the initiative.
"We can actually start building with green products—recycled material—right now."
At the time of this writing, the development of the Second Big Blue initiative is still on-going.