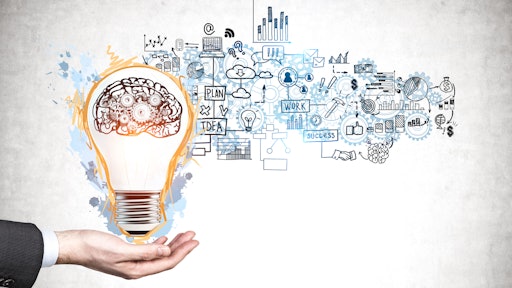 Adobe Stock Images | By denisismagilov
As the backbone of the built environment, concrete is pivotal to the building (and rebuilding) of the U.S. infrastructure and commercial construction. In order for that construction to be built right—and well as on time—the methods these are constructed continue to adapt to new ways, updated codes, and changes in our culture.
As technology continues to advance, the tools and solutions concrete contractors have available to them in modern construction look vastly different than 50, 20, or even 10 years prior.
Here's a snapshot of five of the latest trends in concrete construction for commercial concrete contractors.
Automation and Robotics. The integration of automation and robotics in concrete construction equipment has revolutionized the industry. From integrated BIM to machine solutions to remotely operated robotics that can precisely work with concrete, these tools have the potential to make construction sites safer and more efficient. With increased accuracy and consistency, contractors can ensure that the concrete projects they work on can be done productively, and efficiently, and further the safety of workers in and around.
3D Printing. 3D printing technology is being used to create complex concrete structures in a fraction of the time it would take using traditional methods. This technology has the potential to completely change the way that concrete is poured and cast, making the construction process faster, cheaper, and more precise.
Wearable Technology. The use of wearable technology, such as smartwatches and other personal devices able to sense anything from heat to falling, is slowly growing in the concrete construction industry. These tools can help contractors track the progress of a project in real time, receive notifications about any issues that need attention, and monitor the safety of their workers. Wearable technology can also provide valuable data about the performance of concrete construction equipment, allowing contractors to make informed decisions about maintenance and upgrades.
Drones. Drones have become increasingly common in the concrete construction industry. They are used to inspect and survey construction sites, helping contractors to identify any potential issues before they become a problem. They can also be used to monitor the safety of workers and the amount of material on hand at the site saving time for manual inspection. In addition, drones can capture high-quality images and videos of a construction site, making it easier for contractors to share progress updates with clients.
Green Technology. As awareness of the impact of construction on the environment continues to grow, contractors are looking for ways to make their operations more environmentally friendly. The electrification of the concrete construction site, such as battery-powered concrete saws, battery-powered hammer drills, and heavier machinery like compact-track loaders, excavators, and buggies are becoming more common on construction sites. These tools not only reduce emissions but can also save contractors money on fuel burned while idle.
The concrete construction industry is constantly progressing, and contractors who stay ahead of the curve will be better equipped to handle the challenges of the future. By embracing these five trends, contractors can improve the quality of their work, reduce costs, and ensure the safety of their workers. As the construction industry continues to change, it is essential for contractors to stay informed about the latest technology and equipment so that they can continue to provide the best possible service to their clients.