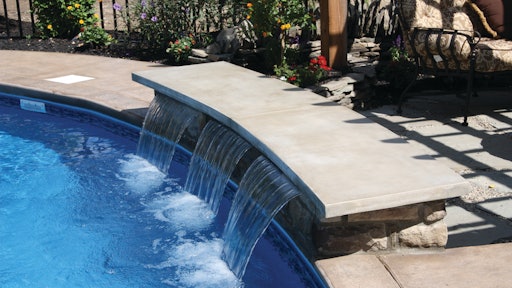 Randy Poland started as a commercial and residential builder. In addition to building, his company always self-performed its concrete work. As the demand for concrete work grew, Poland's business made a transition and became Designers Choice Concrete eight years ago.
Designers Choice, Milford Center, Ohio, offers an array of decorative concrete services including concrete countertops, shower and fireplace surrounds, outdoor patios, and radiant floors, just to name a few. With the majority of Poland's customers being residential owners, he says outdoor patios are his most in-demand service followed by concrete countertops. "I've found that since the economy has gone down a lot of people that have young kids are putting money into their backyards for something they can enjoy every evening and every weekend, at least in our area," Poland says.
Poland and his four-person crew devote 90 percent of their time to decorative concrete and fill the other 10 percent with traditional concrete work in the central Ohio area. Focusing on decorative concrete allows Designers Choice to keep its employees working year round, which can be challenging with the Ohio weather. "We do a lot of work in our shop. We precast concrete countertops, architectural concrete and outdoor kitchens in our shop and then we deliver them to the site," Poland says. "We set them up on the job so the customer doesn't have a mess during the three or four days while we're doing the job."
If possible, Poland tries to reserve concrete countertops for the winter months since all the work is done inside. And it seems Designers Choice's customers are taking advantage of the company's ability to work year round. Poland says the company is currently booked several months out.
Even with 35 years in the construction industry, Poland knew that he needed more experience - and specialized equipment - as the company made the transition into the decorative concrete realm. Knowing the importance of education, he concentrated on training opportunities for himself and his employees including traveling to seminars and classes as well as trade shows. And Designers Choice continues to focus on education to learn about new technologies.
Poland says he's been lucky enough to hire employees with exceptional artistic abilities. His employees are very detailed oriented, which is something Designers Choice prides itself on. "We try to make sure that everything the customer is going to use or see is to his expectations or better - never less," Poland says.
Artistic ability and attention to detail help Designers Choice differentiate itself from the competition. But perhaps the biggest difference is the company's ability to offer a complete design process, Poland says. Before starting a job, Poland meets with the customer to get an idea of what the customer is looking for. Poland then takes the customer step by step through the entire design process, letting the customer know all the possible options for the design, color and materials. He then creates mock-ups.
"Color on a color chart is going to be a lot different than what that actual color is on concrete on a finished product," Poland points out. "You'd be surprised. Once we show them that mock-up a lot of times we need to change things and give the customer all the opportunities to explore all the options out there. The last thing you want six weeks after a job is for a customer to see someone else's work and say 'Wow, I wish I knew that was available.'"
Once final decisions are made, Designers Choice starts the job. Poland believes this complete service is part of the reason the company gets so much repeat business and referrals.
Constantly in the process of learning new technologies and services, Designers Choice is once again in a transitional phase. Poland says the company is fast outgrowing its shop and searching for a larger building to house everything. He hopes to find a new building in 2010. Poland would also like to create a complete showroom in the new building. "A showroom is a must when you get to this level. It's one thing to show pictures; it's another thing to physically look at a product. It's like buying a car," Poland says. He wants Designers Choice's showroom to house countertop displays, flooring options and architectural pieces.
What's to love about decorative concrete?
Poland loves all aspects of decorative concrete, but the creative aspect might just be his favorite. "Decorative concrete turns you loose and lets you do something you can't do with traditional concrete," he says.
Decorative concrete has also connected Poland with customers overseas. Recently, Poland received a call from a soldier serving in Iraq who wanted his "man cave" floor redone for his return home in May. Designers Choice ground, polished and colored the floor to look like flagstone. "You just don't have that happen to you everyday," Poland says.
Companies in this article