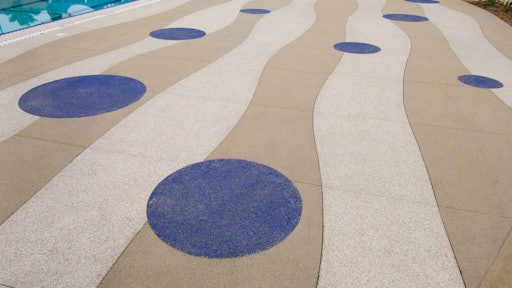 Even for a contractor with years of experience, a concrete staining job can be affected by outside factors. When it comes to staining, the most common problems are lack of penetration, color variation and light coloring. Several factors can contribute to these staining issues, and most can be prevented with a little extra prep work and open lines of communication with the customer and other contractors on the jobsite.
Communication
If you know there are concrete or environmental issues that may affect the stain's final color, discuss them with the customer. Let them know what possible issues could occur, why they could happen and their options for preventing these issues.
Sometimes the stain manufacturer can assist with communication efforts, says Scott Thome, director of product services for L.M. Scofield Company. "The manufacturer can talk to the owner about chemistry and how a product will work on a particular job," he says.
If you're working with a general contractor, or if other subcontractors will be working on or around the floor before it is stained, communication with these contractors is essential. Let them know that tire tracks can show through a finished stained floor. Marking the concrete slab with magic markers or pencils may prevent a stain from penetrating in these areas. Materials such as paint and oil can also prevent penetration or show up after a stain is applied. Subcontractors should also know that if anything is left on the slab during curing, it could create a shadow which the stain won't hide - and may even magnify.
Know the concrete
Before applying stain, survey the jobsite and locate any issues that may exist. The type of concrete affects how a stain takes to it. "Was it a 5,000 psi? Was it a high polished concrete? The tighter the surface of the concrete is, the harder it is for any stains to penetrate and create color," says Buster O'Steen, product specialist and trainer for McKinnon Materials. Certain types of stain may be better suited to tighter concrete. Some water-based colors will have larger pigment grains than others, and in tighter concrete those colors won't penetrate as well, he adds.
The concrete mix also needs to be considered. Fly ash in a mix, for example, can alter the concrete and affect the chemical reaction of acid stain, Thome says.
The condition of the concrete plays a big role. Is the concrete new or old? If it has been in use, what was it used for? Is it a commercial or residential jobsite? Has heavy or light traffic traveled on it? What types of contaminates could have entered the concrete?
Proper cleaning before applying stain can help eliminate problems. Thome suggests using a silicone carbide impregnated nylon brush and water to clean the concrete and then vacuuming it all up. A little non-film forming detergent can also be used to lift grease from the floor, he adds.
If the concrete has already been sealed, or a cure and seal has been applied, it will have to be removed with a grinder before staining. Stain will not penetrate the sealer, so staining over a sealer will diminish the color or result in no color at all. Some strippers might alter the pH of the surface. A mock-up is always a good option when trying something new, Thome says.
Concrete should also be tested for moisture content prior to applying stain. In some cases, too much moisture can result in poor penetration, diminished color or no color. O'Steen suggests using an old rule of thumb for testing moisture. "If I wet my thumb, put it on the concrete, and the concrete changes colors, I can penetrate it because it's drawing moisture in," he says.
Check the pH levels of the concrete. "Your pH should be north of 10.5 on the pH scale," Thome says. "In low pH areas some of the darker acid stain colors may not take as well because the pH level is too low to neutralize the acid, and the darker colors tend to have more acidity than lighter colors," he adds.
Varying pH levels across the concrete can result in color variations when staining. Thome suggests doing a pH test after the initial prep work is completed.
When applying an acid stain to concrete, if it is applied too thick there will be some material that will not touch the concrete. As a result, the stain will not have the required chemical reaction with the concrete and the color will not develop correctly, Thome says.
Environmental factors
Whether staining is being done indoors or outdoors, contractors need to pay close attention to temperature and humidity. High temperatures can cause the moisture in the concrete to rise, O'Steen says. That moisture blocks the penetration of stain. In lower temperatures, the chemical reaction in acid stains slows, making color development difficult and possibly resulting in a different color than anticipated, Thome adds. With water-based stains, low temperature applications can prevent the water from drying and the stain from curing correctly. "A lot of stains and dyes penetrate better when the temperature is warm," O'Steen says.
Humidity affects the drying time of a stain. If stains dry too quickly - as they might in low humidity - it won't have time to penetrate the surface and the color won't develop, Thome points out. High humidity will cause the stains to dry much slower. High winds can also quicken drying time. Thome suggests dampening the concrete prior to staining to help prevent the stain from drying too quickly.
Prevention
Prevent staining problems by properly cleaning the concrete. Sand or grind the surface if necessary.
Applying a cementitious topping over the existing concrete is another option. The topping creates a clean, new surface, hopefully free of the imperfections of the original concrete. The color of the topping can also be altered to affect the final color of the stain.
"With stains, it's normally not an all or nothing deal," O'Steen points out. Rather than the whole slab causing stain problems, he says it usually happens in a few trouble areas.
If prep work didn't resolve the issues, contractors have a few options once stains are applied. The surface can be ground and color can be reapplied - which is often the best solution for acid stains. A contractor may want to consider using a color system that is not dependent on a chemical reaction, like water-borne stain or dye, to recolor an area where acid stain did not take properly, Thome says. Remember, a ground surface will stain differently than the original concrete surface, and some aggregate may be exposed after grinding.
Whichever option a contractor chooses, Thome says to place a mock-up of the repair on the job and obtain the owner's approval.When your staining project is complete, make sure the color is what the customer wanted and resolve any issues before applying sealer over the entire surface.
Companies in this article