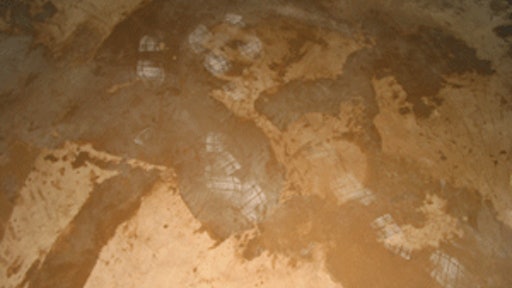 In today's rough economic times, making a lasting impression with your client could mean the difference between future work and being left out in the cold. With the decorative concrete market being so highly competitive these days, it is up to you to leave your customer feeling satisfied and confident that his or her new floor or countertop investment will bring years of satisfaction.
Often, contractors leave a project on a sour note with issues that can range from the wrong color, excessive trowel lines or even those few tiny bubbles in the sealer that are left behind forever. Trying to explain to a customer "this is as good as these types of products get" simply won't cut it. I guarantee you this type of attitude will leave you scrambling for future work, especially since one unsatisfied customer will blossom into dozens after that customers tells everyone about his or her dissatisfaction.
When we started our decorative business we set out to satisfy 100 percent of our customers 100 percent of the time. That's not to say we didn't have our share of picky customers who we believed had nothing better to do than nitpick every aspect of the project. Despite their anal ways, we went out of our way to please the customer! Two stories come to mind on projects where we left such a good impression upon completion we had at least 10 referrals that turned into signed contracts.
The first was a couple in Atlanta that called for a quote on a 600-square-foot basement. Lee Ann mentioned this couple was desperate to have their basement floors done and that they had thrown the original contractor off the job for a variety of reasons. I remember mentioning to her that we were simply too busy and we needed to call them back and graciously decline. After Lee Ann made that phone call, the couple was still adamant to speak with me. We came to find out the urgency of the project was due to the fact that the client's wife was just weeks away from delivering their first baby. The renovation of the basement was for the mother-in-law's impending move-in so she could help with the new addition.
After listening to their story (and feeling bad for them), I felt compelled to at least go look at the project but still with no intention of doing the work. When we visited this project, this supposed new decorative stained floor was an absolute nightmare! In fact, I was so mad at the quality of this floor I actually called the contractor and gave him my two cents worth. Without getting into the particulars, the entire new floor needed to be scraped off and started from scratch. Yup, you guessed it, we were now involved in a big way.
Once the overlayment was removed I was amazed to see the previous contractor had applied it directly over vinyl tile in some areas, and in other areas he let his overlayment ooze into gapping cracks. The previous contractor had done no surface prep. Thank goodness for us because as a result, the floor scraped off easily. Sorry ? I got a little side tracked on what this story is supposed to be about. Still, six years later, I get mad thinking about the work that contractor left them.
The bottom line is we re-worked this couple's floor with beautiful results. They wrote us a letter of recommendation and referred us to many of their friends and coworkers resulting in additional work. On a side note: It was a beautiful baby girl who we understand loved her grandma's new stained floors!
The second story was a project we were involved with for a retired president of UPS. Our client's home was 45,000 square feet, including one wing where he reconstructed a complete Old West town scene. Our scope of work consisted of recreating what appeared to be a dirt street out of a ½-inch-thick stamped overlay, complete with horseshoe imprints and ruts left behind from a covered wagon. We had horseshoes welded on to metal poles for the stamps and used an actual wagon axle to create the wheel ruts. Needless to say, this project was a blast to work on and after several light stain washes and some sealer, the project came out beautifully and we had a totally satisfied customer.
Fast forward six years, we received a phone message at home from someone claiming our company had done his western-theme floor and that I needed to call him. It's funny how negative thoughts flow through your head after hearing such a message - of course the natural tendency was to think something happened to, or was wrong with, the floor.
Being a professional, it was my obligation to return the phone call. Following is a description of how the call went.
Client: Do you remember me? You did our western-theme floor.
Bob: Yes, sir, of course I remember you. How is the floor holding up?
Client: It looks great and we love it. We get so many people asking us about the floor.
Bob: (A big sigh) How can I help you?
Client: I am building a new Irish Pub with the potential of additional stores and we want you to do the floors. Can we get together and discuss design options and pricing?
Bob: You bet!
These are just a few examples of leaving your clients with a good memory of the entire installation process. It's up to you whether you make a positive or negative lasting impression. Go the extra mile and try and please your customer on every project you do and who knows, possibly you will receive that phone call years later asking for additional work.
Bob Harris is the founder and president of the Decorative Concrete Institute, Temple, Ga., which provides hands-on training in architectural concrete. He has personally placed or supervised the placement of more than 3 million square feet of decorative concrete and is the author of a best-selling series of decorative concrete books and DVDs. For more information, call (877) DCI-8080 or visit decorativeconcreteinstitute.com.