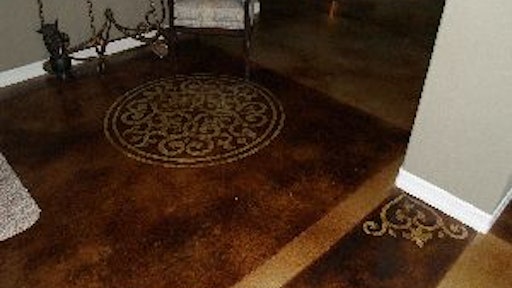 Full Circle Concrete Design, Fallbrook, Calif., recently put its skills to the test helping a homeowner in California rebuild after losing the house in a wildfire. The job started with stained concrete floors and continued with concrete countertops and eventually concrete shower surrounds. Full Circle also did an epoxy garage floor.
Jared Denham, owner of Full Circle, started the strictly decorative concrete company in 2005. Specializing in the residential market, the company offers services such as precast and pour-in-place countertops, epoxy floors and stained overlays.
For this particular job, Full Circle stained 2,600 square feet of an existing concrete slab on the mail level. Denham also poured and stained a cement overlay in three bathrooms and the laundry room.
Denham created the downstairs floor pattern using acid stain and Modello stencils. Along with the stencil patterns, the design incorporated a "ribbon" that wove across the entire floor. To give the ribbon depth and make it look like it had two sides, Denham stained each "side" a different color.
To prep the concrete he used a buffer and sanding wheel followed by an acid wash. Once clean, he saturated the floor with water to give the stain more working time and also a unique look, he says. "If you put water on the surface before you acid stain, it may dilute the color a little bit, but it allows the color to create its own mottling affect. It allows multiple colors to run into each other and create their own design. It gives you a lot more depth," Denham says. Years of trial and error helped Denham create and perfect his unique staining techniques.
He used pump-up air sprayers to apply the four different colors of acid stain, one at a time. After drying and neutralizing, Denham sealed the floor with three coats of Westcoat Specialty Coating Systems' polyurethane sealer. The first two coats were a clear gloss and the final coat contained Westcoat Gloss Killer additive to tone down the gloss. A coat of satin wax over the sealer finished the floor.
Denham also used an ALX waterproofing Westcoat system for the bathroom and laundry room floors. Since these rooms had plywood surfaces instead of concrete, Denham had to close up all the seams with seam tape and then apply a waterproof epoxy and sand mix to seal the wood and create grip for the overlay. "We add acrylic glue instead of water because the acrylic glue allows the mix to flex more," Denham adds.
In these rooms, Denham used a water-based stain in colors matching existing countertops and furniture. "I used an airbrush technique, which is just tearing paper and spraying color around the edges then letting the colors mottle themselves." He sealed the floors with the same Westcoat polyurethane sealer with a non-skid additive. Like the downstairs floors, Denham applied a final coat of wax over these overlays as well.
After completing the floors, Denham moved to the kitchen. Here, he created a main concrete countertop as well as an island countertop, both as poured-in-place seamless pieces, Denham says. He built the molds right onto the subtop of the cabinets, trying to get a 1- to 3/4-inch overhang with the subtop so he would not have to anchor the molds directly into the cabinetry.
One of the most unique aspects of these countertops was their textured edges. To create these edges- granite for the island and slate for the main countertop - he used a rubber mold placed on the inside of the form. The wet concrete takes the shape and texture of the mold. "It gives amazing definition on the counter edges but it still gets out of that 'perfect' mentality and gives you a more organic, raw feel," Denham says.
Once the molds were in place, he primed the subtop and installed wire mesh for crack resistance. Denham uses his own concrete mix with fiber mesh. His mix reaches 7,000 psi. He used an electric mixer to mix two to three batches of the concrete, water and colors at a time. Once mixed, the concrete was transported by wheelbarrow and placed by hand to a 1 1/4-inch thickness.
Denham used a Makita handheld vibrator and finished the countertops with hand trowels. The countertops cured for a minimum of three days before Denham came back to remove the molds. Before staining, Denham lightly sanded the counters and filled in voids.
He added stains to a penetrating sealer which resulted in a "watercolor" look similar to the stained floors. Applying sealer with the stain gives more working time and allows the stain to "move", Denham says. For the countertops, he used six different colors - a mix of tans, reds, green and gold. The final steps were to applying an acrylic urethane and then a polycarbonate sealer from Pro-Seal to finish it off.
Full Circle's final element for the project was the concrete shower surrounds. Because these are done in an area where water and moisture are present, Denham had to take special precautions. He used backer board anchored to the wall studs as the base then applied waterproofing seam tape to close all the seams. A 100 percent solid epoxy with broadcasted sand came next followed by a layer of waterproofing cement. Denham hand troweled on the cement in a three coat process, broadcasting very fine sand over the cement between coats.
Once the cement dried Denham used a high pressure low volume sprayer with a hose connected to a compressor to apply the water-based stain. He was careful not to apply the stain too heavy so it would not run down the wall. Finally, he applied a 100 percent solids clear epoxy followed by a urethane sealer. Denham says the epoxy is a much easier material to clean, which is why he uses it for shower surrounds.
With customer input, creativity and a lot of freedom, Full Circle was able to create multiple unique concrete elements for this home. And that's what made this job successful for Denham. "When you have a client that appreciates what you do it really gives you that confidence to go think outside the box and do something maybe you haven't done before," he says. And it's that kind of thinking that helps Denham build strong relationships with customers and keep his business going.
At a Glance:
Full Circle Concrete Design
Fallbrook, Calif.
www.fullcircleconcretedesign.com
Decorative Services Offered:
Precast and poured-in-place concrete countertops, epoxy floors, stained and stamped overlays, concrete shower surrounds.
Key Products and Equipment on this Job:
Modello stencils; buffer and sanding wheel; water; pump-up air sprayers; HPLV sprayer; Westcoat Specialty Coating Systems acid and water-based stains, polyurethane sealer, Gloss Killer and non-skid additives, ALX waterproofing system; Satin wax; acrylic glue; rubber countertop edge molds; electric mixer; Makita handheld vibrator; Pro-Seal polycarbonate sealer; seam tape; backer board; waterproofing cement.