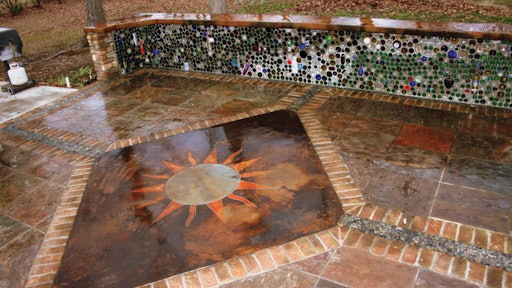 Eric Holme Construction; Chapin, S.C.
Eric Holme, owner of Eric Holme Construction, and his employees love to take on the tough jobs. And sometimes that tough job comes in the form of unique projects. "It makes it easy to get up in the morning and go to work the next day because you know the jobs you?re doing are so different and creative," he says. A year ago, Holme took on one of those unique projects. His task was to create and stain an outdoor concrete countertop as well as stain a portion of the outdoor patio.
The 30-foot-long countertop required the most prep work, Holme says. The first step was to create the concrete wall the countertop would sit on. Holme says the concrete was 8 inches wide and around 36 inches high. The next step was building forms for the countertop. Holme says the trick to creating a good concrete countertop is to fit the forms properly. Rebar was used to reinforce the concrete in the wall and the 4-inch-thick countertop. Holme says they then poured the countertop and let it cure for 14 days. Then it was ready to be stained.
Holme used Chrome-Etch acid stain from Specialty Concrete Products. Using squirt bottles, Holme squirted Rust Brown and Kahlua stains onto the countertop. "We blend colors. We'll take two different squirt bottles and we squirt kind of like you're throwing paint against a wall. A little bit here, a little bit there," he says. "That way you get a really nice mottled look and you get three or four variations of color going through it because it mottles real well." He says the squirt bottles are good to use on smaller areas that are being stained because you can get more precise with them.
Once stained, the countertop had to be cleaned to dilute away the acid. Then it was sealed using a 30 percent solid seal from Specialty Concrete Products. Three coats of sealer were applied, Holme says.
Holme and his crew then moved on to create the bottle wall the countertop would sit on. When the outdoor counter was completed, Holme moved on to the patio, which was mostly stone. However, there was a 12 foot by 12 foot area of concrete in the middle of the patio where Holme created and stained a sunburst pattern, he says. A garden sprayer was used to apply stain to the sunburst pattern on the patio. Two colors - Rust Brown and Kahlua - were used for the patio, he says.
Just like the countertop, the stained area of the patio had to be cleaned and sealed. But Holme says he needed to be extra careful when diluting the patio stain. "When you need to dilute it back off you have to be careful not to wash it over the mortar joints of the brick because, even though it is a day after you sprayed the acid, there's still some liquid form. If you wash it off it will stain the gray mortar joints," he says. After the patio had been carefully cleaned, three coats of the same sealer were also applied to the sunburst pattern on the patio.
The entire project took Holme three months to complete and was done in phases, he says. And like much of the other work Holme has done, he enjoyed every minute of the project.
"It's so fun because there are so many neat things you can do with the acid stain on concrete countertops and patios. We get into designing things that are really different."
Unique Concrete Systems; Miami, Fla.
www.unique-concrete.net
Unique Concrete Systems may be a small company of four employees, but that doesn't stop them from sharing their staining work all over the world. In 2006, Unique Concrete Systems traveled overseas to work on a staining project at Ideapark, a shopping mall in Tampere, Finland, says Vice President William Gonzalez.
It took Gonzalez and his father, Jesus, president of Unique Concrete Systems, four months to complete the approximately 250,000-square-foot job, according to Gonzalez. It was the largest project Unique Concrete Systems had ever done.
The staining was done in all the common areas such as hallways and bathrooms as well as some restaurants and shops. A total of about 3,000 gallons of SuperStone acid stain - shipped over from Miami - was used on the project.
Although Gonzalez and his father completed all the staining with just a two-man crew, the prep work for the project called for a little extra help. Before any staining could be done, the entire area was diamond grinded to prepare the surface and remove anything that was not part of the concrete. Unique Concrete Systems decided to hire some extra help so they could get the prep work done faster, Gonzalez says.
"There was one or two guys working an HTC grinding machine, and they did most of the prep work. And we were right behind them doing the rest of the work," he says.
When the prep work was done, the staining could begin. The job was done in nine sections, Gonzalez says, with the largest one consisting of 30,000 square feet. A 15-gallon tank with a 12 volt battery powering a pump was used to spray on the stain. For smaller, more detailed areas the stain was applied with brushes.
After staining was complete Gonzalez says they used water and baking soda to neutralize the concrete. The water and baking soda worked quickly allowing Gonzalez to pressure wash the concrete right away without having to wait. "It's not something that takes that long. It's just wash and rinse. What takes the most time is the drying process," Gonzalez explains.
Once the concrete was dry, Gonzalez and his father used paint rollers and paint brushes to apply a polyurethane, solvent-based acrylic sealer that was manufactured locally in Finland. Gonzalez says the sealer worked so well that no wax coating was required for the job.
The biggest challenge Unique Concrete Systems ran into while working on Ideapark was the different aggregate that is used in Finland. Gonzalez says the aggregate is much darker than aggregate used in the United States. "We had a really hard time staining the concrete because it wouldn't stain. Every color would turn very, very dark, especially the blues and greens. Those stains are very difficult to get on the dark concrete," he says. "In reality there was nothing much we could do. There were times when we had to reapply. If there were areas that we stained in blue, and if they wouldn't react, we would just do a sprinkle effect of another color that would just give it a different effect."
Ideapark was no small project, especially for two people. But the size of a project isn't necessarily what the employees of Unique Concrete Systems pride themselves on. "What separates us from other competition is we do very specific work, very artistic work," Gonzalez says. All the staining designs for Ideapark were created by Unique Concrete, and it is just one example of the artistic work the company is capable of.
Floor Seasons; Las Vegas, Nev.
www.floorseasons.com
To Cary Grant and the employees of Floor Seasons, staining is not just another option for concrete but an art. "We really specialize in putting down art, logos, saw cutting and awesome designs like eagles, sundials and random blocks and using different additives like ironite, pennies and Miracle-Gro," Grant says. Floor Seasons, which was started seven years ago by Grant and his wife, is a family business (Grant's brother Jon is the field supervisor) that does concrete staining for commercial and residential customers in both Nevada and Arizona. Floor Seasons works on interior and exterior projects on new concrete as well as tenant improvements, Grant says.
A few months ago, Grant completed a 4,000-square-foot staining job for Visions, a hair salon in Las Vegas. The job took five days to complete and used approximately 4 gallons of L.M. Scofield stain.
The salon floor had a lot of cutouts where plumbing had been put in, and they were perfect to incorporate into the random block design Grant had planned. Grant also used the existing expansion joints to help create the blocks. The design called for smaller blocks in the lobby of the building. The blocks then get larger as you go toward the back of the building.
Grant used acid-based stains for this project. Four gallons of a diluted Padre Brown stain were used over the entire floor. To give the design more dimension, black or Fern Green stain were added to some of the blocks. Grant said he also used ironite in some squares to give the design yet another visual dimension. The ironite creates a spotted effect in the concrete, he says. The ironite dots get darker than the color around it, but the concrete still remains flat.
Grant used a chalkline and a pencil to lay out the random block design. Then the design was cut into the floor and the floor was cleaned to prepare it for the stain. Finally, Grant says he used a Quikrete mix to fill in any holes and divots in the floor, which had already been poured.
For the smaller squares stained with black or Fern Green a chip brush was used to apply the stain, Grant says. The Padre Brown stain was applied with a plastic pump sprayer over the entire floor, including the already stained blocks. The result was a richer black and a muted Fern Green.
Possibly the most important step for Floor Seasons in the staining process is the color verification, Grant says. After the stain was applied but before it was sealed Floor Seasons brought the client in to see the project. "We already put the color down, and now we've residued it, and then we mop it for them so they can look at it wet because the way it looks wet is pretty much the way it is going to look sealed," he says. The color verification step is usually done the morning after staining, Grant says.
After staining the floor, Grant used a combination of baking soda and water to neutralize the stain. The floor was then flushed with water, which was then sucked up with a wet vac, and left to dry. It is important to let the floor dry thoroughly before sealing, especially the joints, so no water is trapped under the sealer. If that happens, the water trying to evaporate through the sealer turns the sealer white on the edges of the joints and can crust off, according to Grant. Once dry, Grant applied two coats of an acid-tone-based sealer, grouted the floor and applied four coats of wax to complete the project.
Grant says this was one of those jobs that went perfectly from start to finish, and he credits the concrete contractor for taking good care of the concrete and keeping it clean. That allowed Floor Seasons smooth sailing throughout its part of the project. Both Grant and the client are very pleased with the final result. "Concrete staining has its ups and downs. And we want to make sure what we think looks beautiful is what our clients think looks beautiful," Grant says.
Classic Art Design; Bremerton, Wash.
Laurie Smith and her partner Chris Coryell love nature, and they love to incorporate it into their projects. Smith, owner of Classic Art Design, started the company two months ago, and Smith and Coryell share the work of both collaborating and designing.
After only two months of being in business, Smith and Coryell took on a job that was a first for both of them. The project was a mural for an indoor soccer center in Bremerton, Wash. What made the project unique, as well as a challenge, was the fact that it was a vertical piece, Smith says.
The 25-foot-long, 40-inch-tall mural took Smith and Coryell two weeks to complete. The final result was a carved mountain range boasting eight different colors totaling one gallon of L&M Industries' stain, Smith says. "The stain is true to color. It is a lot like a watercolor - starting with a light shade and being able to manipulate that color into the shade we need for depth," she says. Those aspects made it a good product for this project.
The mural started as one panel of plywood backing. Smith and Coryell then troweled on a gray, glass-reinforced, lightweight concrete mix. "Putting it on the vertical was the hardest," both Smith and Coryell agree. "You had to be able to apply it vertically with pressure with it not falling off. This is where Chris being a mason for 15 years definitely was an advantage," Smith says.
Next, they applied a mist coat of concrete which was used to carve in the mountain range. In sticking with their love for nature, Smith says cedar branches were embedded in the concrete and pulled out the next day. This is their way of "fossilizing nature," she says.
The foreground, mountain range and peaks were carved into the gray concrete. Then a layer of white concrete was troweled on for the sky area so they could get true colors, Smith says. A geode was embedded in one of the mountain peaks to create a backlit sun. Once the scene was carved and set, Smith and Coryell applied the stain.
Paint brushes and sponges were used to apply the stain because it allowed for manipulation and more control of the stains, Smith says. "Being able to manipulate the color with a sponge is probably the most useful tool that I've used," she says. Five applications of the stain were needed for two reasons. The first was the layering created depth in the mural, she says.
The second reason for applying multiple layers was because it was a necessity. "Because the stain is so watery you really had to manipulate how it was applied so that it wouldn't run down your piece," Smith says. "The amount of liquid that was in the sponge and the brush is why it took so many coats. I couldn't apply a lot of it at one time."
Since they used a water-based stain all that they had to do was let it air dry before they applied their sealer. Smith says they used a Bortech sealer on the project.
The biggest thing needed for this project was patience, Smith says. And a lot of it. But in the end patience paid off, and the result of this duo?s first vertical staining project was quite satisfactory.
Table Mountain Creative Concrete; Golden, Colo.
www.tablemountaincreativeconcrete.com
Every decorative concrete contractor knows that your surrounding environment is going to have an impact on your staining projects. Owner of Table Mountain Creative Concrete, Stan Squires, had to deal with environmental challenges on one of his recent jobs.
Squires, whose company does mostly overlays, has a passion for staining. "It's a fun business for me because I get to be creative. I get to take something that many people would consider ruined and make it sound again," he says. "And then at the same time, given what the customer wants, we get to make it beautiful as well. And that's the part I like."
In August 2007, Squires took a job in Breckenridge, Colo., where he had to deal with elevation - 13,000 feet above sea level - as well as rain. "Every day we got rain sometime between one and three o'clock so you just had to run to get your work done early and try to have everything fairly dry before that water starts coming out of the sky. That was our main challenge, weather," he says.
The project was a leaking parking pad over a workshop at the homeowners; vacation home. Before Squires could even think about staining the pad, the concrete needed to be repaired. After repairing the leaking joint, Squires applied Miracote Repair Mortar II and then covered it with three coats of Miracote Membrane A. The concrete, which had been colored 50 percent with a beige color, was then stamped. Once all of the prep and repair work was complete, it was time to stain.
For the staining portion of the job Squires used Mirastain II, a water-based stain. The 800-square-foot parking pad required 1½ to 2 gallons of stain. Since Mirastain II comes in an uncolored state, Squires says he also used between 2 and 3 ounces of pigment to color the stain. "With Mirastain you have a lot of control over what happens to the concrete because you can step up your stain, you can mix it a little deeper, you can do a number of different things to control that. Plus the fact, when the pigment goes down it is what it is. It doesn't have to react with the concrete to get the color," he says.
The entire project took about five days to complete, and the staining took about three hours, Squires says. Applying the stain was a three person job, he says. One person used a sprayer to spray the first color, which was a light Bronco Brown. Following behind him were Squires and another employee who were applying with rags a Spanish Tile Red over the brown. Sprayers, sponges and rags were used to apply the stain to achieve vibrant color that still had an Old World rock look, he says. The final step was to go over the dry concrete with a charcoal stain. Squires says most of this was ragged off, but it gave the project another dimension of color.
After the stain had been applied, the parking pad was sealed with HD2, a solvent-based, high-gloss sealer. The sealer was rolled on to prevent any from blowing into the woods. And because of the amount of rain and snow the area gets, Squires says they used three coats of sealer.
Squires loves to be creative with his staining. "What I just love to do is to get color down into those impressions and then rag off the top surface so I leave some material down in those deeper impressions and then go back over the top of that and mix another color into it," he says. And what is his advice to other staining contractors - Don;t always do it by the book.
Buyck and Company Incorporate; Tarpon Springs, Fla.
www.buyckco.com
Buyck and Company president Dan Buyck likes to make sure his company does quality work no matter what type of decorative work is being done. And a key component to quality work is quality materials. That's why when it comes to staining Buyck uses
McKinnon Materials; Chromastain.
"I just want to do the job right the first time," Buyck says. "They get a good quality product that's permanent and non-fading and they're good to go. Doing the job right the first time is what I'm all about. I'd rather do quality than compromise anything."
Buyck's company has been in business over 10 years, and he does work all over the state of Florida. In December 2007, Buyck completed a 295-square-foot staining job in Tampa, Fla. The project consisted of a front and back porch as well as two step out areas from other doors that were going to be stained to look like a mahogany door from the house. Buyck used the water-based cross linking Chromastain to stain the job.
To prepare the concrete for the Chromastain, Buyck first sanded the decks to get the areas flat. After rinsing them off an acrylic deck was applied using a broom. The acrylic deck was made from McKinnon McKrete dry mix and additives. After one day of drying, sanding stones were used to make the acrylic flatter by taking out highs in the acrylic decking, Buyck says. The next step was to take a 1 inch by 4 inch board to score grooves into the concrete to create the wood look. The McKrete was then left another day to dry before the staining process began.
Buyck used two colors of the Chromastain to get the desired look. Three-inch chip brushes were used to control the application of the stain. "We didn't want to get stain all over the walls. We didn't want the wind to pick it up and take it into the stone or into the wall," Buyck says. "So that's why we used the brush."
The first coat of stain applied was a red color. Three coats of brown were then applied over top of the red. Buyck played with the application of the stain by puddling it in some places and brushing it on in others. Buyck says the first coat of brown was very light and extremely light on some areas of the McKrete. To resolve this problem he puddled more brown onto spots where the first coat turned out too light. "You can play with the Chromastain and you can actually puddle it to get a darker effect or you can spread it out with a brush and you'll get a lighter effect," he says.
Crystal Coat, a water-based, cross linking, clear sealer from McKinnon Materials was used to seal the finished project. The sealer was also applied with chip brushes. No special cleaning or neutralizing was needed because the Chromastain is a water-based material. The final result was a concrete deck with a rustic wood appearance. "Even though it was flat it wasn't like a flat, smooth surface. It looked like it had wood grains to it, and it looked like it was more worn in other areas than in some areas. It had depth to it," Buyck says.
Right now, Buyck says staining jobs like this one only comprise a small part of his business. But he says he is in the process of growing his staining business, and he is very excited about the future possibilities. "I am looking forward to it growing, especially with the Chromastain from McKinnon because it doesn't fade and it's permanent," Buyck says. "We're always trying to be more diverse and more creative."