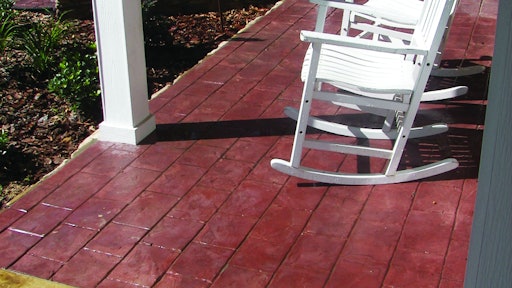 Stampable overlays provide people an option to spruce up a plain concrete slab when reinventing a backyard space or a room in a home. This type of overlay is used to create designs resembling stone, granite, tile or slate for both outdoor and indoor floors. With a variety of colors available, a stamped overlay can be acid stained or dyed. Another color option for overlays is using liquid or integral colorants in the mixtures.
There are a variety of mixes available for stamped overlays including cementitious acrylic compounds and polymer modified mixes. Along with completing the proper steps for the surface prep, it is also essential to determine the application thickness based on the condition of the slab and the desired end product.
Proper surface prep ensures success
If contractors fail to follow basic steps and cut corners, they will find unsatisfactory end results, says McKinnon Material's Products Specialist and Training Instructor Buster Osteen. "If you start out with a bad prep then you are going to end up with a bad job," Osteen says. McKinnon Materials has the McKrete Overlay System, a cementitious acrylic compound that is combined with water-based epoxies and polyocrylates.
A successful surface prep begins with a visual inspection of the concrete, says Concrete Coatings Director of Operations Brian Anderson. Stamp-Tek Stampable Overlay, a polymer modified cementitious material, is an overlay product available through Concrete Coatings, Inc.
"You are going to make a determination visually whether or not it is a good candidate for a coating," Anderson says.
Contractors should start by evaluating cracks. "Overlays work better if you have a sound piece of concrete that doesn't have a lot of structural cracking," Osteen says. Application of overlays works best with a piece of concrete that was put down properly in the first place and has the expansion joints cut into it, he says.
If random cracks exist, and they usually do to some degree, contractors can apply an overlay after completing a few repairs. Steve Hitchcock, owner of Hitchcock Concrete Finishing located in Abington, Mass., has been in the business since 2005, and he follows several steps to repairing cracks before applying overlays.
"I first v-cut or chase them, power wash, let dry and fill with epoxy," Hitchcock says. "After it is dry, I'll grind it flush, and then I'll put a preliminary skim coat over the crack repairs before applying the first skim coat."
Osteen uses a similar method to repair cracks. "We typically clean out the cracks and then use an epoxy modified cement matrix to refill the crack," he says. "You can also incorporate a fiber-mesh screen material in with the epoxy mixture to bridge over the crack."
After sealing the cracks, Osteen says you must broadcast a large grit silica on the surface because the acryliclly modified materials don't have solvents in them. Without the proper solvents, the material won't be able to chemically bond to the epoxy modified material, and it is important to have a good mechanical bond.
Crack repair won't guarantee a crack free end product. "The rule of thumb is if it has a crack there you've got a 60 to 70 percent chance of stopping that crack from re-appearing down the road," Osteen says.
If contractors encounter a badly cracked concrete surface they can try to sell their customer on the idea of putting down an overlay that looks like flagstone, Osteen says. "You can incorporate the broken and cracked areas in the design," he says. "This will minimize the appearance damage that is going to happen if you get a crack. If you put those cracks as part of your grout line design then even if it cracks a little bit you're hardly going to notice it."
Moisture from the ground up can create a bond failure, Hitchcock says. To prevent this, contractors can complete a Moisture Vapor Emission Rate (MVER) test. This is especially important when applying epoxies and urethanes because they are not a breathable coating, Anderson says. "You need to make sure you aren't exceeding an MVER of 3 to 4 pounds. If an MVER is too high the overlay will peel off and fail," he explains.
Another important step for contractors to take in surface prep is removing contaminates from the base surface. One way to complete this step is acid washing. "You can turn around and spot check the deck for pH then wash it and coat it with an acrylic," Osteen says. "We recommend acid washing all decks that are going to be coated with an acrylically modified material."
Contractors can complete this test by taking a pH paper and bottled water, Osteen says. The test can also be completed by taking a pH pencil that has a pH sensitive material in it. Contractors draw a mark through water on the deck and it changes colors.
"Acrylically modified materials have one weakness in their bond characteristics — that the material only works on a bond of a ph that runs a couple of points above and below 7," Osteen says. "If the deck is too acid or too alkali the materials reaction to the pH causes the acrylic to polymerize too fast, and it doesn't get penetration into the concrete." A poor pH reading will result in pop-offs and bond failures.
According to Osteen, acid washing will give contractors a clean base to work with. "Whether the pH of a deck is too high or too low, when you acid wash it and neutralize the acid you're going to bring the concrete to a 7 no matter what," Osteen says.
After acid washing the deck, it will then be pressure washed. Hitchock suggests to pressure wash with at least 3,000 psi of pressure and a rotary nozzle to open the concrete pores. 
If contractors are unfamiliar with checking the pH and acid washing they may encounter problems if not completed correctly. To avoid this, an alternative is mechanically prepping the surface.
This prep scarifies, or abrades, the surface allowing the overlay to securely attach to the base, explains Dan Whitaker, the Northeast representative for Butterfield Color. "You are removing any sealers, any weak concrete and anything off of the surface," Whitaker says. When mechanically prepping the surface, contractors can rent a machine for the day and remove the whole top layer, he says. 
Osteen notes that contractors must be aware of the age of the concrete. "We have to be concerned about if you're dealing with new concrete," he says. "You have to know if any cure or seal compounds were used on the concrete."
One way for contractors to determine the condition of the concrete surface is by throwing water droplets onto the concrete. "If they aren't immediately absorbed by the concrete there is some kind of cure on it," Osteen says. "If water's not going to penetrate into it easily then you're going to have a problem sticking to it."
Applying an overlay
As soon as the surface prep is complete, contractors can proceed to apply the overlay. "As long as the surface is dried, cured and clean I will start the process," Hitchcock says. "Drying conditions can vary, but usually 24 hours is sufficient."
There are several conditions contractors must be aware of before beginning the application process. They must have experience with the product they are using, mix materials as accurately as possible and be prepared with enough materials and tools, Anderson says. It is also essential to apply the overlay in workable temperature conditions.
Hitchcock recognizes the effect conditions can have on the process of application. In humid conditions he uses fans to move the air. "When skim coating you need to prime the surface more because the concrete will suck the moisture out of the mix and make troweling more difficult," he says.
Before applying the overlay, contractors must determine if they want to apply a scratch coat. "A lot of times scratch coats are put down because we want to incorporate a certain color grout line in the design," Osteen says. "In that case, we would pigment all of the material we are going to scratch coat on the deck." The scratch coat is a thin layer of material that is put down for color, Osteen says.
The surface must be primed after the prep has been completed, Whitaker says. Next, gauge the material down to the desired thickness, and then close up the gauged material with a trowel.
Overlay thickness can vary depending upon the specifications of the architect, recommendations of the manufacturer, experience and what you know your materials can do and how they perform, Anderson says.
Whitaker says the stamp pattern, the texture and the grout lines will also determine the thickness of the overlay. According to Whitaker, stampables are typically done about ¼ to ½ in. thick.
Next, after the surface of the material has lost its sheen contractors can apply the release agent and begin stamping. "The final steps would be detailing the area, taking care of any squeeze that may have come up between the stamps, then antiquing or staining depending upon the type of look you are going for," Whitaker says.
Companies in this article