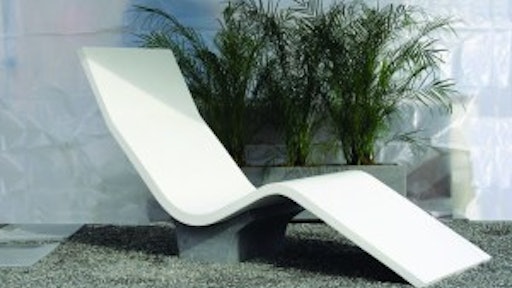 Nick Relampagos has kept It's Concrete, Hayward, Calif., a small business. The company's only two employees are Relampagos and his son. Originally, Relampagos thought he would start the business and then grow into a larger shop with more employees. But after three years in business, Relampagos has decided to keep it small. "I would like to grow in increments but still maintain a small shop and keep overhead low," Relampagos says. "I am also aiming towards being more of an artist."
Relampagos started It's Concrete in May 2006 in his garage. He was working in the IT industry and decided to start his own business. After remodeling his house, Relampagos took a one-day class with Cheng Concrete and decided to get involved in decorative concrete. He immediately signed up for more training classes, including some with Buddy Rhodes, whose products Relampagos uses to cast most of his projects. Relampagos' shop is located close to Buddy Rhodes Concrete Studios where Relampagos and Buddy Rhodes work closely together on projects. Relampagos also teaches Rhodes' comprehensive and advanced classes every month.
Now, Relampagos works full time in his decorative concrete company offering customers concrete countertops, bathroom vanities, integral sinks, concrete furniture and more. He is experienced in vibrated finishes, pressed finish, trowelled finish, cast-in-place and GFRC (glass fiber reinforced concrete).
Since its inception, It's Concrete has focused mostly on residential customers. Recently, Relampagos has been taking on more commercial jobs. "Commercial companies are starting to look at more customized options like concrete," he says. But the meat of It's Concrete's business is in residential remodels. "People doing the higher end remodels are now looking for something different, like concrete," he adds.
Relampagos says his mechanical nature and growing up with an architect father help him in his decorative concrete business. "I am able to visualize complex molds and designs and then I am able to fabricate them," he says. This allows him to create never before seen, individual pieces.
Relampagos wants to make sure his company stays ahead of the competition so he is always exploring new methods of fabrication. He has worked closely with Brandon Gore, who has taught Relampagos about GFRC and fabric form mold making. "Fabric forming enables you not to be restricted to a flat piece," he says. "It allows you more flexibility and creativity."
Relampagos' creative pieces have recently been recognized in a few public arenas. He won the 2010 Cheng Circle of Distinction Award for best integral sink. He also displayed a concrete lounge chair at the World of Concrete Artistry in Decorative Concrete showcase. "The furniture at World of Concrete was a spur-of-the-moment design idea that Buddy Rhodes and I thought of,"
Relampagos says. Concrete furniture may not sound like a comfy, inviting piece, so Relampagos designed it to be at a comfortable height, have an ergonomic design and include radiant heating. It received a good reception, and Relampagos has sold four since the World of Concrete.
What's to love about decorative concrete?
Relampagos' favorite aspect of decorative concrete is designing. "It's all about the design," he says. "Every project is different, every client is different and I'm able to design really cool pieces. And you're never stuck in the mundane day-to-day grind."
There is a lot of opportunity in decorative concrete, Relampagos says. And right now is a great time to take educational and training classes. But he cautions decorative concrete contractors that they shouldn't be in the industry just for the money. "It takes time, effort, passion and desire."
Company Summary
Company:
It's Concrete!
Hayward, Calif.
itsconcrete.com
Decorative services offered:
Kitchen countertops, bathroom vanities, integral sinks, concrete furniture, fireplace surrounds, shower panels and concrete benches.
Key products and equipment:
Imer Workman II 350 Barrel Mixer; Vibco electric table vibrators; Eibenstock EHR23 Paddle Mixer; Alpha VSP-120 Wet Polisher; Intertool planetary polisher; Bosch table saw; DeWalt miter saw; Makita and DeWalt battery operated drills.