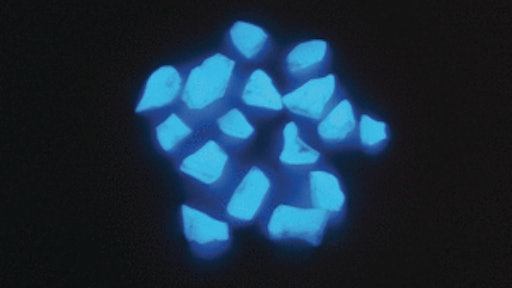 1900 Series 7" and 9" Angle Grinders
Bosch Power Tools and Accessories' new 7" and 9" angle grinders weigh less than 12 lbs. and are powered by a 15-amp motor that delivers 4hp for an improved power-to-weight ratios. The 1900 Series was designed for concrete surfacing, block cutting, restoration contracting and more. Bosch's new Vibration Control engineering utilizes re-designed main and side handles to reduce vibrations levels up to 50 percent, versus the competition.
Bosch Power Tools
Alkali Resistant Glass Fiber
12 mm Chopped Glass Strands
The fibers become integral within the concrete and add flexural and tensile strength
Exactly what concrete needs to resist cracking and allow you to create larger pieces
Sold in 13.2-lb. bags
Buddy Rhodes Studio
B01 Liquid-Gel Pigment
Thixotropic gel specially formulated for integral coloring of concrete and mortar
Water-based, solvent-free and environment friendly
Designed to disperse throughout any concrete or mortar mix
Highly resistant to sunlight and UV radiation, alkali and weather conditions
Use in cast-in place concrete, precast, tilt-up, floors, countertops, retaining walls and more
Construcolor USA, Ltd.
Cheng Concrete Countertop Products
Full lineup of products for producing a concrete countertop
Cheng Pro-Formula Mix for precast countertops is an all-in-one mix for indoor and outdoor applications
Product line also includes colors, slurry, sealer, wax, polish, aggregates and faucet forms
Instructional DVD available
Cheng Concrete Exchange
Concrete Countertop Institute Courses
With training from The Concrete Countertop Institute, you will learn quality. Get comprehensive, engineering-based training that will teach you to create the highest quality concrete countertops without worrying about technical failures. Learn from-scratch mix designs, from a neutral institute that does not sell proprietary products.
Courses offered are:
Intensive Precast Countertops 101 - 3 days
GFRC for Concrete Countertops 202 - 2 days
Sinks & Molds 202 - self-study; Mixes 301 - self-study
Sales and Marketing 101 - self-study
Project Management 101 - self-study
Concrete Countertop Institute
Deck-O-Grip
Deck-O-Grip from Deck-O-Seal, a divison of W.R. Meadows, is a non-yellowing, acrylic-based, high solids, transparent, easty-to-apply liquid cure and seal. It provides a clear, flexible and durable abrasion- and stain-resistant protective film and offers improved resistance to most of today's common pool chemicals. It is specifically designed to retain and enhance the appearance of colored concrete and exposed aggregate surfaces and contains a slip-resistant additive. Also available is Deck-O-Grip W/B, a water-based sealer that is VOC-compliant and meets both the California Air Pollution Control District and U.S. EPA Architectural Coatings Rule requirements for sealers.
W.R. Meadows Inc.
Decorative Masking Patterns
Hundreds of customizable designs and patterns available
Modello can also create one-of-a-kind designs from original artwork or logos
Designs are etched in place using gelled acids and stains
Modello Designs
Diamond Reflection
Epoxy floor systems
Diamond-shaped particles are part of the floor
No grout joints
Can be installed with a smooth or a textured non-slip finish
Designed to withstand extended wear from pedestrian traffic
PolyMax Flooring
PolyMax
E-Stain
Blend of water and mineral compounds that react withs substances already present in concrete or cementitious overlays
"Etches" color into surface
Permanent, insoluble color effects that resemble marble or natural stone
Made without Hydrochloric acid and Chrome VI free
Available in 8 standard colors
Solomon Colors
enCounter Countertop Mix
Professional grade countertop mix that includes limestone rock and well graded aggregates
8,000 psi
Available in gray and white
Works for pre-cast or cast-in-place
Packaged in 50 lb. bags
Liquid color and optional admixtures available
The Stamp Store
Faux Brick Stencil Patterns
Made of plastic-coated, 22-mil-thick fiber board
Available in adhesive and non-adhesive forms
For new and existing concrete
24 patterns available
Textures, colors and sealers also available
Artcrete Inc
Kemiko Stone Tone Wax II
Buff on, water-based wax
Non-yellowing and long-lasting
"Green" product with no solvent odor
Best applied with a slow-speed floor machine
Produces a low-sheen finish for interior use over colored concrete, tile, brick or masonry surface
Epmar Corporation
PaladianoStamp Tools by Bob Harris
Brickform, a division of Solomon Colors, now offers a new line of stamp tools inspired by the textures and natural stones of historic European cities. Paladiano -- Wonders of the World by Bob Harris includes stamp patterns from Paris, Venice, Athens and more. Authenticity of stamp patterns and usability of the stamp tools were the main focuses of creating the stamp line. Stamp kits include an Instructional DVD.
Brickform, A Division of Solomon Colors, Inc.
Reflective Casting Mat
One-time-use plastic casting mat gives concrete a reflective look
Multiple patterns available, including Reflective Stone, Shimmering Tile and Nature Skin
63 microscopic lines in each tile block
Ideal for showers, countertops, walls and more
PreiTech
Rhino EcoStain
Rhino EcoStain provides surface protection and enhances the look and feel of decorative concrete floors. The product line consists of the Rhino EcoStain Base Coat - a bio-based, non-toxic and environmentally safe product for interior and exterior applications - and the Rhino EcoStain ClearCoats - a two-component, waterborne, polyurethane top coat system that magnifies the look of stained concrete while providing protection. These ClearCoats offer UV, chemical, abrasion and impact resistance.
Rhino Linings
Rock 'N' Roller
Roller, weight and spray release system for stamped concrete
Seven patterns available
24-in., 36-in. and border rollers available
Lightweight
Up to five times faster than traditional methods
Cleform Tool Corp / Gilson Mixers
Sim-Stain
Sim-Stain
Alternative to chemical stains
No hazardous chemicals
Immediate color, no neutralization or extra rinsing required
Colors can be mixed for dozens of combinations
L & M Industries, LLC
L & M Industries, LLC
Sink Moulds
Four designs: Yuma, Black Canyon, Red Rock and Alpine
Composed of a high-strength, impact-resistant plastic
Mould can be gently sanded to remove imperfections
Completely recyclable at the end of their life cycle
Gore Design Co., LLC
Sky Blue Glow Aggregates
AGT's new Sky Blue Glow Aggregates are available in three different sizes: 1/2- and 1/4-in. Stone and Fine Sand. The new aggregates expose like any other decorative aggregate, are non-toxic and glow for over 12 hours. Sky Blue Glow Aggregates can be seeded, stamped and overlayed.
Ambient Glow Technology - AGT
Soff-Cut X-150D Deco Prowler
Ultra Early Entry system designed for beveled control joints and other decorative applications
4.5-hp Robin engine
Weighs less than 100 lbs.
Handles the full line of ProEdge beveled blades
Self-aligning guide wheels in three sizes for 1/8", 1/4" and 1/2" saw joints
Features include a pre-set depth of cut, integrated weight block and stainless steel front diverter
Husqvarna Construction Products
Ultra Surface Concrete Dye System
Fast drying
Penetrating
Variety of colors
No rinsing; just spray and seal
Concrete Solutions
Companies in this article