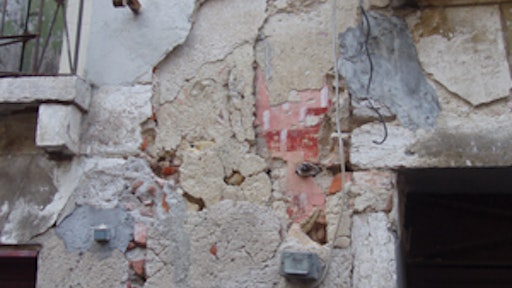 It seems no matter where you turn these days, the topic of discussion revolves around doom and gloom. I must admit, it is easy to get caught up in all of the negativity we are faced with; however, it sure feels good to put all of the crap behind you and do something you love doing with little, if any, distractions. For my wife and I, riding motorcycles, drinking good wine and yep, you guessed it, creating decorative concrete are just a few activities we enjoy. Although I would love to bore you with motorcycle tales, we will keep this article focused on decorative concrete.
Recently we spent a week installing a small floor in my office that came out crazy cool. It is rare that we can dedicate an entire week uninterrupted like this, which was unfortunately due to a cancelled class because of our mucked up economy. Sorry, no more doom and gloom.
It was great to plug in the iPod, set it to the shuffle mode and have fun creating. Roughly half way through our installation we had a curious customer peak their head in to find out what was going on. His comment was "cool" with his next comment being, "Where the heck did you get an idea like this?"
I had to chuckle because just the night before I sent my friend Dom a picture of a very distressed wall in Venice, Italy, which was the inspiration for my office floor. The e-mail also included a few pictures of some of our progress shots which looked nothing like the wall. Dom's comment was, "I can't believe this floor started from the distressed wall picture" and then he said "Only you, Bob." I guess that's a good thing.
The point I'm making is that inspiration comes in many shapes and forms if you just take the time to look around and absorb for a moment. We'll get back to the floor in a minute.
Finding your inspiration
Mother Nature is probably one of our biggest influences for ideas. Whether it is a beautiful blue sky with white cumulous clouds, colorful leaves that appear to be on fire during the fall foliage or perhaps a glowing sunset in the desert, I can guarantee you will take your own work up a couple of notches if you look at things differently.
Take digital pictures and gather your own sources for inspiration. When you feel your creative juices have soured, here are a few additional ideas:
When traveling, get ideas from the terrazzo or marble floors you see in airports.
If you are in a retail store and see interesting designs in a floor of any kind, take notes and pictures if permitted.
Visit tile and hardwood floor stores and gather their brochures.
Look at Persian rug designs.
Check out the discount rack at your local book store. Chances are you will find books on quilt making, the solar system and outdated art books to name a few.
Here are a couple definitions I stumbled on for the word "inspiration." Chances are you are already experiencing some inspiration on a regular basis:
Arousing to a particular emotion or action
A product of your creative thinking and work
A sudden invitation as part of solving a problem
Arousal of the mind to special unusual activity or creativity
An agency, such as a person or work of art, that moves the intellect or emotions or prompts action or invention
Our crazy office floor
Now, back to our crazy floor. Although the picture of the distressed Venetian wall looks nothing like our finished floor, it was certain elements of the wall that inspired the concept and my ability to prescribe a formula for this unique floor. It was the layering of plasters with three different elevations that caught my eye.
We started out with common overlay floor preparations which included filling the joints and profiling the concrete by dustless grinding. Once complete, the spiral knockout was achieved by cutting foam and attaching it to the floor with silicone. Miracote's Mirastamp overlay was used for the first layer; we textured out from the foam approximately 8 inches while embedding crushed glass and geodes.
The next day we applied our next layer of stampable overlay on the previous pour. Extreme care was needed to ensure we did not contaminate the first pour, so we used a brick mason's pointing trowel to apply much of the second layer.
At the appropriate time, we textured the second pour with seamless texturing skins making sure to run the veins in the same direction while not overlapping them. Two coats of diluted acid stains were applied by hand creating a natural patina.
Once the cleaning and neutralizing of the stain was complete, the "river," a recessed section, was dyed using diluted colors. After interspersing some mother-of-pearl shell on the river bed, the next step was to completely fill the void with water-clear casting resin. Had we used regular 100 percent solids epoxy, the clarity would have been compromised because of the thickness. It was now time to apply two coats of 100 percent solids epoxy followed by two coats of an aliphatic urethane.
Although this floor was very labor intensive and time consuming, the end result was incredible. The main comment people make when they see the floor is "I have never seen anything like this before." Mission accomplished!
Open your eyes to the endless possibilities that surround you. Who knows, you may end up with a dirty old wall on your floor (at least certain parts of it) and you can even take your shoes and socks off and stroll up the "river" to cool off.