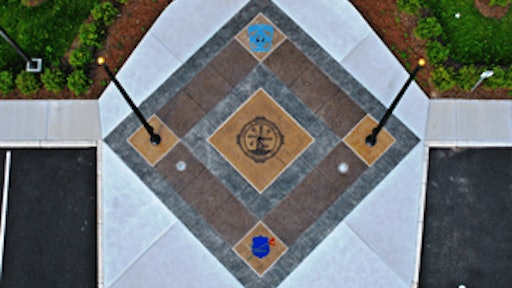 While finalizing the plans for the new Middletown, R.I., police headquarters, Chief of Police Anthony Pesare had an inspiring idea to incorporate the NLEOMF "Rose and Shield" logo, the town of Middletown seal logo and the town Police Badge logo into a Memorial Walkway in order to, "Recognize the sacrifice others have made in order to assure our future."
Cherokee Construction Inc. was awarded the contract for the project and chose Modello Designs to produce the stencils for all logos. Modello Designs staff member Michelle Maloney supported the contractor through all phases of the project.
The project was kicked off when digital image files were sent via e-mail for stencil sizes, material gauge and production. Then, the concrete was poured in a four-step process: exposed aggregate (color base), stamped concrete (color base and antique released), five diamond-shaped areas steel trowel finished (color base) too receive stencils of logos, and an outer walk broom finished with polished wet cuts to tie in the walk and entrance.
The concrete was allowed to cure and a tent was erected to protect work from the elements. The logo's diamond-shaped areas were acid etched, neutralized and moisture tested. The stencils were aligned and burnished to the surface, acid etched, neutralized, moisture tested and reburnished. The stencils were then painted their corresponding logo colors, allowed to dry and then the stencils were removed. Two coats of sealer were applied to the surface and the project was complete.
Landscape Architect: John C. Carter& Co. Inc.
Construction Management: O. Ahlborg & Sons, Richard McNeil
General Contractor: E.W. Berman Construction Inc.
Concrete Design, Installation & Application: Cherokee Construction Inc.
Companies in this article