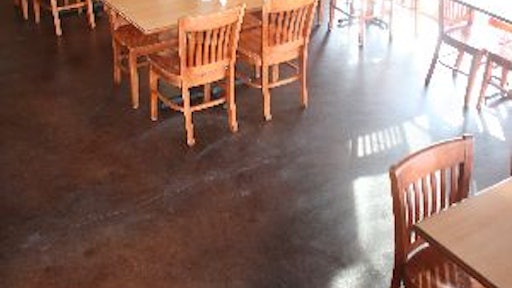 Decorative concrete contractors often find their services requested to replace an old floor covering that is no longer desired. Concrete Technology, A Division of Joaquin Painting, Modesto, Calif., had to do just that. Fuddruckers Restaurant in Modesto had an old, food-stained carpet it wanted to remove and then dye the existing concrete slab. But the 3,000-square-foot job had only a three-day time frame.
The carpet had been stained with food and drinks. Once the carpet was removed and demoed, the remaining commercial carpet adhesive had to be removed. The adhesive had been applied in multiple coats over several years, said Colin Sparkman of Concrete Technology said. The company used swing arm buffers and a commercial adhesive remover to remove all of the carpet adhesive so the concrete substrate would be clean and ready to dye.
With a clean slab, the contractor applied Concrete Coatings, Inc. solvent-based QuickDye. The client wanted a rustic distressed look so the contractor used a combination of black, mahogany and walnut colors. After application, the concrete was washed and cleaned with an auto scrubber and white pad to remove any dye residue. The cleaning process only took four hours to complete, Sparkman said.
After completing clean up, the contractor applied two coats of food safe sealer to the concrete to finish the job.
Companies in this article