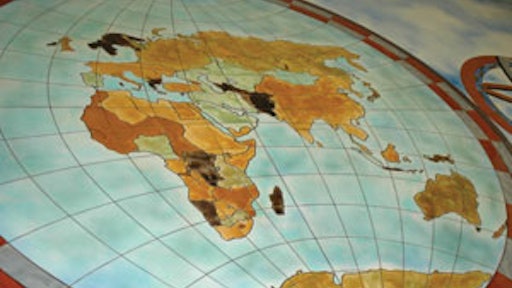 We walk on it. We scuff it. We abuse the heck out of it. But in the end people still want a floor that looks nice.
And when it comes down to it, that's what's driving the explosive growth in decorative concrete floors. It offers the beauty of natural stone, decorative tile or wood with the low maintenance and durability of reliable, gray concrete.
"We've had concrete forever," says Ed Benus, president of Color Crown, which produces the Stardek line of decorative concrete products. "It's something that was always going into someone's house or business, but now instead of covering it up, people are making the most of it."
With more than 30 years in the industry, Benus and Color Crown have had a front row seat for the explosive growth in decorative floors.
"A properly done concrete floor will wear indefinitely," he says. "People are looking at that and seeing long-term value."
Although Color Crown is seeing demand for all types of decorative concrete, areas that are particularly popular right now are chip jobs with urethane coatings, acid stains and finishes with high gloss and brighter colors.
"It seems like contractors are being more creative in their designs," Benus says. "People are constantly looking for something that isn't already out there."
That almost unlimited ability to customize a floor is a big part of decorative concrete's growth, says Darryl Manuel, president of Vexcon Chemicals, a manufacturer of coatings, sealants and other concrete chemicals.
"In a world of gray concrete, decorative stands out," he says. "In the past, we've always provided the decoration by other means. Now, the concrete itself is the decoration."
Vexcon chemicals are used in many types of concrete projects, but decorative is easily the fastest growing part of the industry, Manuel says. Like Color Crown, Vexcon is seeing a lot of growth in stained concrete. Other popular areas are stamped concrete and integrally colored concrete.
Polished concrete
Anybody walking around at this year's World of Concrete could see that polished concrete is one of the hottest areas in flooring.
HTC, the company that helped introduce polished concrete floors to the United States, has seen demand continue to grow over the last few years.
"Honestly, it's kind of trendy now," says Clif Rawlings, sales and technical support. "The popular thing is to have exposed concrete and we're seeing it in a lot of businesses, and even homes."
The trend started on the East Coast, but has spread throughout the country, with the West Coast the hottest market now, Rawlings says.
Wal-Mart, Home Depot and Lowe's are just some of the national big box stores that are specifying polished concrete in their new buildings for its pleasing aesthetics, but relatively low maintenance.
"Maintenance costs are on the rise, so anything businesses can do to make their floors look better longer is going to be important," Rawlings says. "A lot of other solutions out there are not as durable as polished concrete."
While it can make for a profitable business, concrete polishing does require more expensive equipment than a lot of other types of decorative flooring.
"We always tell people to look carefully at their market to decide if it will support this," Rawlings says. "Depending on the clients and the location, the money you make can vary greatly."
The importance of training
No matter what type of floor a contractor is installing, training is paramount to getting it right.
Like many companies, Color Crown, HTC and Vexcon require contractors to be trained before they can start creating their own decorative floors with their products.
"Untrained people are a big threat to the industry," says Color Crown's Benus. "When one of their jobs fail, it reflects badly on everyone."
Color Crown offers classes every week at its Florida headquarters, covering not only application techniques, but also sales and marketing.
"We want people to be honest and sell honestly," Benus says. "It's important to set the expectations for the customer."
With proper training, Benus says he believes anybody can become good at decorative concrete.
"We're looking for open-minded entrepreneurs," he says. "We've found that with our training program, we can train all walks of life if they're willing to learn."
That's why it's important to work with a company that is not just going to sell you products, then leave you on your own, Benus says.
"You've got the 'Crete of the week' out there giving the industry a bad name," he says. "You want to make sure the companies you buy from have a long, successful history in the industry."
HTC also offers regular training at its Knoxville, Tenn., headquarters and other locations throughout the country.
By coming to a seminar, potential polishers can decide if concrete polishing is for them before making the expensive investment in machinery, Rawlings says.
"We want people to be comfortable with the equipment," he says. "There is a learning process, and not everyone is a good concrete polisher."
Vexcon also offers workshops to make sure contractors know how to properly use the products. Unlike many companies, though, Vexcon is only looking to work with experienced contractors.
"We deal only with people who are experienced in the mechanical procedures of concrete floors," Manuel says. "Our products are for well-trained contractors that understand how to work with and around concrete."
One of the biggest problems in the industry, Manuel says, is inexperienced people that get in over their heads.
"Entry into the business is very low," says Vexcon's Manuel. "Anybody with a pickup and some tools can call themselves a decorative concrete contractor."
Like Benus, Manuel stresses the importance of working with good suppliers.
"A lot of companies just aren't professional," he says. "Unfortunately, you're always going to have that phase of things until the industry shakes out and the professionals rise to the top."
For more information:
Color Crown
(800) 282-1599
www.stardek.com
HTC
(877) 482-8700
www.htc-america.com
Vexcon
(888) 839-2661
www.vexcon.com
Companies in this article