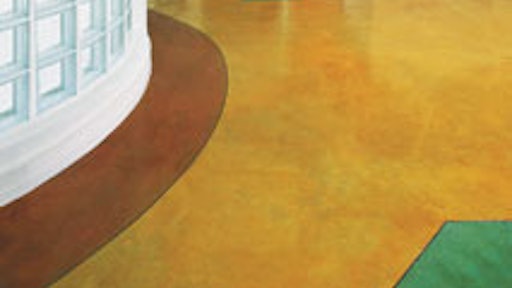 Super Stone Chlorstain
Super Stone Chlorstain is a deep penetrating, acid-based stain that can be used on old and new concrete that has cured for 14 to 28 days.
Provides permanent color with a marbled and shaded effect giving the appearance of natural stone
Will not peel, chip or fade
For residential and commercial use
Stamp Store Rainbow Stain System
The Stamp Store SS Rainbow Stain System has 26 standard water-borne stain colors available, plus custom colors.
Eight colors correspond with popular acid stains for quick color matching or correction
Add subtle accents, boldly change your concrete color, or adjust color vitality by varying the pigment-to-base ratio
Triple S acid stains
Triple-S Chemical Products offers a line of concrete acid stains for patios, floors, living rooms, entryways and sidewalks.
Available in six colors: Burgundy, Blue, Green, Blue-Green, Lime and Brick
Scofield Lithochrome Tintura
Lithochrome Tintura Stain from L.M. Scofield is an environmentally friendly stain that includes vivid reds, yellows, blues, pastel pinks, beiges and grays.
Penetrates and bonds with porous concrete or cementitious toppings for permanent, nonfading colors
Durable enough for interior floors, exterior hardscapes and retaining walls
Compliant with current air quality requirements and does not require acid residue removal and disposal
Nawkaw water-based stain
Nawkaw water-based stain is available in custom colors and textures to simulate the look of natural stone and brick.
Proprietary staining process for deep penetration into surface
25-year product guarantee
Can be used on precast, tilt-up or cast-in-place concrete
Direct Colors Patina Acid Stains
Direct Colors Patina Acid Stains are highly concentrated with maximum chemical load for the given color.
Careful inventory control allows freshness to be maintained and concentration to be consistent
Wide range of color variation can be modified by adding water
Kemiko Stone Tone
Kemiko Stone Tone Stain is designed for interior or exterior use.
Reacts with concrete to create multihued color variations resembling marble or stone
Economical, durable and easy to maintain
Available in eight colors
Increte Stain-Crete
Increte's Stain-Crete is a permanent chemical stain that turns plain concrete into color tones with the appearance of Italian marble, tile, terracotta and natural stone.
Requires little or no maintenance
Available in a variety of natural earth tones
Will not react to salts, alkali or ultraviolet rays
Will not peel, chip, crack or fade
Chrome-Etch Acid Stains
Chrome-Etch Acid Stains from Specialty Concrete Products create natural, earth tone color shades that simulate the appearance of real stone or masonry.
Available in 12 colors
Ideal for interior floors
Permanent color effect that won't fade, chip or peel
Decorative Concrete Institute dyes
The Decorative Concrete Institute has released a new series of dyes available in 11 colors.
Available in Caribbean Blue, Onyx, Royal Blue, Sunbaked Orange, Ruby Red, Forest Green, Sunrise Yellow, Wheat, Tree Bark, Mahogany and Graham Cracker
All colors are available in water- or solvent-based, except for Caribbean Blue, which is available in only a solvent-based formula