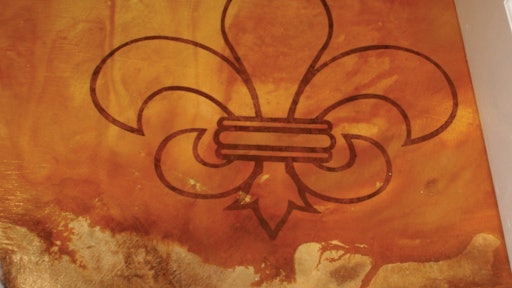 It was seven years ago that Brian Sieffert created his first countertop. Now, after completing training courses with Buddy Rhodes, Fu Tung Cheng and several other industry leaders, Sieffert opened his own decorative concrete company, Concrete Zen.
Located in Pittsburgh, Concrete Zen offers decorative services including countertops, sinks, and vertical and horizontal overlays. With a standard service area of Ohio, West Virginia and western Pennsylvania, Sieffert has also worked with New York artists and is licensed in West Palm Beach County, Fla.
From renovations to concrete
Before opening Concrete Zen in 2009, Sieffert had owned and operated Take Pride Construction and Design, LLC, a full service renovation company. Now, he continues to work with both companies completing six residential and commercial renovations a year, oftentimes incorporating concrete features into those projects.
"Commercial building and new construction had declined in the past couple of years, but remodeling improved a bit," he says. "There were so many people that were jockeying for remodeling jobs that prices went down. This gave us [Concrete Zen] a creative niche driving toward sustainable design, locally resourced material and getting back to the basics."
While using principles and resources he developed with construction, for Sieffert concrete goes further than T.P.C.D. remodeling projects. "Our other clients [for Concrete Zen] are architects," he says. "We provide our services to their clients. The architects spec us as well as brainstorm with us to find a way to do innovative design."
Regardless of the client or project, Sieffert and his team continue to be enthusiastic with their work. "We are enthusiastic, and we love others' enthusiasm — that's what drives us," he says.
Versatility also plays a key role. "Our versatility makes us different," he says. "Being able to do overlays, work with GFRC, work with different molds and have training in Cheng and Buddy style and others talented in the industry. Working with an engineer and a master mason allows us to do a lot of different things for the architects and designers who are selling the innovations to their clients. We are capable of engineering ways to overcome a variety of obstacles which becomes necessary for these creative elements to be possible." In a recent project in Upper Saint Clair, Pa., Sieffert completed a concrete topping, overlay, island countertop, countertops and a sink as a part of a restoration project through T. P. C. D.
An H&C Concrete Espresso water-based stain and an H&C Concrete Potter's Wheel reactive stain were used to color the overlay. Along with the overlay, Sieffert installed a Modello Designs stencil in the foyer and a fleur-de-lis stencil near the two transitions of colors. "On top of their existing porcelain tile floor throughout the foyer, hallway, kitchen, laundry room and bathroom a concrete topping leveler and overlay was installed," Sieffert says. "We used a water-based stain and a reactive stain that met at an organic transition, between the kitchen and laundry room. We allowed them to naturally flow into one another."
Making a mark
With the decorative concrete industry continuously growing and changing, Sieffert has several plans for the future. "In Pittsburgh, decorative concrete is very limited," Sieffert says. "There are some talented people who do work like us, but there is also room for training." Inspired by the activity in the decorative industry throughout the country, he hopes to play a part in establishing the decorative concrete industry in the Pittsburgh area.
"We really want to be a part of some sort of modification in new architecture and design in Pittsburgh," he says. "We want to utilize the concrete style maintained with our sustainable building approach and do something fun that will make a mark."
Companies in this article