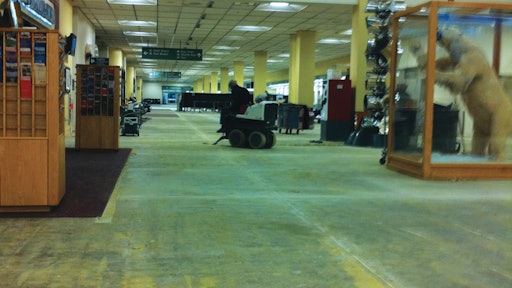 Sharing a jobsite with the general public is always a challenge. Contractors need to think about safety, noise, dust and odors in addition to the demands of the job.
Recently, Grand Prospect Corporation faced that dilemma while polishing concrete floors at one of the terminals at the Anchorage International Airport.
While the crew at Grand Prospect Corporation polished the concrete floors, air travelers went about their busy routines adjacent to the polishing jobsite. Grand Prospect used water-based dyes and chemicals to avoid a host of unpleasant smells wafting throughout the terminal. And the crew employed a type of dry polishing method to avoid slurry and the cleanup required with a wet polish.
When it came to dust, Grand Prospect didn't take any chances with its vacuum equipment, using powerful units from Blastrac and BW Manufacturing. "We gained the confidence of the airport folks with our state-of-the-art equipment for a dust-free environment. Our biggest compliment through the first few weeks of the project, even through tear-up and the initial grind, was that there was no dust," Grand Prospect owner Steve Rose says.
The tradeoff with vacuums, of course, is noise, but Grand Prospect was able to work around that issue, too, shutting down the project if a big crowd came through or working nights when they were grinding high-traffic areas. Rose says with a little extra time and quality equipment, they were able to accomplish one of the biggest successes on any job when working around the public - maintaining a low profile.
Read the full story on Grand Prospects airport terminal polishing job, "Polished Concrete Cures Terminal Illness," published in the December 2011 issue of Concrete Contractor.