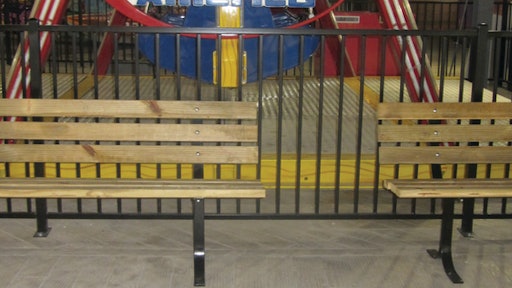 When Bob McDaid first contacted Andre E. Garrote, decorative concrete manager with Prendergast Landscape Contractors, Chesterfield, N.J., about creating a variety of decorative floor finishes at his iPlay America indoor theme park in Freehold, N.J., Garrote saw it as his chance to take on a project that showed his range as a decorative concrete artisan. McDaid wanted a wooden boardwalk look on one side of his park and a worn asphalt road look on the other side, all made from concrete.
Creating a wood-look boardwalk
Garrote and his team started creating samples for the project in February 2010. "The boardwalk sample was one where I hit the nail on the head right from the get go," Garrote says. "I used the H&C Stampable Overlay with a wood plank stamp. The wood plank was then stained with two H&C Semi-Transparent Decorative Stains to create a weathered look."
During the installation of the boardwalk, Garrote's crew changed the directions of the wood planks in different areas for a realistic effect. In an area where park go-ers transition from the boardwalk onto a pier where the rides are, Garrote's crew added king boards for a visual transition. "The wood plank gives me the greatest satisfaction, especially when I hear everyone who walks on it asking themselves, 'Is this real wood?'" Garrote says.
The look of asphalt, with decorative concrete
In another area of the park, Garrote and his team were challenged to create a floor finish that mimicked and old and worn Tuscan village street scape, complete with an asphalt road and concrete curbs and sidewalks. The crew achieved the desired look of a broom finish concrete using H&C Broom Finish Repair mix. Garrote's team even used a ¼-inch diamond blade on a hand grinder to create the illusion of expansion joints. The joints were created to distinguish the 6-inch-wide curb from the sidewalk behind it and the sidewalk's expansion joints. "For the average person there is no real 'wow factor' for this section because they would just believe that it is regular concrete sidewalks and curbs," Garrote says.
The creation of the worn asphalt look to accompany the fabricated sidewalks and curbs was a true challenge for Garrote and his team. After several sample attempts, they settled on a spray texture that produced a realistic look. "I used a spray texture gun with H&C's heavy traffic resurfacer to give me the texture of asphalt. Once the product was about 70 percent hard, we used a light knock down to show some of the smooth characteristics of asphalt," he explains.
Garrote's crew used three different colors to make the concrete look like asphalt. The main part of the asphalt is charcoal with specs of gray to mimic stone. The crew then applied a sand color over the entire area to make it look like dirty asphalt. "Another important detail used in making the old weathered road was the installation of an Appian Cobblestone stamp in certain areas to give the illusion that the asphalt had broken and worn out so much that the cobblestone had started to come out from underneath," Garrote explains. "We left these areas so irregular that you can't see a transition between products. They look completely realistic."
The final component in creating the asphalt look was installing cracks. After testing many methods, Garrote found that a good old fashioned chisel and hammer worked best to chisel crack lines into the sprayed asphalt. "It took four men three days to create all the cracks," he says.
Garrote was happy with his cracks, but not the color. He traced all the cracks with a black semi-transparent stain, applied with a small painter's brush. Garrote says he lost some sleep over this part of the project, but in the end he says it looks 100 percent realistic. "In one part of iPlay America, the fake asphalt runs into a delivery door where it meets real asphalt. It's amazing — most people would not be able to tell the deference between the two," he beams.
Other floor finishes with decorative concrete
In addition to the creation of the wooden boardwalk and Tuscan asphalt street, Garrote's crew installed several other decorative concrete finishes. One was a European-inspired courtyard at the entrance to the theme park, created with a European Fan stampable overlay, gray base and charcoal highlights.
His crew also installed decorative concrete in two bistro areas that were originally planned for tile. One bistro area received a seamless slate stamp overlay and stamped vertical walls. That floor was scored in a diamond pattern to mimic real tile. The other bistro floor got a royal ashlar slate stamped overlay for a slate look.
"It is hard to describe iPlay America in just a few paragraphs," Garrote says. "I lost a lot of sleep and spent many hours in making iPlay America a showcase for the decorative concrete industry."
Companies in this article