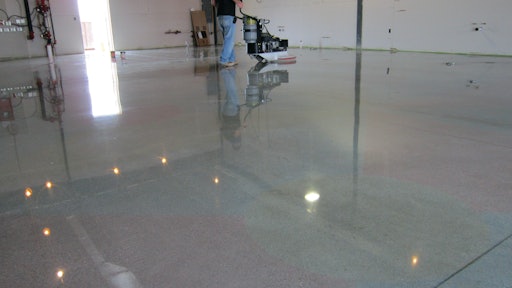 Diversification has been a company philosophy ever since Keith Smith started Keith D. Smith Concrete Contractor, Inc. nearly 18 years ago. The Hanover, Pa., firm started out as a sidewalk place and finish company, and over the years it has evolved into a full-service concrete contractor that also offers foundations, industrial floors, excavation, retaining walls and decorative concrete. One of the company's most recent additions to its lineup of services is polished concrete.
"We entered into the polishing market in 2010. We took some educational courses as a result of the downturn of the economy because we wanted to broaden our horizons a little bit from the typical type of work we do. We also wanted to find a way to keep key employees busy and have them trained in a new area. Also, being a concrete contractor, polishing was just another angle to add to our business without leaving our concrete niche," Keith Smith explains.
Getting educated
Keith Smith Concrete began its foray into the concrete polishing market by first learning about the technique and equipment at industry tradeshows. After buying its first grinder, a Husqvarna representative gave the Keith Smith Concrete polishing crew hands-on field training to review the basics of concrete polishing, how to use the machines and the necessary tooling.
"In January we made the decision to add more education and that's when we went to the training with the CPAA," says Benjamin Smith, project manager/specialties manager with Keith Smith Concrete. "It turned out be a wonderful resource and offered some really good information to our guys as far as what they were doing right and what they could be doing better." Two Keith Smith Concrete employees attained Craftsman-level certification.
Jobs
Benjamin says the last few years the company has focused on rehab projects, such as floors in older buildings where the owner wanted an updated look and a better flooring option than the typical choices. But in recent months the company has seen strong job leads from its GC clients.
"We recently had the opportunity to go in and educate a couple of our general contractors on concrete polishing — what to expect, how it works and how it will perform," Benjamin says.
"Since then we have had some general contractors come back to us and say, 'We have these polished floor projects, and since you're putting in the floors we would like to see you polish them as well,'" Keith adds. "And the nice thing about that is it gives us full control over the schedule and, more importantly, placing of the concrete. In the coming years we hope to see more of these jobs where we put in the floor in and polish it out."
Tools on the job
Stuart Cornett runs the polishing crew at Keith Smith Concrete. He mentions a few key tools that help his crew run a successful polishing job.
"In addition to our Husqvarna 820 and 560 grinders, we also recently purchased a Lavina 7N Edge Grinding machine. It's a stand-up, walk-behind grinder that really helps out our guys because it gets them off their knees when they are finishing edges," he says.
But Stewart explains it's not always the equipment you hold in your hands that is the most important tool on the job. "Our best tool is knowledge. You have to have the knowledge to know what you can and can't get out of a floor," he explains. "The machines all pretty much do the same thing, the key is to have the knowledge to run the machine through the correct steps in the polishing process to reach maximum refinement for the client."
Company Summary
Keith D. Smith Concrete Contractors, Inc.
Hanover, Pa.
www.KeithSmithConcrete.com
Employees: 40
CPAA Certification: 2 CPAA Craftsmen on staff
Services offered: Full-service concrete, including floors, foundations and pervious concrete; excavation; decorative concrete; concrete countertops; and polished concrete.
Key products and equipment: Husqvarna 820 and 560 grinders; Lavina 7N Edge Grinder; Makita hand-grinders; Ameripolish dyes; Ameripolish and Husqvarna densifiers; engraving machine for decorative saw cuts.
Companies in this article