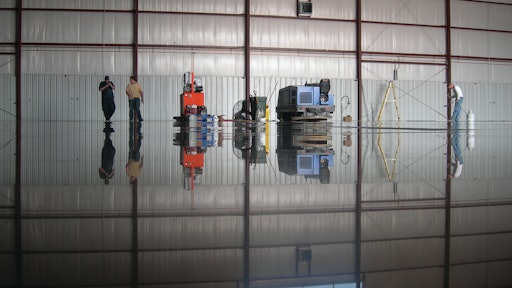 When Ryan Klacking, president of Syncon, Inc., Dearborn, Mich., came on board as the polishing concrete subcontractor at a 23,000-square-foot airplane hangar project in North Carolina, he knew he needed to deliver a quality job. The owner, an aviation company that owns about 35 hangars throughout the United States, was looking for an alternative to its usual epoxy flooring system for its next hangar. In its research for a new floor finish, the aviation company decided to give polished concrete a try. For Klacking, the challenge was on.
Why polished concrete?
The aviation company had installed "hanger white" epoxy floors in its previous projects. These flooring systems looked good at first, Klacking says, but within six months the floors were scratched and showing signs of wear. The owner was also paying for removal and replacement of the floors every five years to maintain a clean and aesthetic appearance for its properties.
The aviation company found several characteristics of polished concrete that made it an ideal flooring choice for its hangar, including durability and abrasion resistance. Both the application of a hardener/densifier and the way the polishing process itself affects concrete on a microscopic level gives the polished surface a high abrasion resistance factor.
The owner also wanted an attractive floor. A properly polished concrete floor will display a high level of clarity and reflection due to refinement, offering light reflectivity and a surface that looks clean and professional. And a well-maintained polished concrete floor will continue to offer aesthetic appeal far beyond the five-year life span the owner was seeing with its epoxy floors.
Another important factor on the mind of any owner is cost. "On a cost-per-square-foot basis, installation of polished concrete is comparable to epoxy," Klacking says. "But maintenance and longevity wise, polished concrete wins out."
Working with a GC
The general contractor brought Syncon on as the polishing subcontractor early enough in the project that Klacking was able to work with the construction team in planning the pour. He met with the general contractor and concrete subcontractor to provide an overview on the polishing process and explain how certain characteristics of a mix and the finishing processes can make or break a polishing job.
"We mentioned making sure the concrete did not exceed 4,000 psi so we would not have problems removing the cream coat and exposing the salt and pepper finish the owner wanted," Klacking explains. "Also, we added that we would like to achieve a minimum floor flatness rating (FF) of 50 and a floor levelness rating (FL) of 35.

Klacking says the owner did not require a gloss measurement reading, but his team set a goal to achieve a gloss reading in the 60s. Additionally, he advised a 12-foot by 12-foot saw cut layout to minimize the possibility of out-of-joint cracking.
Klacking says the concrete subcontractor brought up questions about the finishing process. "We told them we wanted the floor power troweled, just not burned, and not to use hand trowels in the area to receive the polished floor because these areas always stand out on a polished floor because in hand troweled areas the finish is typically softer and always seems to have more exposed aggregate and surface pitting."
The polishing process
Klacking's team used a wet grinding method to start the job, using a Prep/Master 3030 grinding unit from Substrate Technologies, Inc. "Wet polishing assures a consistent cut on the floor in that it keeps the diamonds cool and lubricated which allows them to work more efficiently," Klacking says. "When diamonds get too hot they can cut differently in different areas of the floor."
Syncon started grinding with an 80-grit metal bond abrasive then moved to a 100-grit hybrid metal/resin bond abrasive to grind past the floor's cream cap to open up the floor and expose the aggregate for the salt and pepper look.
"For environmental encapsulation we used the Slurry Fox by Goltz to filter the waste water and dispose of the slurry in solid form," Klacking explains. Syncon also passed over the floor with its ride-on autoscrubber after each step of the grinding process.
Once the necessary level of aggregate was exposed, Syncon moved to a dry polish with resin-bonded abrasives. The crew started with a 100-grit abrasive, then moved to 200 grit. After the 200 grit, Syncon crews spray applied Consolideck LS hardener/densifier and worked it into the concrete with a microfiber mop. Processing continued with a 400 grit then an 800 grit. At this point, crews spray applied a second coat of hardener/densifier and worked that into the concrete again with a microfiber mop. The polishing job was finished out with 1,800- and 3,500-grit resin-bonded abrasives. Syncon crews went over the floor one final pass with a buffing pad to remove tracking from resins.
Because of the harsh chemicals common in an airplane hangar environment and the fact that workers wash down jets on the floor, Syncon applied Consolideck LSX100 Oil & Water Repellent to guard against possible damage from jet fuel, oil and water. Klacking also offered the client a recommended maintenance plan which included a daily run with an autoscrubber and annual re-application of the oil and water repellent.
One year later
Syncon's polishing job was a success. Passing on a color application to take advantage of the natural color of concrete and without a guard protector, Syncon achieved a mirrorlike finish on the project with gloss readings in the 90s. Klacking gives part of the credit for the success to the concrete itself. "The concrete was a great pad for polishing," he says. "We didn't have to cut too aggressively because the floor was flat and it opened up easily."
And Syncon's polishing process, true to the specifications of the Concrete Polishing Association of America, ensures a long-lasting floor refined the way concrete should be refined. One year after the project's completion, Klacking says he has visited the floor and it looks as good as it did the day they left the job. And it's time for the annual re-application of the oil and water repellent, which Syncon has scheduled in the books.
Project Summary
Company: Syncon, Inc.,
Dearborn, Mich., www.synconinc.com
Services Offered: Concrete polishing, repairs, restorations and toppings; resinous flooring; joint sealants; floor maintenance.
Number of years in polishing: 5
Project size: 23,000 square feet
Key Products & Equipment: Substrate Technology, Inc. Prep/Master 3030, Prep/Master 431 for edging, EG metal-bond grinding pads and FL-07 resin-bonded polishing pads; Prosoco Consolideck LS hardener/densifier and Consolideck SLX100 Oil & Water Repellant; Goltz Slurry Fox; Horiba IG-320 Gloss Checker.
Companies in this article