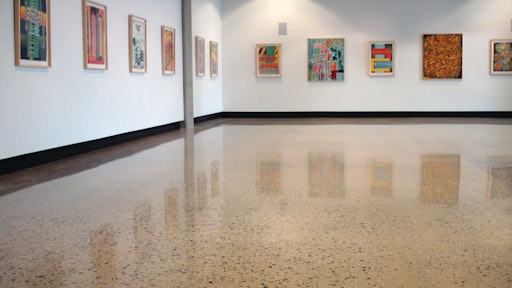 Total Polish Solutions has been involved in the concrete polishing industry for 11 years. In that time, they have been busy — 37 million square feet of polished concrete across the country on projects like schools, research institutes, industrial facilities, retail shops and a host of other commercial applications.
One of the areas the company has found success is with exposed aggregate floors. Total Polish Solutions President Stan Thomas says this type of installation became popular with architects looking for a flooring option that offered design flexibility at a lower cost than terrazzo and those looking for a modern flooring alternative to replace historic terrazzo installations. Demand for LEED-friendly flooring options on sustainable building projects also helped bring about concrete polishing's popularity.
An exposed aggregate floor utilizes the decorative qualities of a concrete mix's aggregates and the strength and longevity of the structural slab. It requires an aggressive cut on the floor, past the cream and salt and pepper layers of the slab. The finish can be utilized on both existing and new concrete slabs.
What makes a successful contractor?
Thomas says his company lives by a set of five core values, followed through on every job they do: Customer Focus, Innovation, Integrity, Performance and Teamwork. Every job starts with an element of customer focus — managing expectations of the owner and architect. "There is no one recipe to produce the same finish on every slab. It's a natural product of aggregate, sand and water. You have variations on every job that result in a different clarity and color," he says. "We manage expectations up front, and we always have a Plan B for any issues that might arise. We have to design a project that allows us to do the best with the floor we are given."
Teamwork comes into play in a couple key areas. The first is in helping the design team, GC and concrete contractor understand how the placement of the slab affects the end product. Thomas says his company worked for years to get the entire construction team to buy in on this concept, but as concrete polishing has gained acceptance over the years this struggle has become easier to manage. "We emphasize the responsibilities on them to give us a floor on which we can produce the results the owner expects," he says.
Continuing on the teamwork theme, Thomas explains the importance of a "give-and-give relationship" with manufacturer partners. Key manufacturers offer onsite training on new equipment and products, while the Total Polish Solutions team members test new products and equipment and offer suggestions to improve performance from a contractor's perspective. This ensures the company has the most current technologies and understanding of how to use them for every job.
Once the job begins, the focus turns to the people and processes involved on the job. "There are no shortcuts in providing craftsmanship or completing the process," Thomas says. "Many of our floors are 20 steps or more."
Contractor experience helps his team members stay nimble, willing to adapt to any surprises the jobsite might present. "We don't wait until the end of a project to find out if we need to adjust our process," he says. "We keep that in mind every day."
16 Tips for Exposed Aggregate Floors
A successful exposed aggregate floor starts with a quality contractor. The Total Polish Solutions' team has identified a number of "critical success factors" necessary for a successful exposed aggregate floor. Here is the list:
1. Realistic expectations. Have a preconstruction meeting with all the parties with a stake in the project — owner, GC, architect, place and finish contractor, concrete producer, polishing contractor, and in some cases the polished concrete products manufacturers. "Eighty percent of potential problems can be eliminated in a preconstruction meeting," Thomas says.
2. Reinforcement. A secondary reinforcement like polypropylene fiber will help minimize cracking.
3. Cure. A wet cure is preferred over a disappearing cure and seal, since a cure and seal will need to be removed.
4. Cutting. Timing is critical for joint cutting. The depth of the cut should be at least one-fourth the slab depth but one-third is better.
5. Slab protection. All trades involved on a job should understand how their spills and traffic can ultimately affect the success of the floor finish. Don't allow trades to use the slab as a staging or cutting area as this could result in damage to the concrete or differential curing which can leave visible discoloration on the slab.
6. Timing. Pour the concrete as late in the process as possible.
7. Edges. Install non-load bearing walls as late as possible to reduce hand edge work — saves the contractor labor time and results in a better floor.
8. Strength. 4,000 psi concrete and higher is ideal for an exposed aggregate finish.
9. SCMs. Minimize fly ash or slag cement replacement in an exposed aggregate finish.
10. Materials. Use one source for your cement and aggregate throughout a project.
11. Mix design. Get your mix designs approved by the architect and talk through the characteristics of a mix design that contribute to a successful exposed aggregate floor.
12. Color. If adding integral color, use liquid color or make sure the disintegrating bags are removed from the batch (don't let them disintegrate in the mix). If your floor will be dyed or stained, make sure your trowel blades are clean and use plastic trowel blades if possible.
13. Placing. Plan your pours from the front door to the back door, not side to side. This will put your pour joints front to back instead of side to side, reducing the impact of slight color variation in the different pours.
14. Flatness. FF and FL numbers 40 and above will make for a better polished finish by offering a flat and level floor that produces a better clarity of reflection
15. Decorative cuts. Make your decorative saw cuts before you grind/polish to avoid finish degradation.
16. Finishing. Keep the finishers off the slab during the finishing process to avoid depressing the aggregate. An even aggregate distribution will result is an even aggregate exposure.
Cloud-based CRM
Total Polished Solutions runs multiple job sites, oftentimes is different states throughout the U.S. A few years ago the company started using Salesforce.com CRM (customer relationship management) software. Salesforce.com is a cloud-based program that allows project managers access through an Internet connection anywhere in the country. "Every morning, project managers upload job site photos and progress reports for each job. Company leaders can review this information from anywhere," Thomas explains.
Company Summary
Total Polish Solutions
Knoxville, Tenn.
Services: Turnkey dry polished concrete flooring solutions for existing building and new construction.
Key products & equipment: SASE, Ermator, Prosoco, Metzger/McGuire, HTC, Ameripolish, Euclid Chemical, Salesforce.com CRM (customer relationship management) software, Android smartphones.