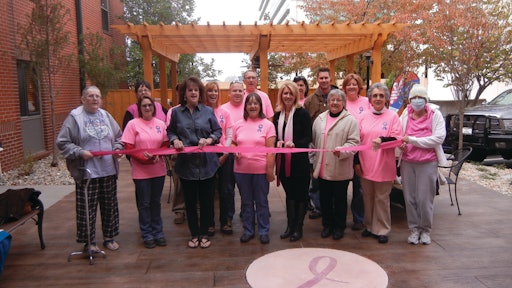 Cancer sucks. There is no other way to put it. The American Cancer Society predicts 1,638,910 cancer cases will be diagnosed in 2012, and 577,190 Americans will die of cancer in 2012. Those aren't just numbers, those are moms, dads, sisters, uncles, children, and friends.
Breast cancer is the second most common type of cancer in the United States (prostate cancer is the most common). One in eight American women will be diagnosed with breast cancer at some point in her life.
Mike Murray, president of Murray Decorative Concrete Supply, Inc. of Shawnee Mission, Kan., thinks more people should know these statistics so they can do something about them. That's why he is using decorative concrete to raise awareness for breast cancer. The goal of his Concrete Cares program is to have a "pink concrete" project installed in each state by October 2013. Murray wants to see concrete contractors, manufacturers, and industry groups working together to install projects, big or small, in public spaces. The cause has already hit states like South Dakota, Missouri, and Kansas.
Watch a video about the Concrete Cares project in Sioux Falls, S.D.
Murray was inspired to use decorative concrete installations to raise awareness for breast cancer in early 2011, after a friend was diagnosed with the disease and he started to realize how important the cause was to his employees and other people in his life. His efforts to get Concrete Cares off the ground were stalled after his wife was diagnosed with cancer and his attention turned toward her recovery. When Murray's wife's health returned, his devotion to Concrete Cares was renewed.
Concrete Cares is not picky about the products contractors use on projects as long as pink or some other cancer awareness color is the focal point. Recent installations have included broom finished pink concrete, a pink ribbon cut into a gray concrete slab, and a pink stenciled medallion centered in a field of wood plank stamped concrete.
Concrete Cares maintains a national database of individuals and manufactures who will donate materials and time to the projects. The ready-mixed concrete is donated by local suppliers, with volunteers providing the labor. You can learn more about Concrete Cares and how your concrete company can get involved at www.concretecares.com, or follow them on Facebook at www.facebook.com/concretecares.
Companies in this article