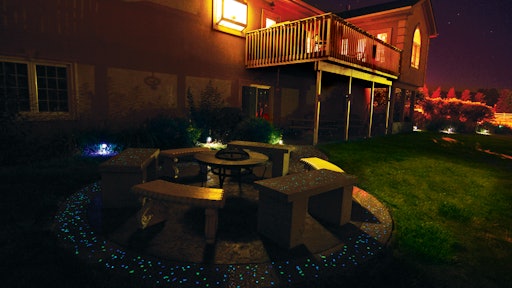 Ray Brooks grew up around concrete. His father started Brooks Construction Services, Sioux Falls, S.D., in 1944, as a home building business that self-performed its concrete work. Brooks watched his dad bring poured walls to the homebuilding market in their part of the country in the early 1960s. Eventually the business shifted its focus to concrete construction in the residential, commercial and farm markets in eastern South Dakota, northwest Iowa and southwest Minnesota.
When Brooks was a kid, he used his mom's cookie cutters to make shapes out of concrete. His lifelong interest in the creative and artistic side of the traditionally gray and flat building material spurred Brooks Construction to introduce the Sioux Falls area to decorative concrete in the 1970s.
Today, Ray Brooks and John Kleinschmit own and operate Brooks Construction as a full-service concrete construction business, offering footings, foundations, ICF concrete homes, flatwork, slabs-on-grade, parking lots and more in residential, commercial and farming markets. Additionally, about 30 percent of the company's revenue stems from decorative concrete, including stamping, staining, concrete countertops, polishing, engraving, and just about anything else that can be classified as creative, decorative or unique concrete installations.
Early decorative adopter
For Brooks Construction, the addition of decorative concrete came about of a few reasons — no one else in the area was doing it and decorative concrete always intrigued Ray. "We were looking for a niche and something we could do in the winter months to keep crews busy and revenue coming in," Brooks adds.
The father-son team started their venture into decorative concrete offering acid stained floors in basements and other interior applications. They started outdoor staining and stamping when the technique was just in its infancy. "We had some of the early stamps, the ones that looked a lot like cookie cutters with handles. We made some of our own stamps, too, out of bent rebar, and pushed them into the concrete through visqueen," Brooks recalls.
Brooks and his father were even pouring concrete countertops in the 1970s — not like the specialty specimens we see today, but utilitarian projects in the barn with left over ready-mix concrete. "The first time my grandfather saw those concrete countertops in the barn, he laughed and told my dad and me that no one would ever pay for something like that," Brooks says.
His grandfather turned out to be wrong. As the decorative concrete market grew through the 1980s and 1990s, Brooks followed the trends, getting into saw cut patterns, dyes and polyaspartic floors. And the concrete countertops he and his father started playing with decades before because of their durability and design flexibility eventually morphed into the modern designs seen throughout kitchens, bathrooms and restaurants we see today.
Always looking for the latest products and techniques to play with, Brooks recently discovered his new favorite thing — glow-in-the-dark concrete. His company has been working with the glow-in-the-dark sand, aggregate and overlay from Ambient Glow Technology for about a year now. They've used it on outdoor patio and kitchen projects, precast wall tiles, benches, countertops, pool surrounds, and restaurant floors.
Brooks has ideas for other projects utilizing the glow-in-the-dark concrete. "I think the safety aspect for this product will be huge. You could use it in huge arenas. When they turn off the lights for a concert or other kind of event this product could light the risers in the stairs," he says. "I think it will be good for bars and night clubs, too, to give a little twinkle to the floor. A blacklight really enhances the look."
Training the right people
Brooks Construction employs 32 people, with 15 of them trained on the decorative side. Brooks says he learned over the years that not everyone is cut out to install decorative concrete. "You can't use your production guys for decorative concrete," he adds.
Instead, when hiring employees for their decorative crews, he looks for artistic people who possess a great attention to detail. "Sometimes we hire a high school art student to work for us in the summers. And we have a great artist on staff who can freehand designs on the concrete with a grinder. He has an artist's eye. He can talk to customers about their ideas and can translate them into concrete."
Brooks adds that one of his office managers has a background in interior design and is comfortable speaking with clients about their design ideas, color choices and managing expectations. "With decorative concrete, you can't guarantee color. You need to make sure your customers understand the limitations," he says.
Getting jobs
Brooks Construction's traditional concrete services are well established in the area. They get most of their "gray" jobs through word of mouth and repeat business. A local program in Sioux Falls called The Local Best allows area residents to vote for their favorite restaurants, stores, hair salons, etc. For seven years in a row, since the program's conception, locals voted Brooks Construction No. 1 in the Concrete Contractors category. Brooks says he gets a lot of leads through this program, and they also advertise their decorative services through radio, TV, Internet and home shows. "Our focus on advertising is always with our decorative services. When people call about a decorative project I also tell them we do all types of concrete work, like basements and driveways, and we pick up a lot of work for the other side of the business that way," he explains.
Offering a full range of concrete services in residential, commercial and agricultural markets keeps the company nimble in any economic environment. But it's the decorative concrete side of the business that keeps Brooks creative and pushing the boundaries of concrete in his market. "I love decorative concrete," he says. "I don't see an end to it. We do everything, and are always looking for new products, techniques and ideas to keep our customers happy."
Company Snapshot
Company: Brooks Construction Services, Sioux Falls, S.D.
www.brooksconstructionservices.com
Owners: Ray Brooks and John Kleinschmit
Established: 1944
Employees: 32
Services offered: Full service concrete contractor and decorative concrete finishes.
Key products and equipment: Ambient Glow Technology, Elite Crete, ChemSystems, Butterfield Color, Engrave-a-Crete, H&C Concrete