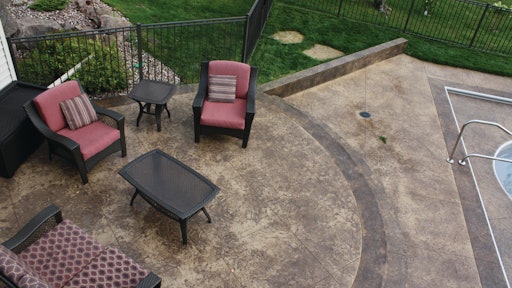 Alchemy Concrete, Inc., Nelsonville, Wis., builds conventional and decorative concrete installations and concrete countertops for clients in central Wisconsin. President Judah Haas approaches each project with awareness to its environmental impact and strives to offer customers long-lasting designs sensitive to their needs and surroundings.
Alchemy utilized its design and construction expertise to install a backyard pool deck and patio project for a home owner in Wausau, Wis. The end result won Alchemy a 2012 Concrete Design Award from the Wisconsin Ready Mixed Concrete Association.
The owner asked Alchemy to create a backyard escape for both family and entertaining. A steep grade from the house to the pool area led the company to incorporate a raised patio with curved, wrap-around steps and install raised concrete walls that acted as both retaining walls and benches.
Crews placed the patio and pool deck with a 4,000 psi blended exterior mix of fly ash and cement with integral color, reinforced with a grid of 3/8-inch steel bar with nylon fibers. Once the concrete was installed, crews stamped the area with a roman slate stamp texture and used powder and liquid stamp release. While the pool deck received square decorative saw cuts, Alchemy offset the saw cuts in a diamond pattern on the raised patio area to visually separate the two areas while maintaining design consistency. The pool coping border, steps leading to patio, and retaining walls/benches received a slightly darker but complimentary color to create visual separation. The project was finished with a solvent-base acrylic sealer with a slip resistance additive.