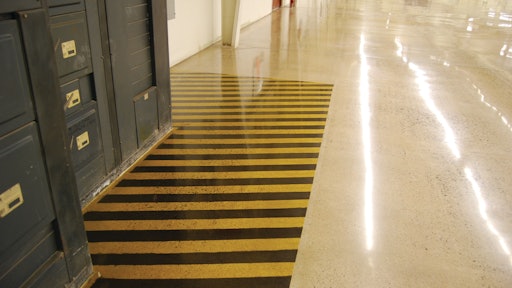 Luke Air Force Base outside of Phoenix, Ariz., is currently switching over its F16 and F35 fighter jet hangars from epoxy flooring to polished concrete. Yezco Concrete Polishing is in the process of polishing 250,000 square feet of floors to a 3,000-grit finish throughout the hangars. It is also incorporating two unique and progressive aspects into the project that will contribute to both safety and maintenance ease in the hangars.
Yezco designed a unique solution for the colored walkways, hazardous areas, eye wash stations and identification for the whereabouts of fire extinguishers. These areas were previously designated with colored tape or paint. "The base wanted a solution from us that we could do one time so they wouldn't have to budget future funds to reapply the tape or paint," says Rob Yezzi, VP at Yezco.
Yezco worked with dye supplier Ameripolish and the Army Corps architects and engineers to create the designs and ensure they were installed in the proper areas throughout the hangars. "We took the time to lay out where all the striping and coloring should go for the walkways and hazardous areas and incorporated them into the polished concrete floors throughout the hangars," Yezzi adds. "Now they have permanent markings on the floor and will not need to repaint or retape."
Yezco is taking another progressive step on this project with its work in slip fall measurement. Yezco employed The J.D. Group, certified Nu-Safe walkway specialists out of North Las Vegas, Nev., to conduct baseline COF (coefficient of friction) testing on the polished floors at Luke Air Force Base. With this information, the floor owner and Yezco have an official record of floor performance at the beginning of its service life. Yezco can also use that baseline CFO to create a routine maintenance plan for the hangar floors and determine when the floor is due for more involved maintenance work.