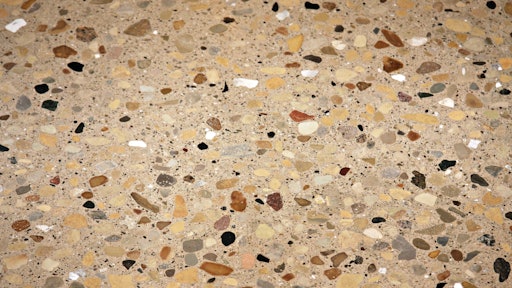 Spend five minutes with Steve Perfect and one thing is clear, he is passionate about polished concrete. So when he received a call regarding a flooring project in a 20,000 square foot building, he knew it was a chance to demonstrate how a concrete floor can be sustainable and gorgeous.
Perfect is the owner of Perfect CC Midwest, Inc., Batavia, Ill. and he has been polishing concrete for the last six years. With every job prospect, he views it as an opportunity to be an advocate for polished concrete.
The job request came from Clarke Environmental, a global environmental products and services company, located in Roselle, Ill. which was in the process of relocating their headquarters. Considering the nature of the company's business, the owners wanted a sustainable flooring solution and the construction process was to be as environmentally friendly as possible.
During one of their first meetings, Perfect says the owners had indicated plans to run carpet throughout the entire building. "Of course, I had to ask, 'If you want a sustainable floor, why don't you want a polished concrete floor?' "
That one question changed the scope of the job. "I had their attention. A polished concrete floor was not something the owners had considered other than a few small rooms prior. It was now up to me to sell them on the idea."
The original sales call for this building involved polishing a mere 2,000 square feet for visual impact in specific areas. As one of the leads on the project, Perfect worked with architect, Marty Serena, Serena Sturm Architects, Ltd.  In order to placate any concerns regarding natural slab color differences throughout the building, Perfect performed 12 mock ups throughout the building to demonstrate the beauty and continuity of color in a polished concrete floor.
Ultimately, Perfect received the job to polish 11,000 square feet of concrete.
A transparent spec produces quality
When polishing a floor, Perfect and his crew specialize in using only the Husqvarna HiPERFLOOR Concrete Polishing System. He says by choosing a specific polishing concrete system, a contractor is assuring their qualifications and transparency in the bidding process. Furthermore, by adhering to a specific specification, the end result is a quality floor with quality craftsmanship.
"It's interesting, when I started polishing concrete, I learned the craft through on-the-job experience and networking with other contractors," he notes. "But I came to realize, I was taught to skip steps when polishing concrete. I was taught to perform the work differently than what I am doing now. I was taught to get the job done and get out."
Perfect says the Husqvarna system doesn't leave any room for skipping steps. He says following the specifications ensures a consistent and efficient way to perform the job.
"The specification tells the contractor exactly what they are to do. The specification calls for the necessary grout coat, crack fill, joint fill and the type of densification. These are all things that make the polished concrete last longer. And these are also some steps in the process which some contractors skip."
The only aspect of the specification where Perfect offers an option to his customer is the gloss level.
"I'm making sure the floor is going to last. This is what I learned from the Husqvarna system," he says. "This is why I feel choosing a specification is vitally important. If you don't fill a joint or have it cut flush, dirt will get in there and eventually cause the concrete to crack. Or, the open gap will become a chipping point for the traffic within the building. A proper specification avoids these potential problems in the future."
The challenge
Perfect started the job with the demolition for the carpet. "We prefer to handle the demolition and removal of the floor before we polish it," he says. "By personally removing the prior flooring, we can do everything in our power to keep the substrate as 'in-tact' as possible."
As with most of the re-construction projects Perfect picks up, recycling is always a key component. Once the flooring was removed and floor preparation was finished, 23,000 square feet of carpet, cut to size, was delivered to Kruse Carpet Recycling in Indianapolis, Ind.
"We successfully submitted 8,120 pounds of carpet to the Interface Program. That's 8,120 pounds we kept from the landfill," he says.
Perfect and his crew were given the challenge to create a polished concrete floor with full aggregate exposure, a grout coat and a 3,000 grit final polish. However, the excessively hard concrete had its own story to tell.
"The initial concrete was gorgeous even after scraping off wall-to-wall carpet and surface glue. However, there was a very irregular level in which the aggregate of the concrete sat. Some spots we could get full stone exposure at ¼ inch while others were over 3/4 inch, making it difficult to produce a flat, consistently full aggregate floor," describes Perfect. "The stone was so uneven, this was probably the most difficult exposed aggregate we've ever come across."
Five sets of Husqvarna 16-grit Soft Softs' achieved the exposure before transitioning to 30-grit Soft Softs', utilizing 11 different diamond grits in the entire process. Perfect had one goal in mind, beat the other trades who would also be working on site, to prevent any floor contamination. "We were looking to beat the drywall installers in order to save our edge worker the hassle of hand grinding the edge along the future walls."
Time constraints and the schedules of other trades people prevented Perfect from grinding the entire floor before other trades people came to the site. "The other trades quickly caught up to us, so we decided to keep moving throughout with our 16-grit cut throughout to save serious edge work prior to wall installations."
Perfect says, the decision to keep moving ahead of the other contractors on site turned out to be the best decision due to multiple trades contaminating the recently cut surface. The 30-grit metals were able to take out any "accidental" surface stains due to mud work or paint overspray. Additionally, Perfect had no choice but to have his crew hand grind the edges using Metabo angle hand grinders. "It wasn't easy, but we needed to make sure we created an even and consistent floor. More so, the initial 16-grit cut we had finished prior reduced some of the edge work depth needed."
Disposing of concrete dust
With the heavy cuts on the floor being processed, there's was a constant battle of excess dust on the floor the vacuums weren't picking up in the grinding process. In the interest of trying to remain environmentally and health conscious, architect Serena was concerned about any remnant dust that could find its way into the ventilation system. Perfect's crew would wrap up every day's shift an hour early to afford time for daily vacuuming of recently ground areas.
As any polisher should know, concrete dust disposal is expensive and due to its weight, can't be excessively dumped into a dumpster. Past experience however, allowed Perfect to utilize a recycling process he learned on a previous job.  
"Concrete slurry is easily recycled at concrete plants, but when the concrete dust is still in its dry form, it makes transportation and containment difficult, no concrete facility will take the dust in dry form" explains Perfect "We ended up ordering slurry dumpsters and disposed of the dust into the dumpster, mixed it with water to turned it into a concrete slurry."
The slurry was later transported to a concrete plant and will be used as extra filler for future orders of concrete. By the end of the project, Perfect filled four slurry dumpsters and scale tickets showed 41,840 pounds of concrete slurry were recycled. That's 41,840 pounds kept out of the landfills and put back into the concrete circulation.
As with any profession, not all contractors are created equal nor are they as environmentally conscious. Perfect acknowledges that by adding water to the concrete dust, a toxic material is created. He also recognizes the availability of products to eliminate the toxins created when dust and water meet. However, he says safely converting to a slurry in a contained dumpster keeps the material from being put into the environment.
"Not all contractors use the products available to handle slurry. Most contractors simply dispose of the concrete dust into plastic bags and take them to a landfill. But what happens when it rains? What happens when you dump a load of garbage with a variety of materials in it and the bag gets punctured? This scenario is exactly what we're trying to avoid."
"In our case, we have the dust contained and then recycled," he says. "With this process in place, we've been able to recycle over 100,000 pounds of concrete dust on recent projects — all in an environmentally friendly manner."
Perfect CC Midwest, Inc will be performing this recycling process on all of his future jobs. For smaller projects which don't justify their own disposal unit, the dust will be stored at his shop until it can be recycled with a full slurry dumpster.
A sense of pride
Growing up in St. Charles, Ill., a suburb of Chicago, Perfect takes a great deal of pride in this project. "This is my hometown, and one of the most prestigious floors I've ever installed is here. This was one of the most challenging floors we've ever done. And I now have a job site where if needed, I can use it as an example of our work to show prospective customers."
Perfect is now starting to bid and be awarded projects he's been trying to get for six years. He cites job experience, networking with his peers and making a commitment to a specific polishing system, producing consistent results each time as keys to his success.
"One of my rituals is to try to visit all of my floors to make sure they are holding up," he says. "It's part of my commitment to the job and to my customer. Too many guys do the job and leave. I can't do that. It's really a concept I learned from Husqvarna, once you put a brand name to a product or service, to an architect, a designer or a future client — they want to see something proven, something that works. Our polished concrete floors are the proof."
Companies in this article