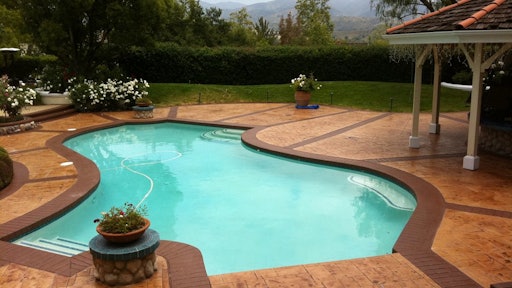 Several products on the market allow the restoration, enhancement or alteration of the original color of a stamped concrete slab as well as creating an antiqued look with a secondary color. Contractors offering this service could profit from this simple, yet important process.
Todd Scharich, a decorative concrete specialist and member of the American Society of Concrete Contractors (ASCC) Decorative Concrete Council has identified four complete systems which will satisfactorily accomplish the rehabilitation of the stamped concrete slab. Each of these systems are products the contractor should know.
Restoration products 101
Restoration products fall into two categories—solvent-based and water-based systems.
A solvent-based system uses a solvent to drive color into the concrete surface.
A water-based system uses water to penetrate and polymers to create a chemical bond to the concrete matrix.
"For years, contractors had applied a colored sealer over the top of a surface. The downfall of this method is that colored sealer creates a very plain singular color surface, there is no secondary coloring," says Scharich. "Realistic looking stamped jobs have a primary color, and a secondary color for low spots and the mortar joints."
And this is where these product systems come into play. They all feature a secondary antiquing process by taking a dye or color that is translucent and spreading it over the top of the surface and letting the pigment find the low spots.
"The joints in the pattern, the divots in the brick, and the low spots of a stone—whatever the pattern happens to be, there is always some definition; and that's where the antiquing needs to be applied which produces the secondary color," Scharich says.
The end result could be a tan brick and a medium gray color antiquing over it. Once it is dry, the slab can be sealed.
Scharich says in the past he has mistakenly performed this process using a solid stain mixed with a release powder. However, this effect leads to a tremendous amount of sealer failures. "The sealer fails because release agents are bond breakers, not allowing the sealer to stick to the surface, it peels off, and usually pulls some color with it. These new systems reduce the risk of failure."
A word of caution: Some systems recommend a specific sealer, pay close attention to the manufacturer's instructions. Keep in mind, when using a solvent-based restoration product; use a solvent-based sealer. When using a water-based restoration product; use a water-based sealer.
Slab preparation
It's important to note, none of these systems will work when placed over existing coatings. In order to determine if a sealer is present, a simple water test will usually do the trick. Place a few droplets of water on the surface. If it beads, there is a coating on the surface. If the water droplets dissipate, it's safe to say there is little to no sealer applied on the surface.
To begin the rehabilitation process, the contractor must make a choice between chemically or mechanically stripping the surface of the sealer. The chemical stripping process usually includes a solvent-based product applied to surface using a mop or rag. However, green products such as a soy- based product may also be used.
If the contractor chooses to mechanically strip the surface, a light soda or sandblasting of the surface is required. Scharich says soda blasting is a more environmentally friendly process, but has fewer professionals offering the service.
Rehabilitation systems
CSI ReStore Concrete Stain
CSI ReStore Concrete Stain from Helix Color Systems, a ChemSystems Inc. company, is a non-hazardous, ultra-low VOC water-based penetrating stain free of acid or acrylic.
The product consists of two products, CSI ReStore Solid Color Stain; a polymer modified water-based, solid color concrete stain that penetrates the surface of concrete, forming an opaque, breathable finish that does not require a sealer.
The second product, CSI ReStore Translucent Stain is used over CSI ReStore Solid Color Stain in a contrasting color to produce an antiquing effect.
"This product is very easy to work with and one of the things I like about it is how clearly labeled it is as a 'kit'," Scharich notes. "It's an easy system, and proven to be very durable."
BRICKFORM Freestyle PRO / Freestyle PRO Highlighter

BRICKFORM FreestylePRO is a concrete stain that penetrates and bonds with concrete surfaces. This water-based, opaque stain is ideal for restoring, changing colors on previously colored surfaces, or rejuvenating old, discolored concrete.

BRICKFORM FreestylePRO Highlighter Stains are designed for use over BRICKFORM FreestylePRO Solid-Color Stain as a contrasting color to create an antiqued look on textured concrete surfaces.
"Once you remove the sealer from the surface, it's really like re-staining with a color," he says. "It's very thin and the Highlighter Stains give it a realistic finished appearance without changing the texture."
New Look International ORIGINAL Solid Color Stain & Translucent Color Enhancer
New Look International's ORIGINAL Solid Color Stain is a water-based decorative concrete stain designed to be used for existing, unsealed, interior or exterior concrete surfaces. The polymer-modified concrete stain formula penetrates the surface of porous concrete (as deep as the surface pores) and creates an opaque (solid), yet breathable finish.
The Translucent Color Enhancer is a water-based, translucent formula which when applied over the Solid Color Stain, creates a vibrant, two-toned antiquing colorant. The Enhancer can also be used over existing stamped surfaces without the Solid Color Stain to revitalize the secondary coloring.
To create a faux finish, contractors can blend and layer multiple Translucent Color Enhancer colors.
The Enhancer concrete stain is packaged in an easy-to mix three-part kit and is available in the same colors as the Solid Color Stain. 
Concrete Earth RZTORE
RZTORE is a three step, zero VOC solvent-based stamped concrete color restoration system designed to rejuvenate and enhance worn or discolored exterior stamped concrete surfaces. The RZTORE system is ideal for refurbishment of stamped concrete surfaces that have faded in areas from natural weathering exposure, been subjected to chemical or salt attack, abrasion damage from snow removal, or worn down from routine vehicular and foot traffic.
RZTORE is a fast, efficient system that revives old stamped concrete and returns it to foot traffic in as little as eight hours.
Restoration = revenue
The benefits of these products suggests the restoration job can be completed by a single person. "There is nothing here that requires a five man crew. These are simple to apply and are efficient," Scharich says.
Secondly, if you're a contractor specializing in commercial or municipal projects, it would be good for the industry and the contractor to suggest revitalization to these public jobs that have been ignored for years. The biggest component to rehabilitating a stamped slab is maintenance, and it's an important point to keep in mind.
"Municipalities need to be aware up front about the maintenance of a decorative concrete slab. One of the common questions I get is why does color fade? And the real answer is, it doesn't fade. The color is still the same. It's the maintenance that affects how we see it. If you maintain a good sealer coat, the project will look new for a very long time."
Ed Note: Todd Scharich is a member of the ASCC Decorative Concrete Council and can be reached on the ASCC Decorative Hotline at (888)483-5288 or via e-mail at TScharich@ascconline.org
Companies in this article