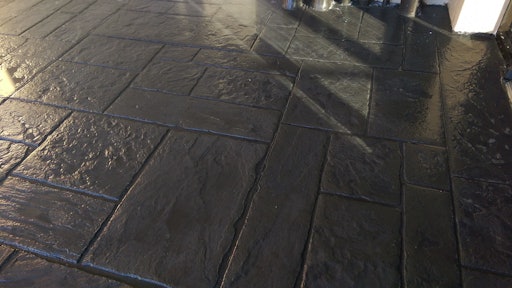 Greece and the many Greek islands are among the world's favorite tourist destinations for their historical beauty and cultural hospitality. Building on the desire for European travel, the innovative line of concrete stamping tools Paladiano Wonders of the World by Bobby Harris were launched in 2008 by Brickform. Natural limestone and other mineral textures were taken from architectural locations in Bulgaria, Cyprus, England, France, Greece and Italy. The imprinting tools where designed with the decorative concrete professional in mind.
Orthodox churches are renowned for their striking and distinctive architecture that immerses the viewer in the imagery of the Orthodox faith. The Greek Orthodox Church of the Annunciation in Winston-Salem, North Carolina, is no exception. As host to one of the largest Greek Festivals in the state, they undertake the monumental task of bringing Greece to North Carolina every spring. This sensory experience uses food, drink, music, entertainers, and all the trappings of Greek culture to transport visitors half a world away. When the Hellenic Center was renovated in 2015, it was an imperative to further contribute to this atmosphere in a meaningful way. The church approached Atlantic Coast Concrete for consultation on their external renovations.
Tom Dombalis, president of Atlantic Coast Concrete, was the person with the right background and skills to achieve this task. His father John, a Greek immigrant, earned his living as general contractor. Dombalis attended North Carolina State during which time he was an all ACC offensive lineman. After playing professional football in the NFL and CFL from 1997 to 1999, Dombalis became a contractor. In 2001, he expanded his portfolio to include decorative concrete. By 2004, that portfolio included decorative coatings, as well.
In 2002, Dombalis founded Atlantic Coast Concrete, a contracting firm specializing in decorative concrete and restorations. He was joined by his business partner, Carlo DiFranscesco, in 2005. Over the past decade and a half, Atlantic Coast Concrete has done decorative concrete work on numerous high profile projects including theme parks, aerospace facilities, and universities. Their portfolio also includes well over twenty historic mill restorations as well as smaller scale residential and commercial properties throughout the region.
Dombalis saw the potential to utilize the Stones of Athens from the Paladiano Wonders of the World line of tools, with its heavy rustic stone textures originally taken from the pathway leading to and from The Parthenon in Athens, Greece. Nothing would be more appealing to embrace the historical significance of the Orthodox Church. The section of stamped concrete would be in the entryway to the Hellenic Center, serving as a focal point for community events. Highly visible and exposed to traffic, it would be vital that it be resilient while complimenting the facility's existing architecture. In a manner of speaking, it would be necessary to transform this sliver of North Carolina into an enclave of Greek culture.
To start, Atlantic Coast Concrete demolished 800 square feet of existing concrete. Welded wire mesh was placed for crack control and each corner was triple struck with #5 rebar. They poured a mix with 4,000 psi straight cement and a custom blend of stone aggregate. This mix was pigmented with Brickform Slate dry integral color at a dosage rate of one bag per two cubic yards. Brickform Light Gray and Medium Gray Color Hardeners were broadcast over that to provide additional color variation.
The slab was then stamped using the Brickform Paladiano Stones of Athens. A Gray Antique Release and touch up tools from Brickform were also used. Thirty-three days later, after the concrete had cured out, workers returned with angle grinders to clean and hone all of the joints. Additional touch-up antiquing was provided with an application of Brickform Antique-It.
After the touch up and antiquing process a solvent-based acrylic sealer, Brickform Poly-Seal, was applied. When the final coat of sealer was applied, but before it had cured, extra fine kiln dried sand was broadcast over the surface. With this combination, the sealer would provide protection from the elements and wear while enhancing color. The broadcast sand created a fine sand texture more reminiscent of the authentic stones in Athens on which the stamps were based.
In the end, Atlantic Coast Concrete achieved the goal. As Mike Vlasis with Vlasis Building Construction, the general contractor on the job, remarked, "ACC did an amazing job as usual in transforming the Hellenic Center and bringing a little bit of Greece back to the United States. The realism of the pattern exceeded the client's expectation." Projects such as this illustrate how truly capable concrete is as a material. With skilled applicators and quality materials, concrete can serve as a versatile medium.
As a decorative concrete contractor, Dombalis and Atlantic Coast Concrete have built a strong reputation in the Eastern United States. They have built a reputation for versatility and quality. Dombalis has also been steadfast in his commitment to using Brickform products whenever feasible.