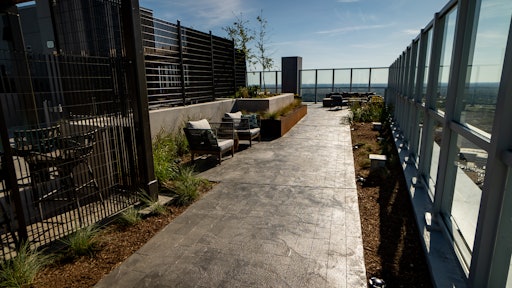 SUNDEK
Applying a decorative concrete treatment in a high-rise building presents a unique set of challenges. While traditionally you may use concrete pavers in an outdoor space on the ground, these areas in multi-floor buildings are limited by weight and thickness.

The owner of the 34-story Lumen high-rise condominium project, located at Tyson's Corner in the Washington D.C. area, chose LandDesign, a landscape architecture, civil engineering and planning firm, because of its experience in handling such challenges. LandDesign specializes in land planning, public open space and commercial work that includes mixed use high-rise buildings.
In fact, Susan England, a senior associate with the firm, says the company frequently specifies decorative concrete for its projects and likes to work with "known quantities" when it comes to installing special finishes.
There were two outside spaces on the Lumen project—one located on the 7th and the other on the 32nd floors of the building for a total of 8,000 square feet—that required special treatment. England says they were limited by the thickness and weight of the finish for a decorative treatment. The use of traditional pavers on a concrete subbase would have been challenging, and they wanted a unique custom look.
LandDesign brought in concrete coating manufacturer SUNDEK to help develop a solution. The project was still three years away from beginning construction, but they wanted to start discussions about patterns and finishes. England says they specified SUNDEK for the job because they had worked on several other projects with the company in the past and had a high level of trust in terms of durability and look of the final product.
After discussions about what was possible, the team developed a hand carved, travertine finish for the project using SUNDEK SunStone. SUNDEK was able to provide a complete "turnkey" solution to this creative use of the product.
SUNDEK Gets Involved Early

SUNDEK is one of the oldest and most respected decorative concrete companies in the industry. Founded in 1970 in southern California, the company has since added installers across the United States and globally. It is somewhat unique in this industry because it is a manufacturer of products with both corporate and independently owned installers.
SUNDEK specializes in overlay type finishes ranging from sprayed to trowel applied systems—as thin as 1/16th of an in. and as much as 1/2-in. in thickness. Its products work well for both restoration and new applications. Bob Miller, vice president and general manager for SUNDEK of Washington D.C., says architects are creative and like the ability to achieve many different looks. SUNDEK products provide that flexiblity so architects can visualize a design.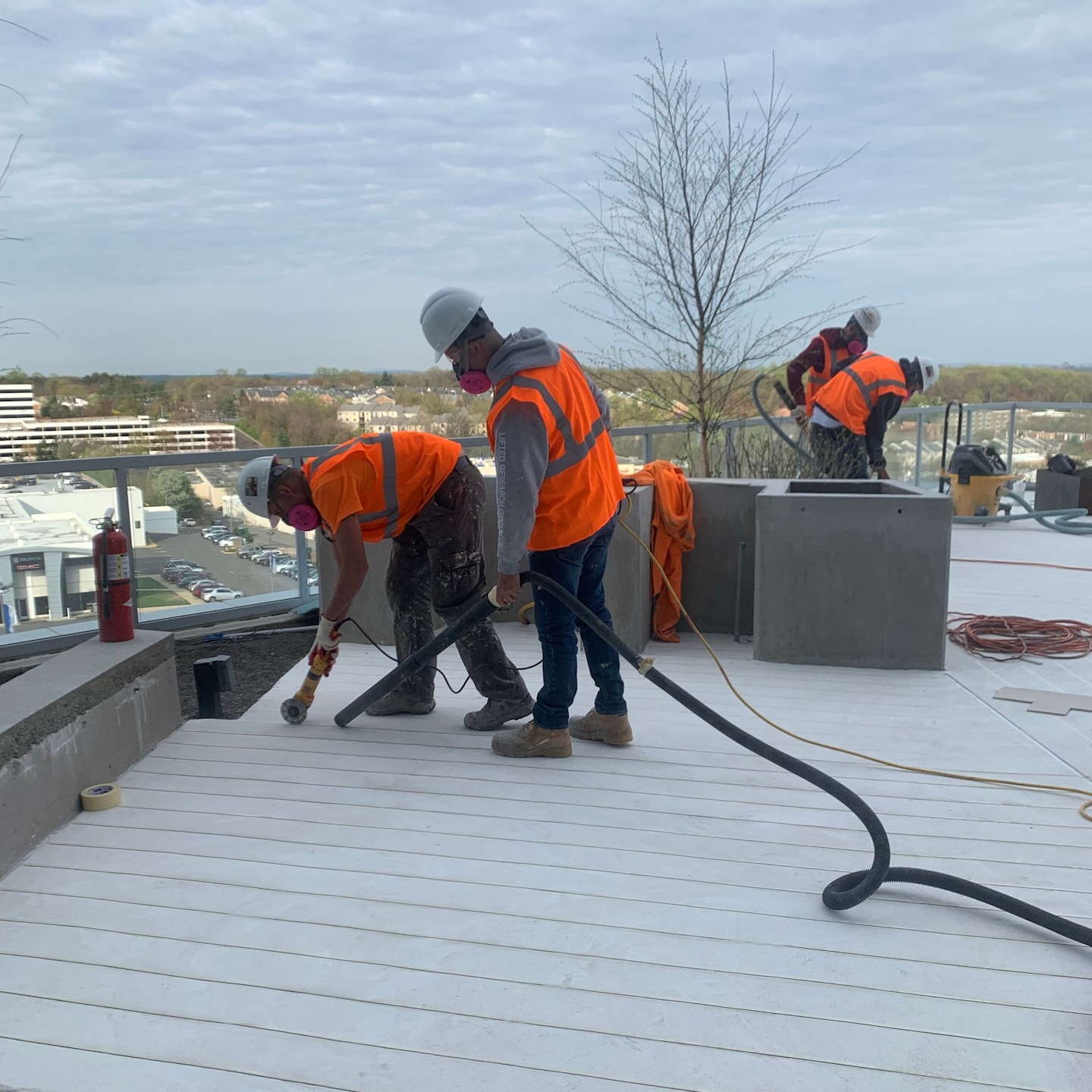 After the application of the overlay, workers laid out the pattern and cut it into the overlay with a diamond bit on an angle grinder.SUNDEK
Miller says they work hard to build strong relationships with the design community and like to be brought in for discussions when a project is in the early design phase. In these meetings they share ideas about decorative finishes, make samples and provide cost estimates. The goal is to build trust and exceed expectations on the final product. 
"They tell me the look they desire, and we work to provide that look," Miller adds.
The Lumen Project
On the Lumen project there were two outdoor spaces with cast-in-place structural concrete where the architect wanted decorative concrete. A mix of outdoor seating, outdoor kitchens, walking and vegetation was planned for the "amenities" area on the 7th floor. The 32nd floor included a decorative pool deck along with other outdoor lounge areas and a dog area. For this project the architect and owner selected a 1/2-in.-thick SunStone travertine limestone finish applied by hand-trowel. Miller says SUNDEK's system mix is an architectural limestone coating with limestone aggregates, and the hardened finish looks and feels like actual stone.
Working on a high-rise has different challenges compared to working on the ground. Miller says they had to pre-schedule crane and elevator time in order to get their equipment and materials to their work areas. They also had to work with numerous trades around their schedules and still accommodate the tight timeline of the general contractor. Weather was a challenge, too, because their work was located in outside areas. In all it took six weeks to install all the areas.
Miller says his company tends to be perfectionist in nature, and this job was entirely handcrafted, adding to the stress levels both he and the workers felt.
Keeping the Owner Onboard
Working in a collaborative manner with owners and designers is a very important part of SUNDEK's process. It begins with the initial discussions with a customer to learn exactly what they visualize. England says that these meetings also give specifiers an idea of the possibilities.
Miller's goal is to educate them on the systems and provide them with their desired look. SUNDEK provided samples that experimented with color, pattern, finish and sealed appearance and then created a final mock-up panel to serve as the standard for the job. Miller says they require both the owner and the landscape architect to approve the final mock-up before the work begins.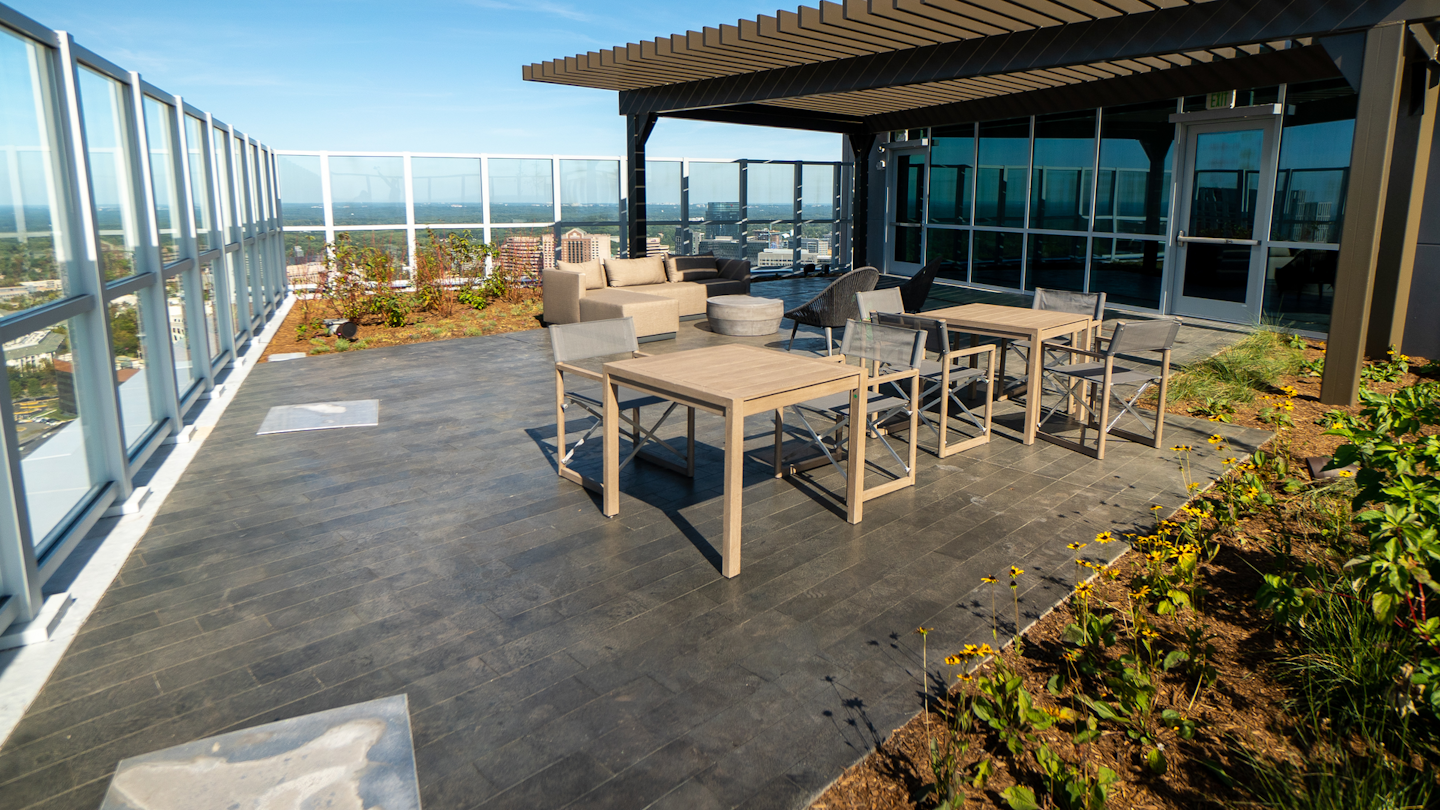 SUNDEK's system mix is an architectural limestone coating with limestone aggregates, and the hardened finish looks and feels like actual stone.SUNDEK
SUNDEK takes the added step of requiring owner sign-offs at key times during an installation. On this project workers cut the pattern into a small sample area of the hardened overlay work. Then they asked the owner and landscape architect to compare the work to the mock-up and approve. After the pattern was cut and stained to match the mock-up, the architect or owner was again asked for their approval—coloring can be modified at this point if needed.
Miller says they continued to ask for additional approvals as the project moved forward. "We do this to ensure expectations are met throughout the process; if anything needs to be changed, we can pivot before it's too late. This not only protects us but allows key stakeholders the ability to be involved during the project rather than at the end," he adds.
England says she doesn't always get the opportunity to review at each stage of an installation, but her firm wishes more contractors would follow this model.
The SUNDEK Process
With any overlay project, surface preparation is very important, so the first step for SUNDEK workers was to search for any signs of delaminated concrete, cracks and "bird baths" and make the necessary repairs. Some types of cracks can't be repaired, so owners must be informed that they may reflect through any decorative concrete overlay. But sometimes cracks can be incorporated into custom stone patterns.
After these initial repairs SUNDEK diamond grinds the concrete to obtain a bondable, coarse, open surface that meets the International Concrete Repair Institute's (ICRI) CSP 2 profile. The surface is then cleaned with a vacuum and pressure washer to remove all dust—using equipment meeting OSHA standards.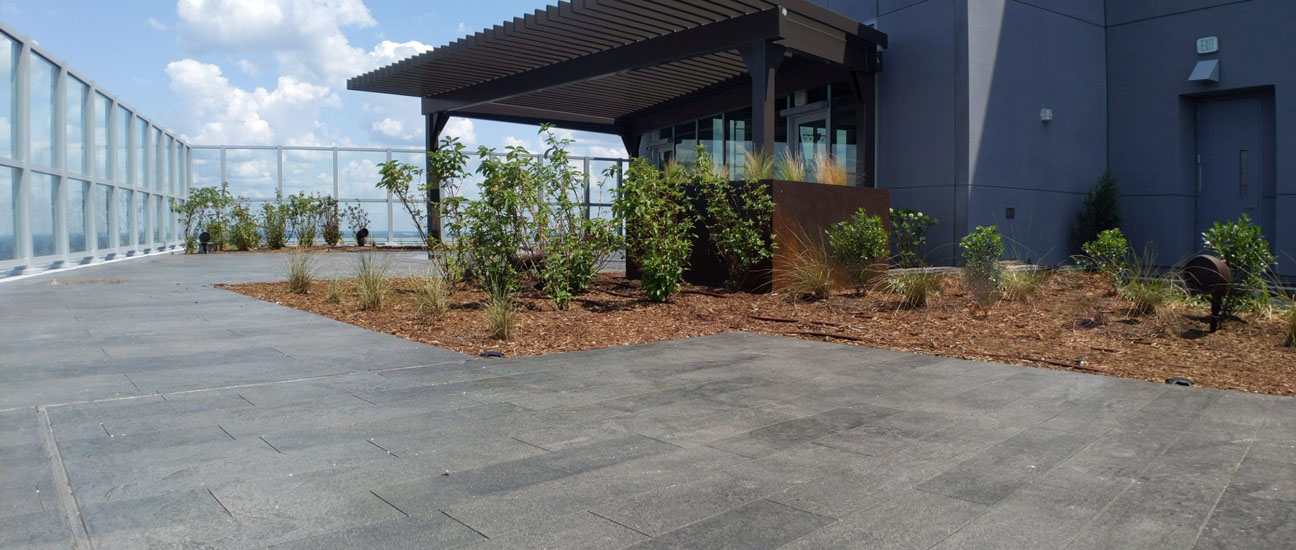 A hand carved, travertine finish was chosen for the project using SUNDEK SunStone.SUNDEK
When the SunStone was mixed, Miller's crew placed it by hand-trowel checking it with a gage-rake for correct thickness. Once the overlay system hardens, the next step involves laying out the pattern and using diamond etching equipment to cut it.
The final color selection is a staining process, which they completed after the patterning was complete. A combination of multiple colors was used to obtain the landscape architects desired look. Safter one final color check by the landscape architect and owner, the top coat penetrating sealer was applied.
Proven Results
England says the owner is extremely happy with the results. They have a unique look that met all the constraints of the job. They were also able to coordinate with the interior designers for the project to complement the indoor to outdoor appearances.
LandDesign believes that SUNDEK provides a cost-effective, unique, high-quality appearance. And for SUNDEK, the Lumen project was another step toward building on its long-term relationship with the landscape architect firm.