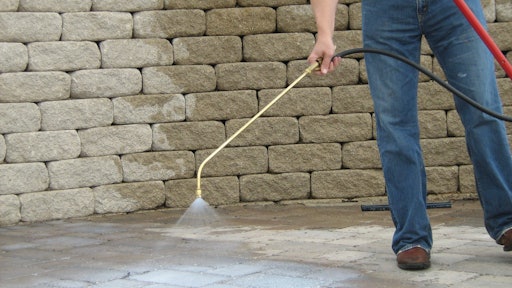 Decorative concrete is a work of art, but it also has to be functional. That is why it is important for contractors to protect their work. And that is where sealers come in. The vast array of sealer products available on the market can often confuse a contractor who is looking for the right sealer for the job.
To help make that search easier, here's a breakdown of the general sealer categories, their characteristics and the situations each is best used in.
Sealers can be classified into two types: film-forming and penetrating. Film-forming, like its name suggests, creates a membrane - or film - on the surface of the concrete. These sealers do not react chemically with the concrete.
Film-forming sealers are often the better choice for decorative concrete because they provide a barrier of protection while highlighting the color and giving the concrete a finished look.
Penetrating sealers, unlike film-forming, do chemically react with the concrete. Instead of forming a protective layer on the surface of the concrete, these sealers penetrate into the concrete and act as a water repellent. They also give the concrete a dull, more natural looking appearance, says Bill John, manufacturing representative for sealer manufacturer TK Products in Minnesota. This type of sealer is generally used on non-decorative concrete.
Contractors can choose from several categories of penetrating and film-forming sealers. Since film-forming sealers are the more popular choice for decorative concrete, the following pages take a deeper look at the categories of film-forming sealers.
Acrylics
Acrylics are probably the most popular sealers, says Scott Thome, director of product services for L.M. Scofield. Acrylics are a breathable sealer, meaning they allow vapor to transmit out of the concrete through the sealer. These sealers can be used on both indoor and outdoor products and tend to come at a lower cost than most other sealers, Thome adds.
Acrylics are available in water-based or solvent-based forms. The water-based sealers have three parts: water, acrylic and a solvent. The acrylic component is what develops the actual film of the sealer. The solvent softens the discreet acrylic particles allowing them to fuse together and ultimately form a film. The water is the vehicle that holds the sealer particles. Once the water evaporates the remaining partilces then bond with the concrete and to each other, forming the sealer's film.
Solvent-based sealers, on the other hand, consist of just an acrylic and solvent. Solvents can be harder to use because the solvent evaporates so fast, Thome says. However, solvent-based acrylics are much less temperature and moisture sensitive compared to their water-based counterparts, he adds. That is why solvent-based acrylic sealers may be the better choice during the spring and fall seasons.
Contractors who use solvent-based acrylics also need to be aware of any environmental or VOC restrictions in the area in which they are working. These restrictions dictate the amount of solvent that can be used, and in some cases that results in some sealers being unusable in certain areas or on certain jobs, says Todd Asmuth, Surebond president. This is the case for all types of solvent-baed sealers.
As stated before, acrylic sealers can be used on both indoor and outdoor projects. However, Thome says that contractors working indoors, especially in occupied areas, should choose a water-based acrylic. "The water-based acrylics are much better for that because there's just a little bit of solvent in them," Thome says. Having less solvent makes these sealers safer for people exposed to the project and the sealer fumes.
If a contractor does use a solvent-based acrylic indoors, he or she needs to make sure the area is well ventilated.
When choosing between water-based and solvent-based acrylics, contractors also need to consider the effect the sealer will have on the color of the concrete. Most water-based sealers will not change the color of the concrete, John says. However, solvent-based sealers will darken the colors on the concrete. They can even darken plain concrete, John adds.
If a contractor uses a solvent-based sealer it is important the customer is aware that the color will change. This could be a determining factor in the choice of water-based versus solvent-based.
Epoxies
Epoxies are a much less permeable sealer. Unlike acrylics, an epoxy will not permit the concrete to emit vapor through the sealer. This is an important consideration when choosing to use an epoxy.
"If the concrete wants to breathe and give off vapor the epoxy will trap it in the concrete. That alone says do not use epoxy on an exterior in a freeze/thaw environment," Thome says. In a freeze/thaw environment, the moisture trapped in concrete can freeze and put stress on the internal parts of the concrete causing it to break from within, he explains.
Epoxies are also not UV stable, so if they are placed outdoors or in an area where they are exposed to UV rays the sealer will yellow or chalk, John says.
Like solvent-based acrylics, epoxy sealers will darken the color of the concrete.
Epoxies are a great choice for indoor projects, Thome says. They are a common sealer choice for garage and basement floors. They offer a durable, abrasion-resistant surface. Additives can also be added to the epoxy to create a slip-resistant material.
Epoxies are available as water-based, solvent-based or 100 percent solids. Water- and solvent-based epoxies tend to be more user-friendly because they have a longer pot life than the 100 percent solids epoxies. "If you're a novice and somebody just asks for a gray epoxy floor in their garage I would suggest solvents or water-based epoxies," John says.
The 100 percent solids epoxy is a more durable, chemical-resistant sealer, John says. Both the 100 percent solids and water-based epoxies have little to no smell so they can be used in enclosed areas. Solvent-based epoxies can be used indoors, but the area needs to be well ventilated.
When it comes to applying an epoxy sealer, preparation is a huge factor, John says. "How you prep could determine what product you use to make the floor look smoother, rougher, or whatever the case may be," he continues.
For example, if a contractor preps by shot blasting he removes part of the surface. "This leaves normally a 15-mil profile in the concrete. In order to cover up that profile you need to use a
100 percent solids," John says. Other prepping techniques may keep the concrete smooth enough that a 100 percent solids epoxy will not be required to cover up any profile or roughness.
Epoxy Modified Polymers
This type of sealer is a water-based, low VOC sealer that is a blend of acrylic and epoxy. "They combine the strength of an epoxy with the flexibility and breathability of an acrylic," Asmuth says¬¬¬.
This type of sealer can be a good choice for projects that have low VOC requirements or a project that is looking to earn LEED (Leadership in Energy and Environmental Design) points. It is also UV stable, Asmuth says. The combination of low VOCs and UV stability makes it a good sealer for both indoor and outdoor projects.
Epoxy modified polymers can be used on green concrete because it allows moisture to leave the concrete while not interfering with set-up. Having the ability to seal before the concrete has completely cured saves time on a job and also allows pedestrian or building traffic back onto the concrete quicker because the contractor doesn't have to wait until the concrete is fully cured to seal.
Urethanes
Like an epoxy, a urethane is a durable, abrasion-resistant sealer. However, it is more flexible than an epoxy, Thome says. Urethanes can be used over epoxies to give the concrete and the epoxy sealer extra protection, he adds.
However, urethane sealers can be used on their own as well. "It is a longer life product - better wear, better gloss in most cases," John says.
Urethanes come in both water- and solvent-based versions and work best on interior surfaces. "Urethanes are probably the most problematic because they can be very humidity and temperature sensitive even in buildings," Thome says. "A contractor has to be aware of the entire environment. Not only what is above the concrete but what is in the concrete as well."
Like acrylic sealers, the solvent-based urethanes are more durable and more chemically resistant than the water-based urethanes. However, both types of urethanes require detailed attention to the concrete. The concrete surface should have as close to a neutral pH as possible, and the concrete needs to be totally dry, John says.
"The water-based is the most important to get to a neutral base. The solvent-based are a little more tolerant, but it's still important," John says.
Polyureas
Polyureas are a relatively new technology in the decorative concrete industry. These quick-setting sealers are easy to apply and are becoming more popular, but they also come at a higher cost, Thome says. "They're starting to put them on concrete countertops because it is a small scale where cost per square foot really doesn't matter. You're looking at long-term durability in that respect," he says. "But when you're talking about a 5,000- or 6,000-square-foot floor, now the cost becomes a little bit more important."
So contractors who are doing larger projects may want to consider what the cost would be before choosing a polyurea sealer.
Cure and seals
Another option for contractors is to choose a cure and seal product. These products help accelerate the curing of concrete while providing a seal at the same time, Asmuth says. Cure and seals also help increase the density of the concrete, which improves the concrete's strength.
Cure and seals are good if a contractor wants the concrete to cure faster. It also provides contractors with a shorter wait when applying a second sealer over the concrete, which is a common practice Asmuth suggests. "It's an extra step, but it can help reduce problems, especially with sealers that may be of a lower quality," he says.
However, cure and seals either should be avoided or removed if a reactive penetrating sealer, epoxy or urethane will be applied in the future. There are some dissipating cure and seals which can be easily removed for these situations, John says.
So which one?
Equipped with knowledge of the types of sealers available, the next step is the big one: how to choose the best sealer for the job. The characteristics of each sealer are a good starting point. But other considerations are involved. Below are factors to consider when picking a sealer:
Customer preference/requests
Environment - type of facility, indoor or outdoor, ambient temperature, weather conditions, etc.
Level of maintenance customer prefers
Environmental/governmental
requirements
Time between resealing
Final color
Cost - although this should not be the determining factor
Ease of application
How consistent the sealer is across the application
How the sealer cures
Remember, the customer is boss. If the customer leaves the choice up to the contractor, always make sure the customer understands the sealer choice and how it will affect the concrete. "Always do a mockup. And maybe show the customer a couple of different types before you go and apply," John says. "Have the customer approve it and then continue."
Asmuth suggests finding a sealer that works for different applications. Most decorative concrete contractors do multiple types of decorative work. Finding a sealer that can work on all or most of those applications can help make a contractor's sealer choice easier.
Finally, once you find a sealer that works for you, keep it. "Every environment is different. If it works in your environment keep on using it; don't change," Thome says.
This isn't to say that a contractor should never try different sealers. But if you find one that works for your jobs and in your climate, make it easier on yourself and stick with it.