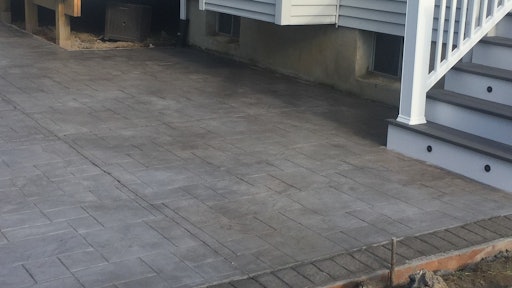 Mountaineer Concrete and Excavation
A new report by Wise Guys Reports estimates the global decorative concrete market will reach a valuation of $14.5 billion by 2026, at a CAGR of 6.12 percent during the forecast period. In 2017, it was valued at $9.2 billion. 
Decorative concrete is growing in popularity for many of the same reasons that concrete is the most commonly used construction material in the world: it is extremely durable, easy to maintain and has a long life span. But in addition to its practicality, decorative contact adds a touch of exclusivity in different coloring, patterns or finishes.
According to the report, growing residential and commercial infrastructure projects per capita income of consumers is increasing demand for construction engineering and is a supplementary advantage to the growth for decorative concrete. Additionally, rising private non-residential expenditure such as hotels and an upsurge in renovation, remodeling and restructuring activities are also expected to contribute significant growth in the market. 
However, the high initial cost of decorative concrete is currently hampering growth in the market.
Growth by Segment
The stamped concrete segment is expected to dominate the decorative concrete market, owing to new residential construction and commercial projects. Stamped concrete is an incessant concrete surface, which can be molded or marked to appear like individual pavers, bricks, stone or even wood. It is widely used in outside applications such as pool decks, driveways and sidewalks, and patios. Rather than using the materials listed above, stamped concrete offers easier installation and higher strength.
The residential segment will share maximum growth in the global decorative market as a growing population and urbanization, especially in developing nations, boost demand for decorative material in residential application. Furthermore, the commercial segment is projected to hold substantial growth in the market during the forecast period due to improved investment in new commercial constructions and renewal construction projects.
The floors segment is also expected to grow at a high rate of CAGR in the decorative concrete market during the forecast period. The growth can be attributed to the numerous benefits offered by concrete floors, including:
Advanced visual appeal by imparting several textures, designs, patterns and logos
Skid-resistant and high strength, which can withstand heavy foot traffic
Growth by Region
The Asia Pacific region is expected to share significant growth in the decorative concrete market. Specifically, China was the main consumer for decorative concrete in 2017, followed by India.
Several factors are influencing this growth, including a high population growth rate in developing countries and increased government funding for infrastructure such as smart city projects in India.
Key Players
The key global players operating in the global decorative concrete market include:
The Sherwin-Williams Company
Boral Limited
CEMEX, S.A.B. de C.V.
Sika AG
BASF SEPPG Industries Inc.
3M Company
E.I. du Pont de Nemours and Company
RPM International Inc.
Huntsman International LLC
Parchem Construction Supplies
Lafargeholcim Ltd
UltraTech Cement Limited
The Euclid Chemical Company
Fosroc International
HeidelbergCement AG
Hexion Inc.
Mapei S.p.A
McKnight Custom Concrete Inc.
Bomanite India
U.S. Concrete Inc.
W.R.Grace & Co
Dex-O-Tex
Covestro AG