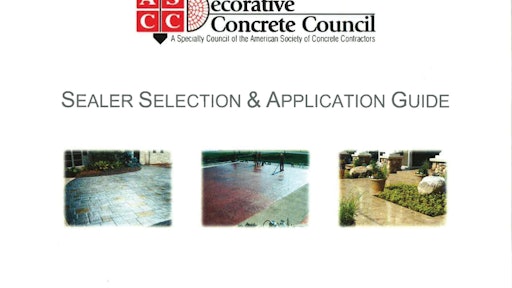 The Decorative Concrete Council (DCC), a specialty council of the American Society of Concrete Contractors (ASCC), published Sealer Selection & Application Guide and a Sealer Installation Checklist. The publications are available to ASCC/DCC members via the association's website.
The guide focuses on acrylic, film-forming sealers in solvent and water based forms. It is written to help concrete contractors and others understand the concrete sealing process. A troubleshooting section, with color photographs, includes types and causes of failures and suggested corrective action.
Also covered in the DCC's guide is product selection, gloss level and color enhancement, performance expectations and maintenance, safety, application, VOC laws, and a glossary.
The DCC is composed of contractors, manufacturers and suppliers of decorative concrete products. The Council is dedicated to improving the technical and business expertise of the contractors who pursue this specialty market.