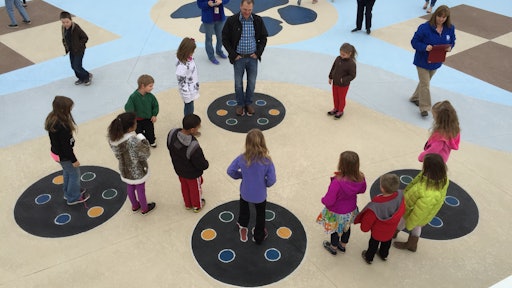 Volunteers from the Decorative Concrete Council (DCC) and the Manufacturer's Advisory Council (MAC), traveled to Seneca, SC February 29 – March 3, 2016 to install a new playground for the youngsters at Tamassee Elementary School. The DCC and MAC are specialty councils of the American Society of Concrete Contractors (ASCC), St. Louis.
Todd Scharich, ASCC decorative concrete specialist, was the project manager for the installation. The project consisted of a spray texture concrete overlayment and colored opaque sealers to create games and pathways throughout the 7,500 square feet play area. All manpower and materials were donated by DCC and MAC members.
Hopscotch, bean bag toss, mimic me and four square are some of the games the ASCC members designed and installed on the playground. "What was gray, cracked concrete was transformed in only four days into source of pride and joy for these kids," says Scharich.
Companies supplying tools, materials and manpower were H&C Decorative Concrete Products, Patterned Concrete of Cincinnati, Concrete Mystique Engraving, Increte, Sundek of Washington, Multiquip, Wagman Metal Products, Wayne Brothers, ChemSystems Inc., Surfkoat, A.W. Cook Cement Products, and Decorative Concrete Resources.
The DCC is the only professional organization dedicated to focusing on the issues, trends and work of the decorative concrete industry, and to meeting the needs of the contractors who pursue this specialty market. Made up of decorative concrete contractors that install decorative concrete, manufacturers, and other interested parties, the mission of the DCC is "Advancing Decorative Concrete Contractors Through Education and Networking."
The MAC board advises ASCC on matters relating to associate membership and suggests methods of adding value to all membership opportunities.