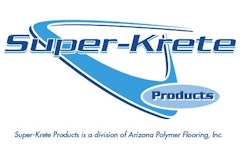 Arizona Polymer Flooring (APF), a manufacturer of high-performance flooring systems and concrete coatings, recently hired Ryan Connors as a sales representative for Southern California focusing on Super-Krete Products distribution. Super-Krete Products is a division of APF dedicated to decorative concrete and concrete repair.
In this role, Connors will grow existing relationships and build new relationships among distributors, educating them on the wide variety of products and systems designed to transform concrete and beautify commercial and residential spaces. Further, he will help distributors offer decorative concrete and concrete repair training to help contractors and end users learn new installation techniques.
"Ryan is highly experienced professional who has an ability to bring people together, solve complex problems and always have a pulse on the market's needs and demands," says APF CEO Daniel Owen. "His expertise and approach to customer service will help us build and grow solid relationships throughout Southern California."
With nearly two decades in the industry, Connors has held numerous managerial positions on the manufacturer, distribution and contractor levels, giving him unique perspectives on the needs of the marketplace.
In his previous roles, Connors has provided professional recommendations on flooring specifications to companies such as Costco, Coffee Bean & Tea Leaf and Jamba Juice.
Connors earned a Bachelor of Public Relations with a double minor in Marketing and Political Science in 2001 from Roger and Williams University in Rhode Island.
Companies in this article