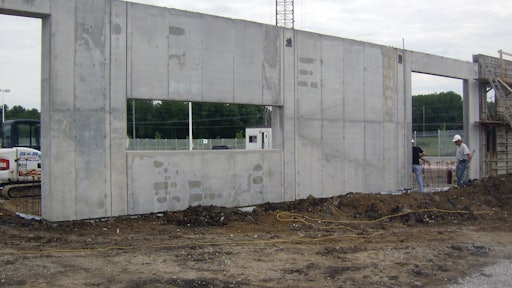 In 2006, ABI Corp. was enjoying a busy residential market. With the five-county Kansas City, Mo., area seeing 13,000 housing starts that year, the ABI Corp. crews were installing six basements a day and the company was offering commercial work solely on request to existing clients. Fast forward two years and the story changes dramatically - 3,200 housing starts in 2008 and the ABI Corp. crews down to one basement a day. The game had changed, and ABI Corp. knew it had to change, too.
"The economy pushed us to put a focus on commercial and look at the future," says Dan Bromley, ABI Corp. president. The company recognized the experience it gained in the residential realm, its employee talent and the benefits that come with a diversified company. "I really think our technology puts us a step ahead," says Dan Bromley. "A lot of projects we've performed on the residential side are more difficult than the commercial projects we see. We have the experience, and we're flexible and faster than a lot of commercial crews."
Bromley says the company set a goal to have a 60 percent residential/40 percent commercial mix in a healthy economy. With residential down, it gave the company the time it needed to foster relationships with area GCs and market ABI Corp. as a player in the commercial market. After a year of personal visits to show GCs ABI Corp.'s capabilities and working together on bid proposals, ABI Corp. feels it changed its reputation from a residential contractor to a concrete company that can work both the residential and commercial markets.
Building the company
Dan's father, Gary Bromley, started ABI Corp. as Action Basements Inc. in 1968. Then it was a one-crew residential basement contractor. Dan came to work for his father in 1982, and together the two set a goal to build the company. "I pushed my dad toward more technology, and that year we got our first computer," Dan says.
In the mid-1980s, ABI Corp. made a move that helped guide the company through its growth - it joined the Concrete Foundations Association (CFA). "A tip we learned through the CFA was instead of just pouring walls, a good way to grow a business is to add services," Gary Bromley says.
Over the years the company has added excavation, waterproofing, flatwork and silt fence installation. "It helped our sales on the housing side. A builder could give us a set of plans and we could do it all - he didn't have to deal with four subcontractors," Gary adds.
The CFA also introduced ABI Corp. to a number of the technologies it has embraced through the years. ABI Corp. was one of the first contractors in the area to purchase 9-foot aluminum forms, eliminating the need to join 8-foot and 1-foot forms to produce the taller walls builders wanted. The company was also an early adopter of crane trucks and laser layout tools. "We were performing our layout with electronic transits when our competitors were still using string line and tape measurers," Gary explains. "And we were the first in the area to get a Geodimeter Robotics Transit," Dan adds. "That changed the way we did business. The layout of any complicated structure went from a three-man crew to one person laying out in one-third of the time with much more accuracy.
"On commercial projects, GCs were amazed we set bolts electronically. We did a trench footing job for a block wall contractor where we used the system to lay out block rebar stalks and he told us it was the first time his rebar placement was correct," Dan says.
Auto Crete, a software program for concrete contractors, is another technology that has helped ABI Corp. increase productivity. The system allows a contractor to lay out a job in a two-dimensional format so he can tell what forms to take to the jobsite and how much concrete to order; the program also supplies crews with information about wall heights, blockouts and general job specifications.
The technical nature of many of ABI Corp.'s residential jobs and its belief in keeping up with the latest equipment technologies poised the company for an easy transition into commercial work. The difficult part was establishing the company's reputation with commercial GCs in the area.
While marketing was mostly by word-of-mouth on the residential side, marketing the company on the commercial side took a little more time in building relationships with GCs. Dan's brother, Mike Bromley, who heads up the sales and estimating division, made personal visits to general contractors to present the company and its capabilities. "Something that helped us get our foot in the door was our willingness to bid projects for 'what ifs,'" Mike Bromley says. "We did a lot of bids for jobs that didn't go through, and the GCs appreciated that."
Looking ahead
With the company firmly planted in the commercial realm, Dan says the management team can work on redesigning its marketing literature, keeping in touch with its customers through the company newsletter and getting the word out about its recent designation as a Certified Foundations Company through the CFA. (See sidebar for more information on CFA certification.)
And as the market picks up, Dan says the company has goals for further increasing its commercial presence through its flatwork division and pervious concrete installations. Future equipment considerations will need to be useful on commercial projects, such as laser-guided grading and placing equipment, commercial forms, and a curb and gutter machine. And ABI Corp. plans to send more employees through training programs like the National Ready Mixed Concrete Association (NRMCA) pervious certification, OSHA 10 and the American Concrete Institute (ACI) flatwork technician program.
Diversification is a strong tool for many construction companies, but Dan says it doesn't mean ABI Corp. will abandon its roots. Just as the residential market has changed over the last 40 years - with more complicated building plans and a stronger need for technology - Dan saw the needs of his company change, too. "Residential work is our anchor business," he says. "We just want to separate out the commercial and have two focuses in our company so we're prepared for the ups and downs in the economy."
ABI Corp. recently completed the concrete work for a LEED certified building. To read more about the unique aspects of this project see "Bottoms Up: Turing Pumping Upside Down".
At a Glance
Company: ABI Corp., Lee's Summit, Mo.
abi-corp.com
President: Dan Bromley
Employees: 44
Founded: 1968
Affiliations: CFA, ACI, ACPA, PCA, NAHB
Services offered:
Residential and commercial concrete foundations, walls and flatwork; insulated walls; waterproofing; excavation; silt fencing; retaining walls.
Key products and equipment:
Forming systems from Western Forms, Wall-Ties & Forms and Precise Forms; 39 meter Schwing pump; Putzmeister Telebelt; Con Forms pump discharge hose; Cat loaders; Tremco's Tuff-N-Dri and Watchdog waterproofing systems; GDB Software's Auto Crete; Trimble total stations; CertainTeed ThermaEZE; Thermomass by Composite Technology Corp.; TOMMY Silt Fence Machine by Carpenter Erosion Control; World Block; Komatsu excavator; Takeuchi skid-steers; Agracat Stone Spreaders by Baylynx Mfg.; cranes from Palfinger and Putzmeister.
CFA

Certification
In the mid-1980s, ABI Corp. joined the Concrete Foundations Association (CFA). ABI Corp. President Dan Bromley is currently serving as president of the CFA, and his father, Gary Bromley, is a past president of the association. One of the initiatives Dan has helped to bring about through his involvement in the CFA is the Cast-In-Place Concrete Foundation Contractor Certification Program. "My hope is the certification will make the industry more professional," Dan Bromley explains. "With enough certified companies the association can move forward with nationwide marketing and hopefully get a requirement for certification written into building specifications."
ABI Corp. was one of the first six companies that achieved company certification earlier this year. In order to become certified, a company needs to have a Certified Foundation Technician on staff and meet minimum standards for safety, insurance, training and financial stability. All requirements are reviewed by a third-party verification company. Continuing education is an additional element to maintaining certification. To find out more about the CFA's certification program, visit www.cfawalls.org. - R.W.
Companies in this article