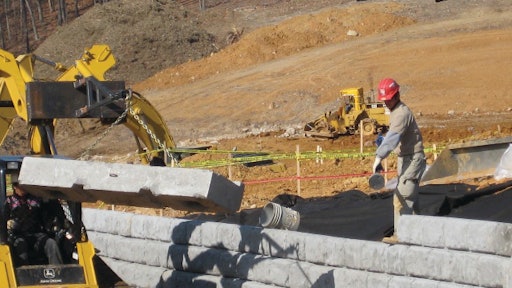 Contractors looking for an add-on service or an area of diversification may want to consider concrete retaining walls. Three years ago, Cornerstone Foundations, Inc., Harrisonburg, Va., started offering precast concrete stone retaining walls, and now it is a successful part of the company's business.
"Initially we thought it might be an add-on. But then we realized that a lot of construction jobs, particularly commercial sites, have retaining walls involved in them so it really became an extra part of our business," says Tim Parrish, founder and president of Cornerstone Foundations.
Parrish uses World Block forms to create mid-sized landscape concrete blocks for retaining walls. World Block offers them an appealing stone look and size that is marketable for his company, he adds. Plus, Cornerstone can build these retaining walls up to 12 feet without the need for a geogrid - fabric that goes into the bank to help stabilize the concrete wall.
Cornerstone's retaining wall system is known as Sure Stone. "World Block is selling forms but we are selling a system," Parrish says. "So we were trying to find something to call our walls. We carry that 'sure foundation' theme throughout our company."
Because Cornerstone's retaining walls have become an integral part of the business instead of an add-on service, Parrish says he buys concrete specifically for the blocks. "A lot of ready mix producers buy these forms and pour leftover concrete into the forms and sell them," Parrish says. "We took a different approach to make it part of our business stream."
Cornerstone's blocks are precast at its shop using the World Block forms. A formliner is placed on the bottom of the form and the two side parts are snapped together around the formliner. Concrete is poured into the form, vibrated to reduce air holes, allowed to cure and then stripped from the form. The finished blocks can then be transported and the retaining walls can be installed.
One key aspect of Cornerstone's Sure Stone walls is a poured concrete base instead of the typical gravel base. "We decided to pour a concrete base that is 3 to 4 inches thick. With the gravel base these heavy blocks have the possibility of shifting the gravel," Parrish says. "The concrete creates a level base, which is part of what helps us build higher walls."
Parrish says he creates this concrete "footing" for all his retaining walls, including a recent job where Cornerstone created retaining walls for a student housing project. The walls ranged from 4 to 17 feet high.
Each World Block concrete block uses 1/8 yard of concrete, or 2 square feet. Parrish estimates that this particular project used 1,200 yards of concrete for 19,000 square feet. This amounts to approximately 9,500 concrete blocks.
But even with large projects such as this one, Parrish says the addition of Sure Stone walls to his company's line-up of services was not difficult. "We took the experience we had as a foundation contractor and applied it to this slightly different product. You've got this knowledge already. You can use that and step out into another field," he says.
At first, Cornerstone's retaining wall business started out slow, but by the second year business had picked up. Parrish estimates that in 2008, Sure Stone walls made over $500,000 in sales, and he's hoping 2009 continues that trend.
Companies in this article