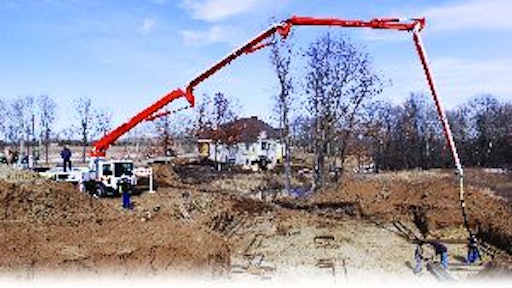 For many contractors, when they first decide to incorporate pumping into their businesses they often rent a pump instead of purchase one. And until you know how often you will use a pump that is probably the best way to go about it.
But the cost of pump rental can start to add up if it is something a contractor does often. Depending on the job, pump rental could cost upwards of $5,000 a day. Eventually, a contractor may take a look at the money he is spending on renting a pump and find out that it would be a better investment to build equity by purchasing his own. There is no magic number for contractors to reach as it varies from company to company, but Terry Schniepp of Poured Foundations Inc. in Minnesota recognized this point in 1999. After renting concrete pumps for five years Schniepp decided it was time to get a pump truck of his own. One reason was the expense of renting a pump.
Schniepp compares the move from renting to purchasing a pump to renting then buying a house. After spending so much on rent a person may decide he or she could use that money to purchase a house and have equity in that home instead of renting. "I think around $100,000 on rental and you might want to think about owning one; as long as you have work for it," Schniepp says.
As Schniepp points out, the cost of renting is not the only aspect a contractor should take into consideration when deciding whether or not to purchase a pump. A huge factor is the volume of work a contractor does.
Irvin Vittitow of Vittitow Basement Walls Incorporated in Kentucky says the company was doing 200 to 300 jobs a year when it decided to purchase a pump. "We were having trouble getting pumps on a timely basis," Vittitow says. "It got to the point where not only were we paying X amount for pumps, we were also losing money on the labor end of it as well."
Vittitow and Schniepp agree that a major benefit to owning a pump is that you aren't relying on someone else. "First of all, the pump is there when I want it," Schniepp says. "I don't have to call the rental company to schedule one. In a busy time, they need maybe a couple days notice, and a lot of times I don't know two days in advance what time and where we need a pump."
"It helps you coordinate with your concrete companies, too," Vittitow adds. "We know what time the pump is going to be there because it's our pump. We know what time to tell concrete to be there because we can control when everything is going to happen. That makes it easier for us to move labor either to the job or away from the job."
Schniepp and Vittitow also agree that scheduling is easier when owning a pump. "That's one worry I don't have in the morning," Vittitow says. "When it gets down to scheduling now, we look at each other and say 'Can we do this; can we do that?' and adjust the schedule accordingly."
Schniepp adds, "When people called I'd say 'yes we can do the job' because I kind of knew how fast we could get there." He says owning your own pump gives you flexibility and ease of mind for scheduling and taking on more jobs.
Concrete pumps can also help companies improve their efficiency in pouring concrete, says Bill Dwyer, vice president of sales and marketing for Putzmeister America. "A concrete pump is a great quality control tool," he adds. Plus, they can help decrease the amount of site prep that is needed. Pumps can also help contractors place concrete faster. Vittitow says he has definitely seen an increase in efficiency after purchasing multiple pump trucks.
Another benefit of purchasing and owning your own pump comes from depreciation, which is especially helpful in today's economy. Tom O'Malley, division director for boom pumps and marketing manager for Schwing America, says the recent Economic Stimulus Act of 2008 gives tremendous benefits for equipment buyers, making it financially attractive to acquire equipment in 2008. This allows contractors a first year depreciation amount equal to 50 percent of the qualifying equipment cost. (To learn more about the Economic Stimulus Package turn to the article on page 26 of this issue.)
There is yet another benefit to owning your own pump that can actually make you money. When contractors aren't using it for their own work they can consider renting it out to other contractors. This is something Schniepp's company did often in the first few years of owning a pump and still does today but to a lesser degree.
When a contractor decides it's time to purchase a pump, he must also consider whether he wants to buy a new or used pump. "The used pumps will do just what a new one will do," Schniepp says. "The advantage of owning a new one is you're going to have more depreciation for tax purposes and you're going to have less maintenance and less downtime. That's why I've always purchased a new one."
Contractors also need to look at whether they want a trailer pump or a boom pump. According to O'Malley, trailer pumps get towed behind trucks and do not have a boom. These are often used for smaller jobs such as footings, patios and core filling.
A boom pump is mounted on its own truck and is often used for jobs requiring 25 yards of concrete or more. Boom pumps tend to be used for house foundations as well as commercial, slab and tilt-up work.
After taking all the above factors into consideration, Vittitow points out a few more issues a contractor should look at when considering the purchase of a pump. "You need to look at how many times you use a pump and the time frame in which you use it," he says. "Is it all coming at the same time? Is it something you can stagger your jobs to take advantage of your pump?"
"And then you've got to look at the availability of pumps in the area,"
Vittitow adds. "If there are a lot of pumps in the area then there's a greater availability of it. Do you need to take on the capital expense?"
Maintenance & safety
Owning a pump means taking responsibility for that piece of equipment, including its maintenance. According to Schwing, pump maintenance is the direct result of the yardage that goes through a pump. So, if a contractor runs fewer yardages through a pump then the main maintenance that needs to be done is cleaning, greasing and keeping an eye on wear parts, especially pipelines. Pipelines have the highest wear potential of all wear items. If a pump runs higher yardage at a faster speed then wear parts can wear out quicker.
Mix design also has an effect on wear parts. Harsher mixes often cause a pump to work harder, and the harder it works the more maintenance it will require.
Probably the two most important maintenance tasks that must be done on a pump are cleanup and greasing. Cleanup needs to be done after each pour is completed to remove extra concrete, especially in the pipeline and hopper.
Greasing should be done based on an hourly schedule defined in the manufacturer's specifications and the operator's manual. One option contractors can consider is adding an auto greasing system. This helps a contractor ensure the greasing will get done when it needs to be.
Schniepp also suggests doing a recommended boom inspection once a year.
Safety is another important issue for pump owners. Schniepp says although his operator was already trained, the operator did attend a Schwing Service School that included safety training, troubleshooting and maintenance. Vittitow requires a similar training for his pump operators by sending all new operators to a pump safety seminar at the World of Concrete. The American Concrete Pumping Association is another source for pumping safety. DVDs and other materials are available as well as an operator certification program.