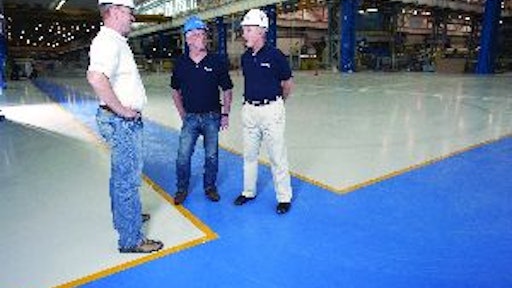 Healy, Long & Jevin (HLJ) is a Wilmington, Del., specialty concrete contractor servicing the Mid-Atlantic region with cast-in-place, post-tension and filigree structures; heavy foundations; architectural concrete; slab place and finish; concrete pumping; and concrete site work. Its history can be traced back to 1891, when company CEO Jack Healy's grandfather started a general contracting business that went on to help build Delaware through the late 1800s and 1900s. In 1978, Jack built upon his family's history in the construction industry when he started a specialty concrete contracting business with a since-retired partner. Today, HLJ's management team includes Jack, partner Mike Jevin who serves as president and chief estimator and Jack's son Sean Healy, secretary/treasurer.
HLJ has been quick to adopt new technologies and ideas over the years. In 2005, when HLJ's operations VP retired, the company took the opportunity to revamp its management team and change its attitude toward communication and the size of jobs it takes on. As luck would have it, those changes were put into place by the time the market started to turn in 2008, giving the company stronger footing to survive in a tougher economy and the skills it needed to succeed on a recent 140,000-square-foot industrial floor project that required hand placement of superflat floors.
Getting away from a 'crew company'

One key change HLJ made was increasing the scope of job sizes it pursued. Historically the company only went after medium-sized to large jobs. Those projects, sometimes in the range of tens of millions of dollars, were successful financially, but, as Jack explains, made each job feel like it was being run by an independent company with project superintendents who had their favorite crews and workers doing the same thing day in and day out. This created a "crew company" atmosphere and often a dip in work for field crews between big jobs. HLJ wanted to eliminate the crew company atmosphere and keep workers busy between the big jobs. The company set out to build a structure that would allow it to pick up jobs less than $250,000, what HLJ considers its small jobs.
"We wanted to take out the peaks and valleys," Sean explains. "With big jobs we didn't see a lot of consistency. We would have to hire a lot of people beyond our core workers, and when the job was over we would have to lay them off. We thought if we had more continuity of work, management could develop field people better, giving us a more professional field."
The first step in this change was to bring in estimating employees with experience in all types of construction. Jevin oversees the four-man estimating crew, which Sean says has the flexibility to bid a small place and finish job worth $10,000 to a new cast-in-place medical center worth $10 million.
HLJ looked for these small jobs in all the logical places. "We started calling current clients who said, 'Oh, we didn't know you guys bid that small stuff.' So we found a lot of our large clients had small jobs for us." The sales team also called on projects in industrial space, oil and gas refineries, and marine repair.
"Over the last three years we have quadrupled the amount of small projects we had performed in the previous 10 years and have gained many new customers by doing so," Sean says. The connections HLJ made on many of these small jobs have also led to large scale projects and the opportunity to pick up more work on jobs HLJ was already on. The small projects also eased cash flow between big jobs.
Jack explains the key to success on small projects is being realistic and knowing what the company's strengths are. "You can't be everything to everyone," he says. "We're not competitive on curbs or sidewalks, but if it's upside-down and backwards we are competitive. We can take on those unique industrial jobs."
The second key step in making small jobs successful and eliminating a crew company atmosphere was adding a new field management structure that focused on training. Operations VP Vince Cardella, along with Sean and Project Executive Jay Goldacker, completely changed the company's approach to management of the field. "We focused on the development and training of our field personnel," Sean explains. "We gave them a pathway for growth and revamped our company-wide safety program. Every morning we have 15 minutes of training, either on safety or some sort of equipment or systems."
HLJ also makes an effort to cross-train employees and find them jobs they are happy performing and jobs at which they excel. Its unofficial "find and train your replacement" policy helps facilitate smooth transitions as people move up in the company. Project managers and supervisors are always looking for employees with potential who they can take under their wings, show the ropes and eventually move up the chain as they themselves move on to higher positions in the company.
HLJ makes a special point to reach out to younger workers, training them in everything from layout skills to buying new equipment to using that equipment to be more productive. "The younger workforce today is better educated and needs to be challenged," Jack says. "They know they can be more efficient if they have better tools and resources. They want to use the new equipment out there."
One technology HLJ has seen its employees embrace is the equipment used to self-measure floor flatness and floor levelness. HLJ has several employees certified to use this equipment. HLJ measures all of its slabs after each and every pour, which gives employees tangible evidence of quality and efficiency and offers HLJ confidence it can deliver the tight specifications on floors its customers are looking for. "At the end of a job our employees are always waiting to hear what numbers they got," Jack says. "As an owner, that's what you want - your employees striving for quality."
Constant communication
HLJ knew its success in revamping its management style and increasing its scope of job sizes hinged on the company's ability to communicate between the field and the office. So the company made a commitment to increase its communication.
"Before a bid goes out the door, operations and estimating sit down to talk about a job we're all about to get in bed with. We cover price, how to build it and customer relations," Jack says. "That level of communication never happened before; bids would go out the door without the estimating department talking to the people who were going to build it."
After HLJ is awarded a job, that communication continues. "The operations department builds each job in the office two ways - construction wise and safety wise," Sean explains. On the construction side they hold pre-construction meetings where field personnel can contribute their ideas on how to build a project safer or quicker. In relation to the safety aspect, Safety Executive Joseph Abbonizio writes a job-specific safety plan for each project and coordinates with the customer's safety manager.
Sean says increased communication has helped jobs run smoother, on big and small projects alike. Jack adds that communication is especially important on the small jobs, where efficiency will make or break a profit margin. "We attack small jobs the same way we attack big ones," he says. "We plan it - almost micro manage it - so we can get in and get off that job. If we can't get some of these projects done in two or three days, we're not going to make any money on them."
Superflat floors by hand

HLJ's success in improving company-wide communication and focusing on crew training is evident in a project the company is currently working on - a three-phase, 140,000-square-foot demo and replacement project at the Boeing manufacturing facility outside Philadelphia that produces the Chinook Helicopter. HLJ crews began Phase 1 of the project in January 2010 and finished in October. The biggest challenge HLJ faced was producing tight floor flatness and floor levelness tolerances - 50 FF and 30 FL - without the use of its Somero Laser Screed. In the end, crews produced superflat floors by hand that averaged 80 percent higher than specified on floor flatness and 57 percent higher than specified on floor levelness.
HLJ's first challenge was access issues. The job had to be serviced from one large overhead door 400 feet from the project's starting point. With the manufacturing facility still in use throughout the project, HLJ worked behind 50-foot-high demising walls, and all trucks, machines and equipment had to be outfitted with exhaust scrubbers to operate inside the plant. That meant HLJ had to purchase a $5,000 bolt-on scrubber for its concrete pump truck, and ready mix supplier, Southgate Concrete, had to modify the exhaust systems on 10 of its trucks to accept custom-made exhaust scrubbers.
The project started with HLJ and its demo and excavation subcontractor removing 2,300 cubic yards of old slabs and an old foundation they unexpectedly found under the existing building. The project is planned to pick up LEED certification, so all the demo material was recycled and reused in the subgrade. All demo work was done at night to minimize dust and noise for workers in the facility.
Once the demolition was complete, HLJ began forming the mechanical trenches that created a grid throughout the floor and acted as the slab edge. Quantity and spacing of the reinforcing steel, dowel baskets and access issues prohibited the use of HLJ's Somero Laser Screed to place the 6-inch slab with double-mat reinforcement, leaving crews with the task of placing floors by hand.
HLJ came up with several possible plans for placing the floors, including one that utilized a highway truss screed. Eventually, HLJ reached out to Allen Face Companies for perspective. Over multiple conferences and a site visit to one of Allen Face Companies' clients in Washington, DC, HLJ settled on the latest version of the Screed Rail to help them install the floors.
HLJ utilized two Screed Rails for efficient concrete placement in the 40-foot-wide by 60-foot-long pours. Each rail was placed in pre-determined spacing and the rail guides were set to height by lasers utilizing the adjustable dual jacks at each end. Concrete was placed in each bay between the rails then hand straight-edged into place.
"We tried a power vibrating screed in a few bays but found the concrete was too susceptible to bubbling under the blade and throwing off the levelness numbers," Sean explains. Instead, HLJ crews screeded all the areas by hand using a straight edge, pulling straight back rather than the side-to-side shake technique since they found that movement also created bubbles. Immediately following placement, each area received a straight-edge float, and prior to the initial set the areas were bump-cut twice.
Al Frankeny with Allen Face Companies took the HLJ crew through a dry run before the first day of the pour. He explained to the crew how FF and FL systems work, what affects the numbers and what is required to reach high numbers. "When we do a floor like this, everyone has certain responsibilities and its best not to change them in the middle of a job," Frankeny explains. "When we do a dry run, everyone sees what he has to do throughout the course of the pour. Then when the job starts, everyone has already gone through the job once in their heads."
Sean says Frankeny helped crews tweak their placement methods, resulting in an FF 85 and a FL 40 on the first floor. "By our third pour we were hitting FF numbers over 100 and FL numbers above 50," Sean says. "And in some areas we hit an FF 124 and FL 64." HLJ averaged a 90 FF and a 47 FL on the overall project.
Frankeny says these numbers are very difficult to achieve on a hand-placed floor and can be credited to the HLJ crew's willingness to embrace the new equipment and system. But a lot of it had to do with HLJ's well-trained and experienced craftsmen. "Not everybody could end up with the same results," Frankeny says.