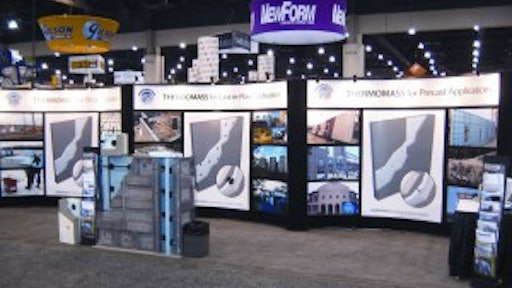 While the country seems to be in the midst of a "green revolution," embracing everything from hybrid cars to reusable shopping bags, the average American just wants to save some money. Home trends surveys show consumers are considering a home's green features more than they did in the past, but energy efficiency is even more attractive. The 2010 Next Home Survey, which asks homeowners about their next home purchases, revealed 87 percent of respondents plan to have high-efficiency heating and cooling systems in their next home, and 76 percent of respondents said today's housing market and economic turmoil have made energy-efficient heating and cooling systems a higher priority when considering their next home.
That is great news for concrete contractors who are in the business of insulated concrete systems, whether those systems utilize insulated cast-in-place, precast or tilt-up walls or ICFs (insulating concrete forms). It's evident that homeowners are looking for ways to reduce their energy costs; the hump concrete contractors need to get over is letting homeowners know about the energy efficient benefits of building with insulated concrete.
The benefits
 
"Most homeowners want to get the best value for their homes," says Gary Brown, vice president of business development for ICF manufacturer Amvic Building Systems. Many clients might be hesitant about insulated concrete homes because they either do not understand the purpose or they are afraid of the higher up-front costs.
"Homeowners are so price conscious now that they might not be considering the long term," says Troy Gibson with ICF manufacturer Reward Wall Systems, Inc. A concrete contractor's job is to market the benefits of insulated concrete so clients can look past the price and see savings.
A general industry-wide estimate is that ICF concrete homes can be 30 to 50 percent more energy efficient than traditionally built homes. Using less energy to both heat and cool the house means the homeowner is releasing less carbon into the environment, Brown adds. Other advantages for the consumer include moisture resistance, safety, durability, healthy indoor air quality, a sound buffer from the outside environment and even higher resale values over other building systems.
Bob Long is the founder of Thermomass, a manufacturer of insulated concrete sandwich wall systems that positions insulation systems between two wythes of concrete in cast-in-place, tilt-up and precast construction. He stresses the need for contractors to communicate to their customers that insulated concrete is not only energy efficient and economical but that it contributes to the overall effectiveness of the insulation envelope, or thermal mass. "While concrete is a bad insulator, it is a good storage material for energy; and if insulated properly, that thermal mass remains inside the structure," Long says. "When you're in a house that doesn't have thermal mass, someone can open a window or door and the heating or cooling system will kick in. In a high-mass structure the energy is stored in the mass and prevents you from hitting the set point in your thermostat."
Long says contractors need to know how they can be competitive against other building systems and the advantages it offers not only a consumer but also a builder. He explains how concrete contractors can pick up additional work on a project beyond the concrete work, which will save a builder from having to coordinate multiple contractors on a jobsite while allowing the concrete contractor to bring in more profits from a job. "By promoting and selling the concept of putting the insulation inside the wall, contractors are picking up larger dollars on an overall job," Long explains. "Concrete contractors can also include texture coat or brick finish on the outside of the insulated concrete wall or include integrated electrical boxes on the inside of their forms throughout a basement or home."
Reaching customers

Dennis Purinton of Purinton Builders, East Granby, Conn., is a poured wall contractor who has been successful in promoting and selling insulated concrete systems for both below-grade and above-grade walls. Purinton offers an option for insulated walls and closed-cell insulation under the floor on every bid he sends out. But he also takes promotion for insulated concrete well beyond his bid proposals, attending area home shows, green building shows and more recently trade shows for the building design industry. "I've learned to go to the trade shows that pertain to architects and builders," Purinton says. "An AIA (American Institute of Architects) show is a spectacular way to promote your product."
Purinton's trade show booth includes insulated concrete product examples and manufacturer brochures and information. He has also educated himself on energy efficient building with concrete so he can answer questions from any potential client, from the newbie homeowner to the well-versed sustainable design architect.
In addition to attending and promoting insulated concrete systems at local trade shows and home shows, concrete contractors may also consider speaking engagements at these events. Many times these shows include educational programs for attendees - a great opportunity for a contractor to get in front of a crowd of potential customers and educate them while at the same time establishing himself as an expert on the topic.
While trade shows and home shows are a great way to educate potential clients, it's the one-on-one conversations where contractors can really help their customers understand energy efficiency and concrete. "One thing I stress to homeowners in my sales presentations is that initial cost is not important, but the cost to operate a structure in the long run is," he says. "When a business owner looks to build a building he looks at operating costs over the life of that structure. Homeowners are now just starting to look at these numbers."
Purinton tells his customers that based on the shape of the home and its wall type, the cost to insulate a cast-in-place concrete wall with the Thermomass system could be anywhere from 20 to 50 percent higher than a wall without insulation. Once finished, there may be no premium at all due to the elimination of drywall and secondary trades.
Force 5 Walls, Magnolia Springs, Ala., is a concrete contractor that builds ICF structures for both residential and commercial clients. The company puts together a packet of information for its clients including a tri-fold that not only tells what the company does but explains in clear bullet points the important benefits the homeowner will reap when using ICFs.
"We sell value," says Rodney Hubble of Force 5 Walls. His company markets both the attributes and the savings with the use of ICF construction, placing emphasis on the energy savings as well as the safety and security insulated concrete homes offer. "We have constructed houses upwards of 10,000 square feet which have average monthly cooling and heating bills of less than $300," he explains. Force 5 Walls also works to build strong relationships with architects and engineers, which often helps the company get referrals - a great cost-free way to market.
Contractors need to educate themselves and their customers to successfully promote and sell insulated concrete in today's market. Consumers are looking for ways to save money on heating and cooling costs; it's up to concrete contractors to show them how to do it with concrete.