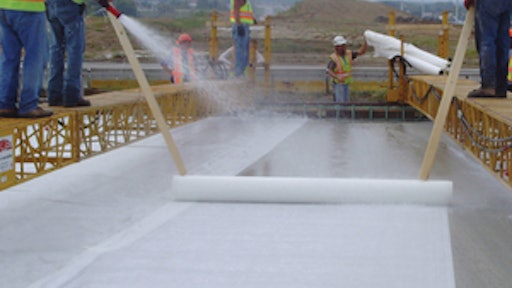 UltraCure DOT
UltraCure DOT is now available in a biodegradable, single-use wet curing blanket. The new curing blanket system is made from super-absorbent, sustainable cellulose fibers and a patented vapor barrier constructed to aerobically or anaerobically decompose in a short cycle. The completely recyclable blanket features a perforated vapor barrier on one side to minimize concrete overheating, maintain moisture levels and provide protection against UV degradation. It is available in non-perforated for vertical applications. Properly installed, the UltraCure DOT maintains a 100% relative humidity condition for up to 14 days. Universal Forest Products is now the national distributor of McTech Group products, including McTech's UltraCure DOT, a heavy-duty, wet curing blanket designed for HPC bridge decks.
McTech Group
Improved Turn-a-Rack
The Turn-a-Rack storage and transport rack has been restructured using round steel instead of square to enable the rack to be 30% lighter in weight, yet more durable in strength.
Use of round steel and closed ends reduces risk of bending
Part of the MatPak (complete package) or available separately to go with the company's ground protection mats
AlturnaMATS
Ameripolish SureLock Color System
The Ameripolish SureLock Color System is a three-part kit engineered to lock in and protect color in polished concrete. The three parts - SureLock Dye, SureLock Densifier and SureLock Stain Protector - are designed to work together as a total system with each chemically bonding to the concrete and each other. The system protects from moisture, efflorescence, stains, etching agents and ultraviolet exposure. UV stabilizer is added to the dye to provide additional color protection. The densifier is a proprietary lithium-based densifier/hardener. The Stain Protector provides an additional application of UV stabilizers.
American Decorative Concrete Supply Company
Construction Master Pro for PCs and iPhones
The Construction Master Pro construction-math calculator is now available on several new platforms including the iPhone, iPad, iPod touch and Windows-based PCs. The iPhone application features a built-in help for full and clear definitions, explanations and examples. With Windows, the calculator image can be displayed in three sizes, includes the CM Pro and CM Pro Trig and an expanded tape function lets you load, save and print calculations. iPhone versions for ConcreteCalc Pro, Ultra Measure Master, Material Estimator, HeavyCalc Pro and Measure Master Pro, plus a couple of Real Estate calculators are also available.
Calculated Industries Inc.
K760 Cut-n-Break
Husqvarna's K760 Cut-n-Break features a low emission X-Torq engine that utilizes dual intakes for clean air and a fuel-air mixture. The unit is equipped with an enhanced Active Air Filtration system which helps extend the filter-life and allow the saw to run for up to one year without filter service, the company says. Other features include improved ergonomic design and a vibration and sound dampening system. The K760 Cut-n-Break cuts up to 16 in. with 9-in. twin blades.
Husqvarna Construction Products
Sage Timberline Enterprise
Sage Timberline Enterprise from Sage North America is new business management software designed for service and specialty contractors that integrates core accounting and operational workflows. The software allows the user to work with critical data using interactive and intuitive Workspaces, simplify workflow using customizable Process Maps and monitor service work with a Dispatch Board.
Sage North America
ZERO-C Concrete Repair Technology
BASF's ZERO-C Concrete Repair Technology is a line of cementitious repair mortars that exhibit no cracking when tested in accordance with ASTM C1518. Its patent pending mix-and-match material design allows a single base mortar to be modified by using different liquids to change the material consistency as project demands change.
BASF Construction Chemicals
T870 Compact Track Loader
The 12,678-lb. T870 features more powerful hydraulics, increased fuel capacity, high lift capacities and reach, increased pushing power and higher horsepower than Bobcat's current loader models.
Rated operating capacity of 3,325 lbs.
144-in. lift height
23.8-gpm standard auxiliary hydraulic flow with an optional high flow of 37.4 gpm
Optional Deluxe Instrumentation Panel and optional Selectable Joystick Controls
Bobcat Co. - Doosan Infracore
Model RD6536
The Model RD6536 Skid Steer Pump Attachment from Blastcrete features a universal design compatible with any skid steer. The 3-in. hydraulic squeeze pump is good for pumping concrete for ICFs, block fill, form and pour, driveways, basements and various shotcrete applications. The Model RD6536 has the ability to pump grout materials, 3/8-in. shotcrete and 3/4-in. structural concrete mixes. It offers a variable speed of zero to 25 cu. yds. per hour, a vertical pumping distance of 50 ft. and a horizontal distance up to 250 ft. The receiving hopper includes a hydraulic agitator which is in continuous motion to keep the mix well blended. The RD6536 can be run in both forward and reverse.
Blastcrete Equipment
Outrigger Platform
Titan's new Outrigger Platform is fully assembled and designed to compliment Titan's equipment, reduce jobsite labor expense and enhance safety. The lightweight platform supports loads up to 4,000 lbs. It positions loads outside the building's edge for safe crane access. It features a heavy-duty diamond-deck-steel floor that is flush with the concrete floor for smooth rolling of material onto the platform. It is designed in accordance with OSHA standards, is painted a safety red for easy recognition and includes "snag-free" side walls.
TITAN
Flexi-FORM
The Flexi-FORM from Frank Wall Enterprises is a concrete forming board made of 100% recycled HDPE plastics. The flexible concrete form board can be used to form and pour concrete pool decks, sidewalks, patios, driveways and any concrete surface with curve or tight radii. Designed with recessed areas on the back side that stiffen the board while providing flexibility, the weather resistant forms can bend to a 6-in. radius without breaking in freezing temperatures. Flexi-FORM is available in 1/2-in. by 3 1/2-in. by 50-ft. rolls and in 1/2-in. by 3 1/2-in. by 12-ft. planks.
Frank Wall Enterprises LLC
PC5001C
Makita's PC5001C is a new 5-in. concrete planer that features a new adjustable front roller and auxiliary base engineered for consistent planing depth and added stability. The 10-amp motor features soft start technology, electronic speed control and electronic current limiter. The PC5001C has an easy to install dust bag and dust collecting vacuum port for cleaner operation and also has a removable dust shroud cap.
Makita USA, Inc.
Patching Compound
Quikrete's Patching Compound is a flexible, ready-to-apply acrylic putty for concrete repair. Available in a one-quart pail, the compound can be used to repair overlays, stairs, wall joints, driveways and smaller non-structural cracks and spalling less than 1/4-in. thick.
The Quikrete Companies
Arrowhead Control Joint
Quaker Plastics' Arrowhead Control Joint features a unique arrow-shape that presses easily into concrete. No channels obstruct installation, and the unit locks into the concrete with minimal seepage. Double-thick peel-off tape protects the top of the joint during installation. The Arrowhead Control Joint is available in 12-ft. lengths in white, tan or gray colors. A snap-on attachment creates a Full Expansion & Contraction Joint.
Quaker Plastics
AquaCheck DB 1000/2000
AquaCheck DB 1000/2000? Series are multi-faceted composite drainage boards designed to protect waterproofing systems and manage subsurface water around foundations. The boards retain soil backfill and let only water pass into the drainage core where it is collected and passed to proper collection systems.
Insulation Solutions, Inc.
Dust Collection Systems
EDCO's Dust Collection Systems remove airborne dust and when paired with EDCO machines it can collect concrete chips, wood shavings, drywall dust and fine powders easily. The electric powered Vortex-200 and Vortex-290 feature MicroClean filters and large drop-down dustpans for waste removal. The gasoline Vortext-300 provides dust control in remote locations. All EDCO's vacuum systems are composed of cast composite material.
EDCO Equipment Development Co.
Hook Lift System for Volumetric Mixers
The new Hook Lift System by Cemen Tech is designed to allow the truck chassis to transport and deliver concrete using the Cemen Tech MCD6-100 body. The system carries the materials necessary for concrete production in separate compartments and them measures them out at the jobsite for fresh concrete in the exact quantity needed. When the MCD6-100 body is not needed it can be unloaded or detached from the truck using the hook lift system, freeing the chassis to perform other work.
Cemen Tech Inc
Torq-Cut Self-Undercutting Anchor
Simpson Strong-Tie's Torq-Cut self-undercutting anchor is a heavy-duty, high-capacity anchor designed and tested for use in cracked and uncracked concrete under static and seismic loading conditions. The anchor is designed to meet the 2006 IBC requirements for post-installed anchors. A built-in ring with hardened cutters expands with installation torque forming undercut grooves in the concrete to provide superior load carrying capacity.
Simpson Strong-Tie Co., Inc.
Lythic HardWear
Lythic Solutions' Lythic HardWear is a new method of finishing exposed concrete floors. It leverages the density added to the surface by using Lythic Densifier and Lythic Protector to produce a medium-gloss look without polishing. It is suited for areas where low-maintenance benefits of exposed concrete are desirable but budget may be a concern.
Lythic Solutions, Inc.
Cordless Reciprocating Saw
Hilti's new WSR 18-A CPC Reciprocating Saw is an 18-volt cordless tool, ideal for cutting threaded rods, anchor bolts and rebar as well as form work, plywood, OSB and 2x materials. Hilti's CPC battery technology protects the battery, switch and motor for increased durability and longer battery life. Other features include an eccentric gear, a high-efficiency motor and a drop-resistant housing. A keyless blade clamp allows for a fast blade change and a variable speed trigger offers operator control.
Hilti Inc.
TITAN Outrigger Platform
TITAN Formwork Systems has recently added the TITAN OP (outrigger platform) to its line of formwork equipment. The lightweight, fully assembled platform supports loads up to 4,000 lbs. and positions loads outside the building's edge for safe crane access. The system mounts to the building with post shores or optional through-bolting and is designed in full accordance with OSHA standards.
TITAN Formwork Systems, LLC
Companies in this article