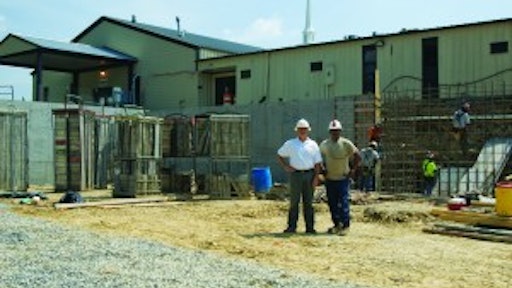 In the mid-1980s, Tim Parrish, a college psychology graduate turned bricklayer, started noticing poured concrete walls entering Virginia. He looked into the system, saw promise for a business focused around this type of construction and secured a $100,000 business start-up loan from a local bank before ever pouring his first wall. With a set of aluminum forms and a couple basic trucks, Parrish started Cornerstone Foundations, Harrisonburg, Va., in 1988. "From the beginning, I wanted to focus on difficult jobs; I didn't want to say 'no' to anybody," Parrish says. "Saying 'yes' to jobs we didn't exactly know how to do meant occasionally losing money, but that became part of our education."
Building a diverse business
 
Cornerstone's initial focus was on residential jobs, but Parrish recognized early on the need to diversify. He started adding services like foundation waterproofing; rebar manufacturing; concrete pumping with a 32-meter Putzmeister pump which they rent out for about 25 percent of the truck's work; and stone placement, with about 75 percent of that truck's use coming from outside projects. In the mid-1990s, Cornerstone was feeling some pressure from the ICF market and started using CertainTeed's ThermaEZE, a concrete wall insulation product that can compete directly with ICFs. Getting involved with insulated basements and concrete housing led Cornerstone to the Thermomass insulation system and more recently CertainTeed's T-Rock system, an EPS foam insulation panel laminated to a paperless gypsum board for a semi-finished basement after the forms are stripped. Cornerstone completes about one concrete home each year, and about 25 percent of its basement foundation jobs are insulated.
In 2006, Cornerstone started offering a retaining wall system it calls Sure Stone. Parrish says when he first started the retaining wall part of the business pouring blocks with World Block forms, he thought it would be a cost-effective way of using up leftover concrete. But the system took off, and Sure Stone is now a major part of the business, bringing in about 10 percent of the company's annual sales.
While building up the company's ability to offer a variety of services in residential concrete, Parrish also recognized the need to have business in the commercial realm, maintaining 30 about percent of the company's sales in commercial jobs throughout the 1990s and early 2000s.
Parrish saw another way to build his business by adding a few key positions within the company. He hired a part-time CPA, which Parrish says took the company to a new professional level. "Some people think if they have money in their checking account they are succeeding, but having access to financial statements and balance sheets that compare cash, accounts receivable and accounts payable gives me a clear picture of the financial health of the company," he explains.
In 2007, Parrish hired a sales person, John Wilson. "For a long time, all we relied on for marketing was a few brochures and word-of-mouth, and we were happy with that," Parrish says. Now with a sales person, Cornerstone Foundations is out looking for jobs instead of waiting for jobs to find them.
"John has built relationships with building permit departments so he knows when permits are issued and will contact those builders about their concrete needs. He has also become the company's face in the community, networking as our NAHB (National Association of Home Builders) contact and working with other community groups," Parrish explains.
Wilson also keeps in close contact with the company's "platinum customers," a group of clients Cornerstone identifies as quality general contractors they want to work with. John checks in with the platinum customers on a regular basis, ensuring they have all their concrete needs covered and that their Cornerstone jobs are running smoothly.
Changing tides

When the bottom dropped out of the residential market in 2007, things changed drastically for Cornerstone Foundations. "We had always focused on quality and people were willing to pay for that," Parrish says. "But when the economy dropped, we faced a lot of competition with lower priced companies. We would be $2,000 to $3,000 over our competitions' foundation bids. So we needed to look for other work."
Cornerstone Foundations found that work in the commercial realm. In 2008, they secured 90 percent of their sales on commercial and industrial jobs. In 2009, commercial jobs made up 75 percent of their sales. "The small commercial jobs we worked on for 20 years developed the skills we have depended on as we've moved into this new market over the last five years," Parrish says.
Some of those larger commercial projects included the concrete work on a two-story parking garage with 20-foot-high concrete walls under a four-story, wood-frame condo project and the concrete work at a three-story medical offices building that included elevator sheer walls and slab on deck. "We were taking steps into something a lot bigger," Parrish explains. "We knew how to do components of the work - footings, slab-on-grade, walls, columns - but for things like slabs-on-deck, we hired subs to help us with that portion."
'The company's DNA'

Before the economy took a turn for the worse, Cornerstone was working a crew of 50 employees, but with the slowdown sales dropped 60 percent and Parrish knew cuts had to be made. "When the economy turned I had to get more involved in daily operations again. It became very important that we did everything as efficiently as possible," he says.
Parrish took a hard look at overhead, knowing he had to cut to survive. He started with across-the-board pay cuts and layoffs, benefit reductions and suspended company vehicle usage, ending a policy that allowed key employees to use company vehicles and gas for travel home. He also put a moratorium on equipment purchases. The company's CPA negotiated interest-only payments to the bank for six months, something Parrish says the company was able to do with its small local lender because of a low debt ratio and a history of financial statements compiled by his in-house CPA. With these cuts, Parrish reduced his company's overhead from $100,000 per month to $60,000 per month. "That's as far as we could go without altering the company's DNA and our core values," Parrish explains.
The economic downturn also changed the way Parrish was involved with the company. "The upside is I'm a lot more in touch with the day-to-day operations of the business again; I can see right away when problems arise and can fix them faster. The downside is I'm a very detail oriented person, and being involved more in the day-to-day operations drives my people crazy," he quips.
"The market caused us to be adaptors," Parrish continues. "You're always going to have change, and you can either be pessimistic about it or face it with a positive attitude. Sometimes we got discouraged, but we looked at it as a chance to reinvent ourselves. We have good people and good equipment and we didn't want to throw in the towel. We seized the opportunities change offers."
The tilt-up challenge

The most recent opportunity Cornerstone seized was tilt-up concrete. When the company saw the chance to bid a movie theater project and knew the designer wanted to build with a tilt-up concrete system, Parrish says, "Not about to take 'no' for an answer, we looked into tilt-up."
Parrish first learned about Hi-Tech Tilt at World of Concrete 2009. The system is a unique way of performing tilt-up concrete, combining a 2- to 2½-inch layer of concrete with a 4- to 8-inch-thick structural steel stud. The system typically weighs about half that of a traditional tilt-up system. The lighter panels are beneficial on a site with poor soil conditions and also require smaller cranes for tilting panels into place.
The Zeus Digital Theater is a 27,000-square-foot building. It is designed with 46 panels, 32 to 40 feet tall and an average of 700 square feet each. Because of seismic concerns, the project was designed with a 21/2-inch concrete skin and 8-inch-thick steel studs. The heaviest panel is 20 feet wide and 50,000 pounds.
Cornerstone will perform the tilt-up concrete work at the site along with the foundation and slabs. Parrish brought on a consultant to train his workers and lead them through their first tilt-up job. Cornerstone subcontracted out the concrete placing and finishing and the rebar placement for the project, and the company also rented a crane to tilt up the panels. But for the most part, Parrish says, the company already owned the equipment it needed to complete the job. Cornerstone started its work on the theater on May 1 and the project has a planned October completion date.
Parrish says jobs like this one are helping him reposition his company for a stronger future when the economy recovers. He says he'd like to see a healthy mix at his business of 40 percent residential and 60 percent commercial.
"We're in a growing rural area, so commercial activity will increase and we're positioned to get that work over the next 10 years," Parrish says. "We've always known the importance of diversification, adapting to change and being on the lookout for new opportunities."