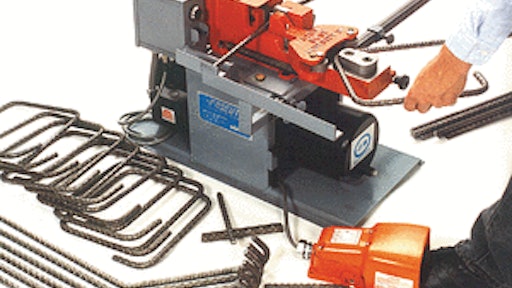 FS-600 Portable Rebar Cutter/Bender
Will both cut and bend up to 3/4-in. (#6) grade 60 rebar
180-lb. machine
Plugs into standard 110 volts
Quickly cut rebar to length or accurately fabricate stirrups, hooks and 3-D bends at the jobsite or shop
Mighty Lite Truss Screeds
Patented featherweight "Parabolic" steel frame design
Variable width up to 35 ft. with 5- or 10-ft. sections
Self-contained Honda power source
"Quick-Connect" turnbuckles provide positive crown control
Lift handles for easy maneuvering and transport
Forward travel by one-sided winching
Riser Wheels
Lura Enterprises' Riser Wheels attach to either end of the Lightening Strike screed and elevate the tube slightly to reduce wear when pouring between existing slabs. Additional rings are available to elevate it further leaving additional material for compaction of pervious concrete.
Lura Enterprises, Inc.
ScreedSaver
The nearly 2,500-lb. ScreedSaver wireless remote-controlled, laser leveling, boom extension concrete screeding machine is heavy enough to handle a 4 slump concrete, yet light enough to be crane lifted to multi-story buildings and even operate on chaired rebar.
Screeds at rates of 3,000 sq. ft./hour with accuracy of F50 - 1/8 in. or better on flat, grade and dual slope jobs
Standard screed head measures 14 ft. wide, with optional heads available in 8- to 14-ft. widths
E-stop function causes machine to automatically sit down on the wheels and wait for further instructions
Ligchine International, LLC
Smooth Operator Power Trowels
Stone Construction's line of Smooth Operator Power Trowels include models with 24-, 36-, 46- and 48-in. diameters. The trowels feature an extra strong cast iron spider, a rotating stabilizing ring and infinitely variable blade adjustments. The trowels are equipped with a shock-mounted ring guard to reduce vibration and chatter. A patented Dyna-Clutch system stops blade rotation without shutting off the engine. All models are available with the choice of a Honda, Briggs, Robin or Wisconsin engines in 4-blade models.
Stone Construction Equip. Inc.
Companies in this article